Quick Switch from Automated to Manual
While Cornfield Customs largely dedicates its new PAC system to automated cutting on its new table, the arrangement allows Wagner to quickly switch to manual cutting, thanks to a quick-disconnect torch feature. This allows him to efficiently switch from the setup's 180-deg. mechanized cutting torch to a 70- or 90-deg. manual torch. Software automatically detects which torch he has attached to switch between automatic and manual modes. This type of flexibility makes sense for Wagner, who often needs to manually cut one-off parts.
Cutting Speed (in. min.)**
Maximum Pierce Start, in.

Air-Shielded Plasma-Cutting Speed and Starting Specifications*

Amps

Recommended Cut, in.

Cutting Speed (in./min.)**

Maximum Edge Start, in.

Maximum Pierce Start, in.

40

1/4

1

1

1/4

60
3/8
1
1

3/8

80
1/2
1-1/4
1-1/4

1/2

120

5/8

1-1/2

1-1/2

5/8


*Amperage will vary slightly by manufacturer. Use as a general guideline.
**Based on the recommended cut speed, which produces optimal quality.

In addition, the power source offers a small connector on the back to connect to the CNC controls. This CNC interface connection gives Wagner signals for start/stop, OK to move and divided arc-voltage.

Other features noted by Wagner include front-panel LED indicators for fault, function and pressure.

"I must be sure to dial-in all of the parameters—air pressure, travel speed, voltage and arc distance," Wagner emphasizes. "Then I can adjust and fine-tune based on what the LEDs indicate. It's very easy to deal with."

Wagner was able to get his system up and running by following the manual, using his existing process knowledge along with some trial and error.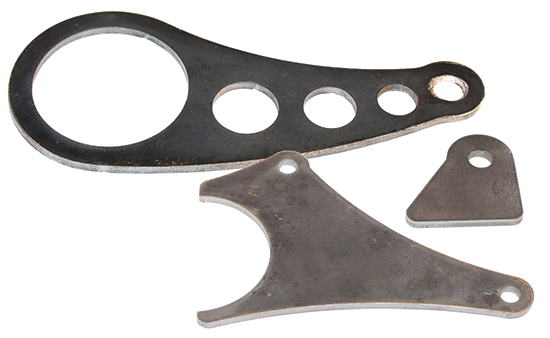 The bulk of Wagner's plasma-cut parts include frame, chassis and suspension brackets and tabs for hot-rod assemblies including four-link rear suspensions, front-end mounts and motor-mount kits. The plasma-arc-cut parts shown here are from 3⁄16-in.-thick sheetmetal.

"I might play with the travel speed just a little bit to see which speed gives me a nicer cut," says Wagner. "Same thing with torch height. On aluminum, for example, I like to adjust the arc gap up a little bit from what the manual says, because when you pierce thicker aluminum it has a lot of blowup and can damage the consumables."

Making Every Dollar Count

Some of the parts Wagner makes are similar to parts already on the market and easy to obtain. To be profitable, he considered orders for parts that he could cut and deliver to his customers without a waiting period.

"For high-volume industrial applications, there might be a 100-part minimum, and then it will be a four- to six-week wait," says Wagner. "They can call me, send me a file and I usually can cut it same day or next day. They get the same cut quality without having to wait."

Precision and Repeatability

While Cornfield Customs' Mike Wagner sought to reduce costs per part, a single large project also can be the tipping point for investing in an automated air-plasma cutting system. Such was the case for Sic Fabrications, Maumelle, AR. It immediately realized that a hand-held PAC setup would prove inefficient for large projects, such as cutting a 22-ft.-long concrete form that required 11 identical gussets. And, the order was for hundreds of forms.

"We needed precision and repeatability," says Sic Fabrication co-owner Stan Darnell. "Instead of having to lay out and cut each line by hand, I let the CNC table (with 60-A power supply) do the work. Each gusset comes out the same. I get three gussets out of a 5- by 10-ft. sheet of ¼-in.-thick steel. With the automated plasma cutter, it takes me 9 min. to burn the whole sheet. When you consider our labor rate for carbon-steel work, automated plasma cutting saves us hundreds of thousands of dollars each year. Now we're looking at buying a larger automated PAC machine to achieve the same repeatability on thicker materials."

With AutoCAD and a thumb drive, Wagner often designs parts for customers.

"First thing in the morning, I throw a 4- by 4-ft. sheet of whatever I need to cut on the table and hit go," he says. "While the machine cuts, I can do other things. So, I'm actually earning twice as much because the system does all of the hard work for me."

To his own surprise, Wagner has realized demand for his PAC expertise outside of automotive parts. He's received calls from blacksmiths, for example, who need ornamental pieces such as decorative tree and plant leaves, in orders as high 500 pieces. "I just cut them, put them in a box and they couldn't be happier," says Wagner.

Wagner also has been cutting blanks for manufacturers of metal trophies, and for car shows for people who want something different.

"I just cut parts for 150 trophies for a local Mustang club," he says. "They wanted a Mustang pony cut into the blank to celebrate the car's 50th anniversary, and they were thrilled. They're the only ones around with that kind of trophy.

"The automated plasma-cutting system is quickly paying for itself," Wagner concludes. "It has to be profitable to be a good business decision, and this system clearly is."

MF

See also: Victor Technologies Group, Inc.

Technologies: Cutting