Canadian Fabricator Enjoys Speed, Precision from New High-Definition Plasma-Cutting System
January 1, 2012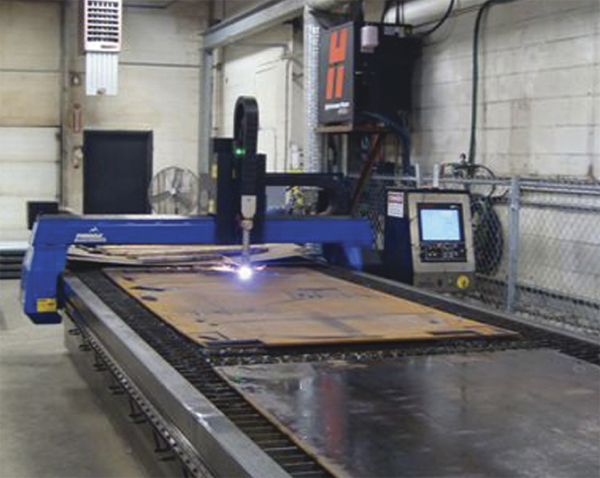 GT Metal Products, an Edmonton, Ontario, Canada custom metal-fabrication job shop, recently went looking for a thermal-cutting solution that would offer the fast cutting speeds and low maintenance costs associated with plasma, combined with cut quality comparable to laser. A manufacturer of power-distribution panels, grain-hopper bottoms, stair cases, hand rails, computer-module consoles and electrical cabinets, its goal was to find a machine to handle a backlog that had been building up on its pair of laser-cutting machines. Clearing the backlog would ensure parts flow to the firm's seven full-time welders, and provide more quoting and business-growth opportunities. The company sought to grow its sheet-thickness capacity beyond the ¾ in. that its CO2 lasers could handle, and increase sheet-size capacity from an existing 5 by 10 ft. to meet increasing demand for cutting plate to 6 by 24 ft.
To meet its needs, the firm acquired a high-definition plasma-arc-cutting system from Hypertherm, Inc., Hanover, NH. The system features a HyPerformance Plasma HPR130XD power supply which, says GT Metal Products owner Dennis Berreth, delivers near-laser cut quality with minimized operating and maintenance costs. ProNest2010 nesting and process optimization software enables the programmer to easily monitor material usage and minimize scrap. Also included is Hypertherm's True Hole technology, which minimizes drilling and secondary operations by automatically delivering bolt-quality holes.
Says Berreth: "We have gone from cutting at 26 in./min. with the lasers to 80 in./min. with the plasma, and drilling time has been minimized due to the True Hole technology. With quotes 30 percent less than laser quotes for the same job, plasma often is better than the job requires, so we are able to give our customers the choice, as well as the option to save money."
For larger, thicker or longer pieces, such as those fabricated for drilling rigs, construction or agricultural installations, the firm's new plasma-cutting machine proves ideal. And since the high-definition plasma offers excellent cut accuracy at about 30 percent less cost, some customers who originally requested laser cutting may opt for plasma when they see the results.
Hypertherm: 603/643-3441;
www.hypertherm.com
See also: Hypertherm, Inc.
Technologies: Cutting