GPA comprises eight companies that produce a broad range of plasma, laser and waterjet cutting machines. Its latest CNC laser cutting machine, Speed Cut, can cut a variety of metals of various thicknesses in its work area of 1.5 by 3 m at speeds to 120 m/min. with positioning accuracy of 40 microns. Doing the work: a 2-kW IPG Photonics solid-state ytterbium fiber laser system, with a Precitec LightCutter 2.0 cutting head. This cutting head features automated motor-driven adjustment of the axial focus position, can handle acceleration rates to 3 g and covers a focus-position range of 23 mm.
A Num Flexium+ 8 CNC system controls all cutting-head positioning functions. All four machine axes are driven by Num high-torque BPX servomotors controlled by NumDrive X digital servo drives. The Y1 and Y2 gantry axes are equipped with 9.8-Nm motors, while the X and Z axes feature smaller 2.7- and 1.4-Nm motors, respectively. Num's Flexium Tool commissioning software allows the Y1/Y2 axes to be tuned while the synchronization is active, thus maximizing performance and precision, according to Num officials.
By capitalizing on the Dynamic Operator function in Num's Flexium software, which enables event-driven machine cycles to be integrated into the real-time CNC kernel, Speed Cut users reportedly benefit from an automated dynamic height-control system that accommodates rapid cutting. The system interprets data from the machine's cutting-head-height sensor and uses it to rapidly adjust proportional-integral-derivative loop parameters in the Z-axis servo drive. The height sensor also is employed to facilitate an automatic sheet-detection routine. This determines the workpiece's dimensions, zero and angular offset, further simplifying the machine's operation.
"We partnered with Num mainly because of its open-architecture CNC platform and its willingness to actively participate in joint development projects," says Omar Sandoval, GPA owner and CEO.
Says Steven Schilling, Num Corp. managing director: "In addition to the real-time adaptive height-control and sheet-detection systems, the customized version of Numcut software that we are providing (for this machine) features a user library of material cutting conditions. It is preloaded by GPA with the optimal laser power levels, cutting speeds, etc., as a function of material type and thickness. The provision of this library will further add to the machine's productivity and cutting accuracy."
20-kW Laser for 24/7 Use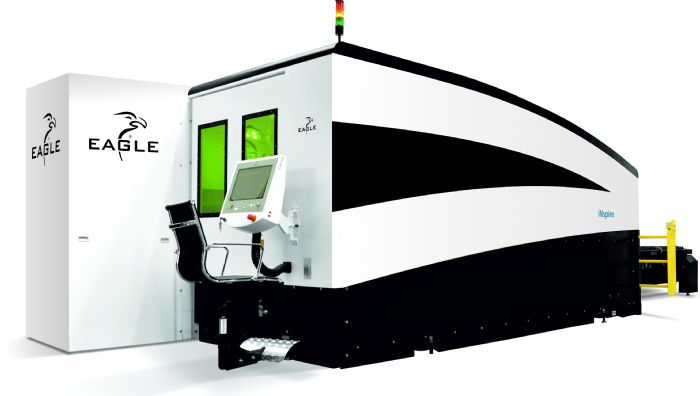 Eagle Fiber Laser, a Power-Tech brand, has released what it claims to be the world's first 20-kW fiber laser cutting machine, able to cut 0.75-in.-thick steel at 120 to 160 in./min. and providing reliability for 24/7 operation.
The key to mastering such high laser power: the company's eVa cutting head. With contamination from external sources or motorized motion of lenses representing the most common cause of optical failure, the eVa cutting head eliminates these contaminants to significantly extend head life, even when operating at 20-kW power. The machine, with its 6-g acceleration, also offers extremely high-speed cutting of thin sheet.
Fairmount Machinery distributes Eagle laser cutting machines in the United States.
New Dust Collector Optimized for Fiber Laser Cutting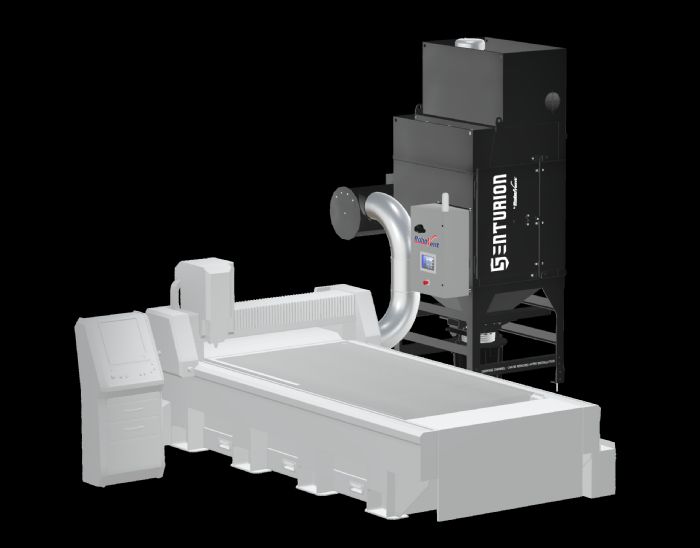 The faster cutting speeds of fiber laser machines create new challenges for laser cutting dust control, leading RoboVent to develop the Senturion, optimized for the volume and type of dust produced by fiber laser cutting. Senturion addresses the challenges of fiber laser cutting dust collection with several adaptations, including a powerful and efficient motor-blower combination to ensure adequate airflow for laser cutting applications. Also, a lower air-to-cloth ratio (more filter media per ft.3/min. of air) handles large volumes of dust, and an advanced pulsing system prevents dust from becoming embedded in the filter media. The RoboVent Pleatlock filters used with the Senturion offer more filter media to capture more dust with less loading. Senturion also comes standard with RoboVent's touchscreen control system and SafeSensor particulate monitor, which detects leaks past the filter and shuts the collector down if a leak is detected. The rugged, powerful plug-and-play system is designed to keep up with the demands of fiber laser dust collection in high-production manufacturing facilities.
"Fiber lasers create higher loads of very fine particulate, which creates challenges for the fume collection industry," says Rick Kreczmer, president of RoboVent. "Senturion has been designed to handle the high cutting speeds and rapid filter loading inherent to fiber lasers, so they deliver better performance for end users."
Gantry-Style Large Format Laser Cutting Machine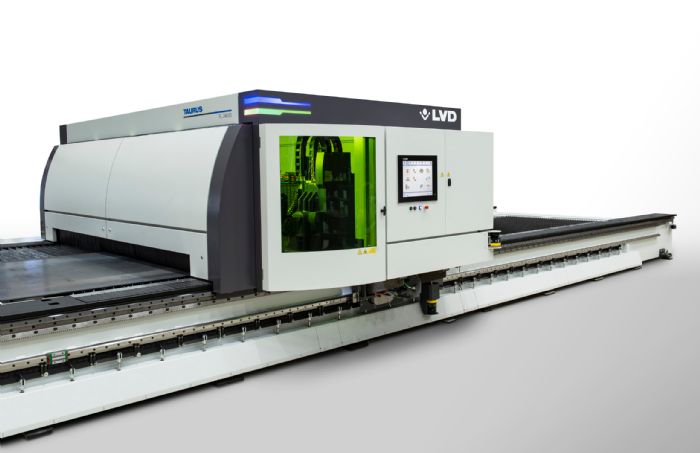 LVD Strippit, now branded as LVD North America in the United States, Canada and Mexico (see below), has launched the Taurus FL, a large-format gantry-style fiber laser cutting machine engineered for extra-large sheet metal cutting. It features a unique modular design, with machine size beginning at a 39-ft. bed length and expandable in increments of 6.5 ft. to a maximum bed length of 131 ft. The large format allows the cutting of a diverse range of parts, efficiently nested, to increase productivity and optimize material usage. The machine comes with a 6-, 8- or 10-kW fiber laser source.
Taurus FL enables flexibility to process extra-large sheets or multiple sheets, and handle varying batch sizes, shapes and material types. It accommodates workpieces in widths to 10.8 ft. and thicknesses to 1.18 in. Large parts can be processed without repositioning while multiple smaller workpieces can be positioned on the cutting table and processed in continuous fashion, without interruption. Parts can be cut on one section of the table, while loaded/offloaded on another, to optimize uptime. The Taurus FL also provides the option of beveling cutting or 2.5D cutting at angles to 45 deg.
The Taurus FL offers eased access, as only the gantry features an enclosure, not the complete machine, and the cutting zone has a detachable front panel, providing access for maintenance. The machine requires no special foundation. And, the mechanical design and drive system reportedly ensure high machine dynamics in large-format cutting.
An operator has use of two touch panels for access to the control at all times, with a handheld control unit allowing the operator to safely move all axes in manual mode for machine setup or to load the nozzle changer. A camera located inside the cutting zone and a monitor on the operator console allow continuous process monitoring.
An optional automatic nozzle changer increases machine uptime and throughput. The unit has storage for 30 nozzles in a turret-style holder positioned close to the cutting head. The nozzle changer features an integrated camera that checks nozzle alignment, size and condition. It offers automatic calibration of the capacitive height sensing and nozzle cleaning after a preset number of piercings.
Optional CadMan-L software includes automated functions to simplify programming and offers advanced nesting, collision avoidance, on-the-fly piercing and cutting, and process parameter tables to realize the machine's full potential.
Also, Belgium-based LVD, a manufacturer of sheet metal working equipment including laser cutting systems, punch presses, press brakes, shears and automation systems, has rebranded the LVD Strippit brand in North America. The new name, LVD North America, reflects alignment with the broader LVD Group organization, say company officials, and helps unify the LVD brand across its 47 global subsidiaries. The Strippit, Inc. engineering and manufacturing facility in Akron, NY, will become an independent production facility for the LVD Group, serving all markets worldwide. As such, the 250,000-sq.-ft. facility will manufacture a broader range of LVD products to support global sales. Sylvain Lefebvre will serve as president of LVD North America; Elizabeth Victor is vice president sales and marketing; Mathieu Vanbraekel is vice president customer service.
IIoT Software Provides Shop Floor Control and Production Visibility
Amada's new Influent IIoT software provides shop-floor visibility by automatically collecting real-time data to track machine runtimes, setups, alarms and job history. Influent can connect to just about everything on the shop floor, including any brand of machine and any ERP/MRP system, according to company officials.
Influent's IIoT framework universalizes data from different sources by normalizing the collected data, allowing simplified comparison of different machines, processes and costs. And, many third-party analytic tools can be incorporated, as well as advanced sheet metal-specific analytical tools provided by Amada. Using Influent, fabricators reportedly can identify bottlenecks and inefficiencies via informative dashboards, relevant reporting and real-time data. Historical data show improvement progress over time.
Leveraging open standards whenever possible, Influent's data -acquisition capabilities include mon-Amada machines and machining centers. Amada's IIoT Certified Things are pre-certified products and services offered by the company and guaranteed to work well within the Influent ecosystem.
BTD Manufacturing Adds High-Performance Tube Laser at MN Facility
Metal former and fabricator BTD manufacturing, Detroit Lakes, MN, has added a new high-performance tube laser to its production facility in Lakeville, MN. The BLM 4K Fiber LT7 laser cutting machine, for tubes and profiles, will allow BTD to enhance production rates while providing the highest quality products to a variety of industries, including recreational vehicles, lawncare, construction and agriculture.
The new fiber-laser cutting machine can process a variety of materials including aluminum alloys and stainless and carbon steels, and a variety of shapes including round (to 6-in. dia.), square and rectangular profiles, angle iron, channel and flat bar (to 15.5 lb./ft.). The tube laser offers optimal cutting performance even on thick-walled steel for weld preparations and interlocking joints with a ±45-deg. tilt.
The machine features an internal suction probe, for processing tubes, which automatically catches debris and vacuums out particles, leaving a clean, damage-free finish inside and outside of the part. The LT7's Active Scan feature automatically calculates any compensations needed to ensure tolerances are achieved, regardless of misshapes or insufficient rigidity.
In addition to the LT7 tube laser, the Lakeville facility also recently added a new Trumpf 5030 10-kW Fiber TruLaser to its production floor.
Fiber-Laser Machine Offers Five Operating Modes
The Prima Power Laser Genius fiber-laser cutting machine, now with a 10-kW laser source, features a carbon-fiber carriage and synthetic granite frame. Optimum efficiency comes via a dynamic linear motor, promising, say company officials, to increase productivity by as much as 20 percent compared to conventional transmission systems.
The Laser Genius can be integrated with five operational modes: Smart Cut, which allows a cycle-time reduction to 30 percent on sheet metal to 6 mm thick, and high-pressure cutting; Max Cut, which allows a cycle-time reduction to 40 percent for material from 6 to 25 mm thick, and oxygen-assisted processes; Night Cut, for complete control during unattended operations; Control Cut, which allows the process to automatically adapt to the machine configuration and the status of the devices; and Nozzle Check and OP Check by Camera, which further increase productivity and precision.
New 7-kW Laser Cutting Machine Offers Improved Beam Control
Mazak Optonics Corp. has released the Optiplex Nexus 3015 Fiber S7 laser cutting machine, designed with the company's Variable Beam Parameter Product (V-BPP) technology that better controls the laser beam for superior cut performance, according to company officials. The machine is available in a 7-kW laser-power configuration.
V-BPP enables machine users to select from high-intensity, small-spot-size beam to large, donut-shaped beams, and everything in between, to positively impact part quality. Beam-shaping technology reportedly delivers optimal thick and thin metal cutting, higher cutting speed, and improved edge quality and piercing time.
The company's Active Live Camera Nesting is available on this machine, which reportedly enables simple and rapid processing of additional parts on demand.
With 2D flying optics, the 3015 Fiber S7 is designed off of the rigid construction of the OptiPlex Nexus platform, and offers a large side access door and flexible design that includes an automated two-pallet design.
The included Mazatrol PreviewG CNC helps simplify setup and operation, according to company officials, who note that it can provide real-time cutting metrics and maintenance data to maximize machine utilization. MF
Industry-Related Terms:
Alloys
,
Bed
,
Brass
,
Checks
,
CNC
,
Edge
,
Gauge
,
LASER
,
Nesting
,
Normalizing
,
Piercing
,
Repositioning
,
Stainless Steel
,
Thickness
View Glossary of Metalforming Terms
See also: LVD North America, Eagle Press & Equipment Co. Ltd., Prima Power North America, Inc., Mazak Optonics Corporation, Amada North America, Inc
Technologies: Cutting