New Laser-Cutting Processes Deliver Higher Speeds, Use Less Gas
August 1, 2017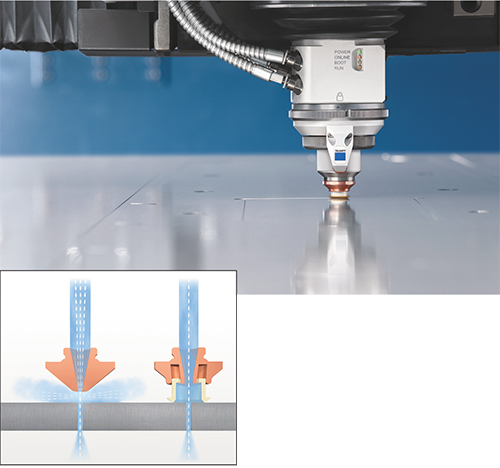 Trumpf Inc., Farmington, CT, has introduced the Highspeed and Highspeed Eco, newly designed nozzles that boost feed rates by as much as 100 percent for solid-state laser-cutting machines that employ fusion cutting with nitrogen. With this new technology, according to Trumpf officials, the piercing process is faster, and laser power does not need to be increased. The reported result: A nearly two-fold increase in sheet throughput as compared to standard cutting, with less cutting gas required. The Highspeed process requires 40 percent less nitrogen on average; Highspeed Eco, 70 percent less.
In fusion cutting, gas, under relatively high pressure, blows molten material out of the kerf, incurring high operating costs, according to Trumpf officials. Flame cutting using oxygen is commonly used for mild steel, especially for relatively thick sheets. The advantage of low gas costs is offset by oxidized cut edges that often must be reworked. The new Highspeed and Highspeed Eco processes, by contrast, are faster and use less gas, which increases the cost-efficiency of fusion-cutting mild steel with nitrogen. In addition, the scope of applications is now broader for 8-kw lasers used in fusion cutting. The laser now can fusion cut sheets as thick as 0.5 in. instead of 0.4 in. as in the past.
What's the secret? The Highspeed process makes use of a bi-flow nozzle. Some cutting gas passes through the center of this nozzle, as does the laser beam. The rest forms a secondary flow around the principal flow to concentrate it onto the kerf, expelling molten material more efficiently. The Highspeed Eco process relies on a patented nozzle fitted with a sleeve that forces the gas directly into the kerf, ensuring that little or no gas flows off to the side (see diagram). While this moving sleeve glides across the material during fusion cutting, the nozzle remains 0.06 in. from the sheet surface. This ensures that the nozzle can effortlessly withstand any spatter generated during piercing, which accelerates piercing and minimizes the risk of damage.
Highspeed and Highspeed Eco can be used for fusion cutting of mild-steel and stainless-steel sheets in thicknesses of at least 0.16 in. Additionally, just one nozzle is needed for the entire material-thickness range, which shortens setup time and reduces the likelihood of setup errors. Cut edges reportedly exhibit low surface roughness and a high-quality, consistent look.
Highspeed Eco and Highspeed can be used on machines in the TruLaser Series 5000 equipped with an 8-kw solid-state laser, with availability soon for use with 6-kw solid-state lasers. The Highspeed process is featured on machines in the TruLaser Series 3000 fitted with a 6-kw solid-state laser. In addition, many existing machines can be retrofitted with these processes.
Trumpf Inc.: www.trumpf.com
See also: TRUMPF Inc.
Technologies: Cutting, Fabrication