"A few years back we built a custom greenhouse for Lafayette College in Easton, PA, on the fourth story of a new science building," he says. "It consisted of tube-aluminum members, and we performed all of the design work in SolidWorks to produce a model. We outsourced the tube-laser fabrication for this as a test. The evening of the installation I called our installer to see how it fit together. I'll never forget what he said: 'Perfectly!' Everything had bolted up just right. Right then I thought, we have to get our own tube laser."
At the time, inhouse tube work at Superior Structures and MAB involved drilling shade columns and members, and greenhouse members, on a manual drill press.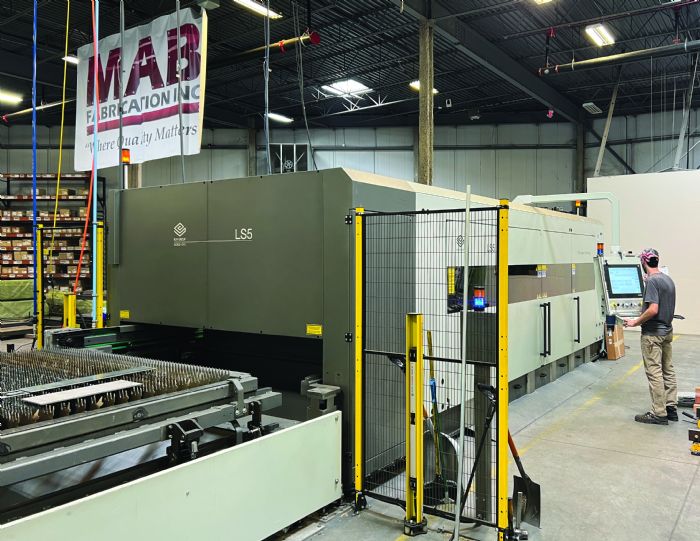 "On a manual drill press, operator skill can only go so far," Bischel says. "A hole within 1⁄32 in. may not be close enough. In a pattern of 10 bolts, if they're off by 1⁄32 in., the gusset plate won't line up and you're going to have to grab the reamer."
Intent on a laser tube cutting machine, Bischel set about to find one. Not too familiar with BLM Group, he began to hear more about the fabrication-equipment supplier from colleagues, and decided to visit BLM Group USA in Novi, MI. Three visits later, along with a 5-hr. demonstration that took Bischel and his team through the entire process from file conversion to finish, they were sold. Superior Structures came home with a new Lasertube LT8.20 5 + 3-kW AMB fiber laser tube cutting machine. And, though not initially intending to, the company at the same time also purchased a BLM LS5 10-kW 2D fiber laser cutting machine and a ProBend direct-drive, 60-ton all-electric press brake.
The 2D laser and press brake would augment and improve upon older machines already in use at Superior Structures.
Changes Design Paradigm
The LT8.20, according to information provided by BLM, features a 3D tilt cutting head and can perform high-precision angular cuts in round, square, triangular and special shapes, as well as l-beams. It can process tube to 9.5-in. dia. and bar weight to 27 lb./ft. A drill and tap module offers friction, or classic drilling and roll tapping, which helps eliminate secondary processes. And, an adjustable-mode beam, 5-kW resonator with independent and dynamic control helps optimize performance based on material thickness and assist gas, while a sensored cutting head continuously monitors lens and glass condition for wear and dirt. Additionally, the LT8.20 can operate using compressed air for high-speed cutting and smooth edge quality in aluminum, as well as cost reduction when processing mild steel.
"The speed of fabrication and the accuracy are phenomenal," Bischel says. "If we design something perfectly, the LT8.20 fabricates it perfectly. It's been a game-changer."
Though not considered at the time of purchase, the capabilities of the laser tube cutting machine have spurred Superior Structures to rethink how it designs components.
"Every time that we design something, we look through the lens of what that machine can do," says Bischel. "How can we use it to fabricate more quickly, or is there an assembly that we can make where our people in the field can install it more easily and quickly? In the past, we may have designed something one way, but now we rethink everything. We've changed designs on a lot of items to take advantage of that machine. When we run something through the LT8.20, it precisely bolts up in the field. It is great for us, and great for our installers."
Full Fabrication Arsenal
The new 10-kW 2D laser cutting machine and press brake form powerful complements to the LT8.20, and have delivered more than expected.
"Our old flat-sheet CO2 laser cutting machine was dependable but slow," Bischel says. "We loved it and wanted another with greater speed."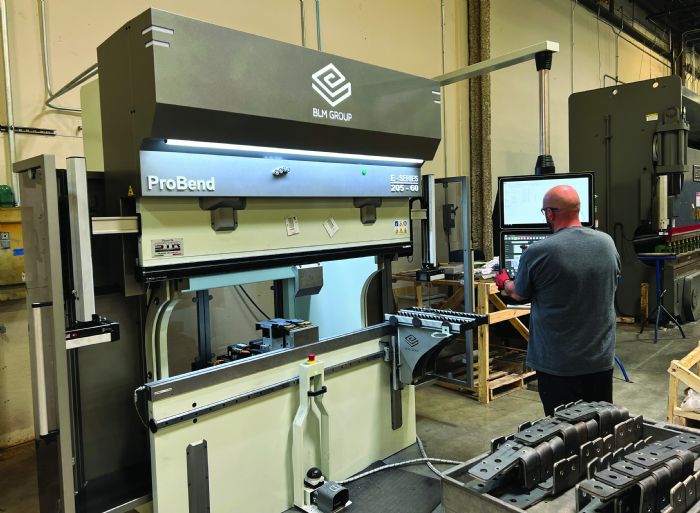 An old, large-bed press brake also proved reliable—it still finds use on larger pieces.
But on the shopping trip for the laser tube cutting machine, Bischel and his team found a laser cutter and press brake that could deliver so much more.
"When I saw the speed of the LS5 2D fiber laser cutting machine and its capabilities, it was a quantum leap from what we had," he recalls. "We can cut much thicker material, with phenomenal speed and accuracy. Add the quick pallet changer gives us a greater ability to reel in some OEM or other steel-processing work. We weren't going to get that with the CO2 laser machine."
Bischel reports a customer calling recently, needing a full plate of parts cut from 0.75-in.-thick bolt steel.
"We had a plate in stock and threw it on the machine," he says. "We received the file and cut—in 2 hr.—and delivered the parts in a day's time. The customer was amazed at the turnaround time and the cut quality. We're hoping to do more for this customer, and none of this would have been possible with the old machine."
Due to the LS5's speed, Superior Structures can cut all of its own parts and have time to take on outside work, "and that's what we're starting to do," Bischel says.
The new laser cutting machines also plays nicely with the ProBend press brake.
"With our files converted to flat patterns, the new laser cutting machine cuts them to the exact right size," Bischel says. "Then the bending-simulation software sets up the press brake quickly to bend these blanks. Being smaller—with a 6-ft. 8-in. bed—than our old press brake, the ProBend forms a lot of our small parts such as clips.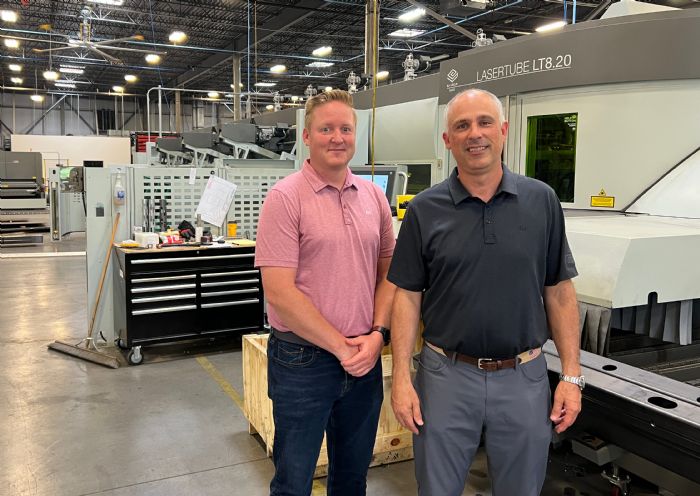 "This setup gives us a great one-two punch, like a basketball team," he continues. "The laser can feed the ProBend press brake for the small parts, like a point guard that gets it down the floor—can dish, shoot and run the fast break. Then we have our center, our lumbering Shaquille O'Neal press brake for the bigger pieces."
Big Building, Big Ideas
"A game-changer" is how Bischel described the Superior Structures big BLM fabrication purchase. He uses "game-changer" again in discussing the company's move from its small Harrison, OH, facility to the 100,000-sq.-ft. facility in Walton.
"Our Harrison facility was too small," he says. "We had so much growth and were desperate. We loaded trucks outside in the elements and used shipping containers for storage."
Now, the Walton facility offers room to function, expand and optimize workflow.
"We're still improving our flow, and moving racks around," says Bischel. "We've never had this much space. We're kind of spoiled, but we're improving workflow, process locations and material storage. As a matter of fact, we relocated the LT8.20 just prior to install to improve work and material flow."
The added space, and the efficiency improvements and capabilities of the new laser tube cutting machine, 2D laser and press brake, have Superior Structures considering automation additions.
"Automation is on our short list," Bischel says. "We bought a large sheet metal storage unit to help us organize our materials, which is a stop-gap. We want automated load/unload units for our cutting machines, and bought a multidirectional forklift to move material around for the LT8.20. And, through BLM Group, we bought a high-pressure compressed-air system—a significant investment for us. We cut a lot of material using high-pressure air, which saves a lot of money on consumables such as nitrogen. We're experimenting with our cutting processes to make even better use of that air system."
Also on the short list: an overhead crane and perhaps another 2D laser cutting machine.
With the move and the equipment additions, and plans for more, Superior Structures in 2023 bears little resemblance to that of the past, a fact not lost on Bischel.
"We're a different company," he concludes. "We've got this bigger space and this new BLM Group equipment—we're not the same company as we were two years ago." MF
Industry-Related Terms:
Center
,
Edge
,
Form
,
LASER
,
Model
,
Pallet
,
Plate
,
Point
,
Run
,
Tapping
,
Thickness
View Glossary of Metalforming Terms
See also: BLM Group USA
Technologies: Cutting