Laser or Plasma Cutting Machines Designed for Automated Production
December 7, 2022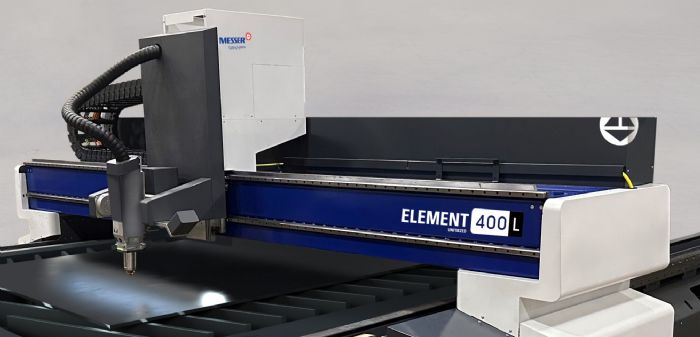 At FABTECH…Messer Cutting Systems touted its new Element 400L Unitized and Element 400 Gantry, U.S.-manufactured cutting machines featuring acceleration and speeds capable of supporting laser or plasma heads with virtually no loss in performance, according to company officials. Element 400 models can be equipped with customized options for plasma beveling, laser beveling and marking.
These Element 400 lines offer an improved user experience via a Global Connect CNC control equipped with 18.5-in. touchscreen that presents a clear overview of all production data, and improved cutting quality due to premium construction components that provide smooth vibration-free tool-path movements from the helical rack-and-pinion drive systems.
Designed for strength, durability and precision, the Element 400L Unitized machine (pictured) offers customizable configurations and other features with automated production in mind, according to company officials. Fitted for plasma, laser, both plasma and laser bevel cutting, or oxyfuel cutting, the machine offers 6, 8 or 10 ft. of cutting width, and 10 to 40 ft. of cutting length plus park space for the machine. Users may select a Precitec ProCutter 2 laser cutting head, which auto focuses its position for maximum efficiency, and performs constant, high-cutting speeds at any operating temperature. The laser beam, completely sealed against microdust, provides power to 20 kW and a focal length of 150 or 200 mm with a zoom head.
See also: Messer Cutting Systems
Technologies: Cutting