Our tour of the Amada Solutions Center, at the company's headquarters location, provided a close look and demonstration of new sheetmetal-processing equipment utilizing Amada's advanced beam-control technology. This includes the Ensis-3015AJ (9-kW/ 6-kW) fiber-laser machine, which provides high-speed stable cutting in materials to 25 mm thick at 2.4 times the speed of the company's traditional fiber laser machine.
(We also saw the Ensis-3015RI, which can cut sheet, pipe and structural steels—thanks to a rotary-index mechanism.)
Through evolution of its beam-control technology, Amada Ensis machines allow creation of an optimum beam form according to material quality and thickness, with advancements enabling stable cutting of mater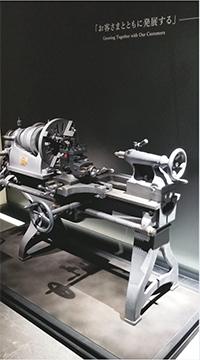 Museum Highlights Founder and Technical Achievements
Bordered by a water garden and pond filled with 200 koi, the Amada Museum, on the company's Isehara campus, opened in 2017 as a 70th-anniversary commemoration project. The museum honors Amada's founder, Isamu Amada, and highlights the company's technical achievements.
State-of-the-art audio-visual effects bring the many and varied displays to life. Among the highlights: a single, fire-charred lathe (see the accompanying photo) serving as Isamu Amada's only piece of equipment when he started the company in 1946 as a mechanical-repair business. In chronological order, displays recount equipment introductions, including bandsaws, a stamping press, bending and shearing machines and punch presses. Of particular note is the company's first laser-cutting machine, the LC-644 model, introduced in 1981.

Through evolution of its beam-control technology, Amada Ensis machines allow creation of an optimum beam form according to material quality and thickness, with advancements enabling stable cutting of material from thin to thick. And, combined with the high-output oscillators, the machine cuts with reduced dross and bevel and improved surface-roughness characteristics.
Clean Fast Cut and Easy Fast Cut technology dramatically reduce the consumption of assist gas during nitrogen cutting, according to company officials. It applies a noncontact nozzle that supplies assist gas at a low pressure that reportedly reduces processing costs while maintaining cutting quality.
It features the AMNC 3i control unit, which operates like a smartphone. Adapted to Amada's IoT V-factory, the unit visualizes machine operating results, including power consumption and processing costs, and enables smart manufacturing through maintenance and support, thus maximizing machine capacity.
IoT-Driven Remote Support Service
Amada's new support service, V-Factory, employs IoT technology to link machinery and provide real-time monitoring and adjustment. With V-Factory, machines, tooling and software can collect data that are integrated into a safe and secure environment at Amada through a V-Factory Connecting Box. The company's newly established IoT Support Center serves as a contact point with users. Through this link, Amada provides measures for preventing production stops as basic support, as well as other support options. These include back-up measures during emergencies, and use of 'big data' to improve production efficiency.
V-Factory also supports predictive-maintenance strategies, to help prevent unexpected machine stoppages and to ensure supply of needed spare tools and parts. Also, in addition to data and programs for manufacturing, parts-development charts and drawings are backed-up and securely stored. The support service compares a user's production plan and actual performance while probing and identifying causes of discrepancies between the two.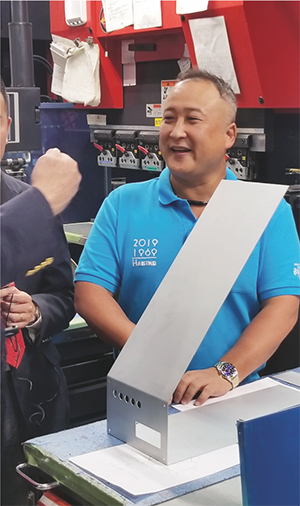 Kenichiro Makino, company president, shows off the results from employing a press-brake tool that he invented himself. He took it upon himself to develop a tool when he found that readily available tools on the market could not meet his precise bending requirements.

The support service's My V-Factory web- and app-based tool enables real-time communication from anywhere regarding preventive and corrective maintenance, and provides for quoting machine tools and parts while managing a history of quotes and orders.
Job Shop Succeeds Via Rapid Turnarounds
Fabricating job shops face challenges from customers on quality, delivery time and price. These challenges exist the world over, as we discovered when touring Makino Co., Ltd., located roughly 25 miles from the Tokyo city center in Machida. The company (no relation to the machine-tool manufacturer of the same name), with 45 employees, operates a slew of Amada fabrication equipment to produce parts for customers in the semiconductor, communication and other industries.
Kenichiro Makino, president of the company that his father, a former NEC employee, founded in 1969 to produce parts for NEC, was an early adopter of technology to boost business. The latest and greatest exists not only on the shop floor, but throughout all areas of Makino, with an emphasis on processing speed.
Mr. Makino explained that he aims to turn around orders in 24 hours, and to assist in that effort just this year he opened a warehouse nearby to store new-parts inventories for repeat jobs. Of course, quick turnarounds mean pressure to keep machines and employees busy. Toward that end, the company strives to hone its quoting skills and deliver on a goal of two new customers per month. During our visit, seven employees were undergoing training in new skillsets to enable them to take on all portions of the quoting process.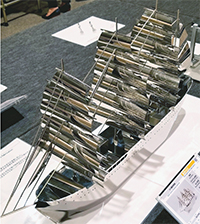 Skills Contest Promotes Sheetmetal-Processing Technologies

The Amada School of Vocational Training debuted The Precision Sheet Metal Technology Fair in 1989 as a skills contest designed to promote advanced sheetmetal-processing technologies. We had an opportunity to view this year's entries (including the ship shown here), on display in the Amada Solutions Center, for the 31st annual event. Winners will be honored at a ceremony in March 2019.

Mr. Makino also filled us in on the goal of employing artificial intelligence (AI) to ease quoting.
"Now under development through collaboration with a university, we are exploring AI to scan documents and drawings for quoting," he reveals through an interpreter. "In practice, when we scan a drawing, AI will sift through our data to find similar parts that we produced in the past, and compare results with the scan to determine what processes should be employed. In the future, I hope to use my smartphone to scan the drawing, and then have a quoting estimate pop up for that part."
Such technology fits hand-in-hand with the company's fondness for handheld devices and the advantages they bring. For example, Makino employs an internal messaging app allowing employees and management to communicate via text instead of having to traverse the plant for in-person discussions. As orders are finalized, they are communicated to all affected employees, providing job details and additional instructions. Reminders also can be sent regarding jobs or other company concerns. And, handheld devices—think iPods—enable scanning of job tickets to indicate that processes have been completed or that parts have been inspected and are ready to ship.
Makino communicates company-wide through another unique method: a string of ceiling-high lights routing throughout the plant that indicate levels of concern with various jobs and processes. Green means good, while red indicates the need for immediate attention. Throughout the plant, Amada punching, laser-cutting, punch/ laser combo, and press-brake equipment shape a sheet-material mix of 70-percent aluminum, 20-percent stainless steel and 10 percent mild steel. Also spied: an Amada FLW4000 4-kW fiber laser-welding machine, and an Amada MARS automatic material-storage system, which runs the length of the company's shop floor.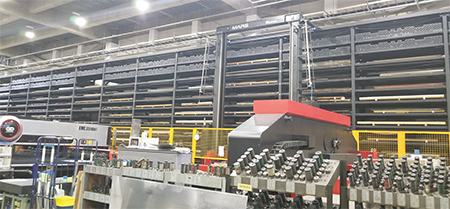 To meet its rapid-delivery goals, and being a job shop, Makino must keep plenty of material in stock. To assist, an automatic material-storage system runs the length of the company's shop floor, ready to deliver needed materials at a moment's notice.
As we toured, the shop was busy fabricating thin material, 0.02 in. thick, for semiconductor applications, with punch presses with automatic tool changers poised for service. Also, the company's stable of press brakes formed chassis parts, using new bending tools developed by Kenichiro Makino himself. The press-brake operator referred to one as the Miracle Backspin Tool. Another, an offset-bending tool, was demonstrated on another brake. Makino designed the tools due to precise bending requirements that could not be achieved by what he had seen on the market.
Rapid-Fire Design and Production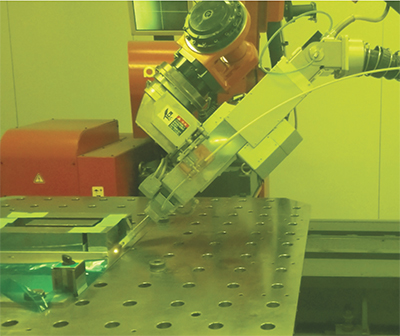 An Amada fiber-laser welding machine, a recent addition to the Makino Co. welding stable, primarily joins aluminum, aiding the company immensely as it has increasingly taken on assembly work.
Next, it was on to the Fujinomiya Innovation Center (FIC), opened by Amada in 1987. Responsible for constructing the firm's forming and fabricating equipment, the center occupies 185 acres and employs nearly 1000 people. Products produced at FIC include turret punch presses, press brakes, bending robots, stamping presses, laser-cutting machines, punch-laser combos and laser-welding machines.
Unique production philosophies and systems enable FIC to deliver dozens of each product type each month—given the surge in manufacturing worldwide, demand certainly is there. For example, utilizing cross-functional teams as well as close collaboration with experienced fabricating customers and suppliers, Amada front-loads development work to virtually design products, then quickly develops and tests prototypes.
All necessary equipment, parts and tools are arranged in booth configuration so that operators do not have to leave the booth area except for breaks. RFID technology, used for part storage and delivery, tie into a digital manufacturing system to ensure the supply of proper parts as needed, and to ensure proper part inventories. Assembly progress also is tracked digitally, from order to shipment.
Automation Drives Productivity at Makino Milling Machine
Also on the tour: A visit to the production facilities of Makino Milling Machine Co., in Kanagawa. The company, which manufactures machining centers, NC EDMs, milling machines and more, began turning to Amada for fabricating equipment four years ago, to help produce the more than 2000 parts that go into each machine. On the shop floor are Amada fiber-laser cutting machines, punch/laser combination machines, press brakes, a grinding machine, a shearing machine and a corner shear. They stay busy, as our tour guide explained that 40 percent of parts produced here are fabricated from sheetmetal, following a just-in-time process in order to save on inventory space.
We also spotted an Amada FLW 4000 M3 fiber laser-welding machine, equipped with a patented rotating lens. With this feature, the laser beam circles within a small area as it welds. The rotating lens enables bridging large and uneven gap sizes while producing clean, even welds. Optimized heat input into the material results in precisely defined weld edges. Other machine features include automatic beam focus, which adjusts the focus lens to an optimum setting based on set welding conditions; and reduced amount of mirrors and other optical components to ease maintenance and improve uptime. MF
Industry-Related Terms:
Stainless Steel
,
Thickness
,
Turret
,
Bending
,
Center
,
Corner
,
Drawing
,
Form
,
Forming
,
Grinding
,
LASER
,
Model
,
NC
,
Point
,
Shearing
View Glossary of Metalforming Terms
See also: Amada North America, Inc
Technologies: Cutting