Imagine: Laser and Plasma Cutting on the Same Table
December 1, 2010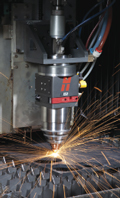 Hypertherm, Hanover, NH, has a new fiber-laser cutting system, the HFL015, which includes the power source, cutting head, gas supply, operator-interface consoles, motion controls and software. The system operates on Hypertherm control platforms, with predeveloped cutting processes, for simplified cutting-table integration and operation. A single-emitter diode-based design enables extremely reliable performance, say company officials we met with during Fabtech in early November.
"Fabricators no longer have to choose between plasma and laser," says Doug Shuda, fiber laser product manager. "They can choose both (on the same cutting table), applying the best cutting technology for each particular job." Compared to CO2 lasers, developers of fiber lasers cite benefits including minimized maintenance requirements and increased energy efficiency. The power supply also is much smaller than that for CO2, and fiber delivery enables the beam to travel greater distances, allowing for installation on larger tables.
Hypertherm: 603/643-3441; www.hypertherm.com
See also: Hypertherm, Inc.
Technologies: Cutting