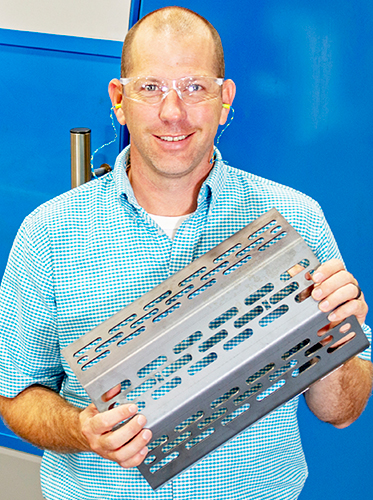 Brent Finley, UEM director of production and material management, explains that the biggest justification for bringing laser cutting inhouse is in the area of remanufacturing, where the company needed capacity to react quickly to last-minute changes or repairs.
The machine software also provides a trio of useful cutting modes:
Smart Cut, for fast cutting of thin sheets (to 5 mm), with as much as a 30-percent cycle-time reduction thanks in part to the ability to minimize unproductive positioning time;

Max Cut, for fast cutting of medium-gauge sheets (from 6 to 25 mm), with processing-time reduction of as much as 40 percent and as much as a 90-percent piercing-time reduction; and

Night Cut, which optimizes piercing and cutting-process safety, made possible by devices that control process status and intervene in case of errors, restarting the operation or informing the operator remotely.
"We still do some outsourcing, but 75 percent of that work has come back inside," explains Finley. "When we remanufacture equipment—a pump for example, we may come across a bracket or other part that has cracked that we didn't notice and that we had not planned on replacing. If we had to outsource that replacement part, it could take four or five days to replace. With laser cutting inhouse, we can produce the part in a matter of hours instead of days. The laser allows us to keep our line moving—a big plus for that unplanned work that comes up during remanufacturing."
Additional Favorable Features
Finley continues his discussion on the benefits of UEM's new laser cutting machine.
"I like the fact that the Platino can open from either the front or the side," he says. "If we have an issue or a small part, for example, we don't have to shuttle the table. We can open the front of the machine or the side door and have direct access to the table.
"Further, the machine employs a single focusing lens system with an automatic nozzle changer. From a quality and productivity standpoint, the automatic nozzle changer eliminates the possibility of someone forgetting to change the nozzle or installing the wrong nozzle. And, the laser allows us to cut parts for some of our sister companies.
The biggest benefit the machine has delivered:
"It has given us the ability to react and quickly turn parts," says Finley, "to keep our production lines moving. It has been a real game changer." MF
Article provided by Prima Power; www.primapower.com.
See also: Prima Power North America, Inc.
Technologies: Cutting