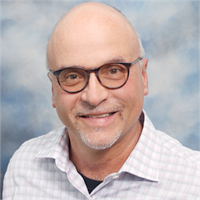 Joe Jancsurak
Five-Axis Laser Simplifies Complex Part Production
December 27, 2019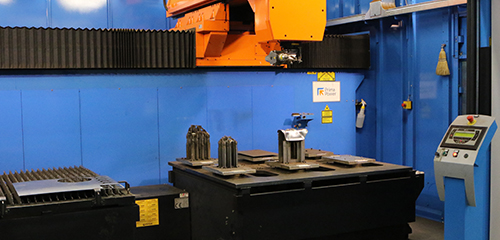 A five-axis laser can serve dual purposes, as shown by this two-bed setup with the five-axis laser bed on the right and a flat laser bed on the left.
As a Tier One automotive supplier, Marne-MI-based Competition Engineering has accelerated its sales from $2 million in 1997, when it became part of the Huizenga Manufacturing Group in Grand Rapids, MI, to $20 million today. During that period, its workforce grew from 20 to 80 employees and its manufacturing space from 14,000 sq. ft. to its current 60,000-sq.-ft. facility. Here it maintains its dual product focus: sheet metal stamping dies (progressive, transfer, line and assembly dies), and sheet metal prototypes.
Such a product range calls for a diverse inventory of equipment that includes eight mechanical presses ranging from 150 to 1000 tons, two 1000-ton hydroforming presses, nine machining centers, a wire EDM machine, seven decoilers, seven coil feeders and four 15-ton cranes. The company's most recent addition (February 2018), a Rapido Fiber five-axis sheet metal laser from Prima Power, Arlington, Heights, IL, enables it to keep pace with growing sales, says Competition Engineering general manager Scott Leasure.

"We're using the five-axis laser in our prototype area to cut two-dimensional blanks and to finalize trim lines on shaped parts used in automotive emission systems," says Leasure, who explains that such parts tend to be low to medium volume and complex—perfect for five-axis capabilities.

Leasure and Competition's chief engineer David Lillibridge decided to purchase a five-axis laser to meet the company's prototyping needs while at FABTECH 2016 in Las Vegas. "We were outsourcing prototyping work at the time, which made on-time delivery of parts a challenge," says Leasure. "It took several months of exploration to decide on the type and model to purchase."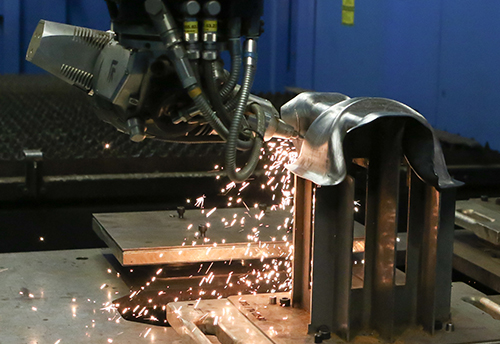 A five-axis laser that trims from all directions accomplishes the trimming of a complex part in a single operation.
The Rapido system, with its 28-in. Z axis, 60-in. Y axis and 160-in. X axis, and rotary-tilt laser beam positioning head, was selected as it enables trimming to tight tolerances required of the prototype parts that Competition Engineering produces.
Best of Both Worlds

Whether to use five-axis technology depends on the quantity and complexity of the part, explains Leasure, who notes that 90 percent of the parts produced on the five-axis system are prototypes. "Here it makes sense," he says, "but if thousands of the same part are required, then the laser may not be the best processing option. The reason: The cost of a die built for thousands of repetitive parts is offset as part quantity increases. Therefore, it makes sense to utilize a purpose-built die and a less expensive mechanical press, rather than a slower and more expensive laser."