Five-Axis Fiber-Laser Cutting
January 1, 2014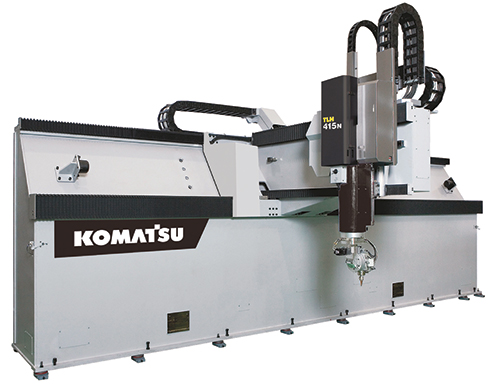 Komatsu has announced advances made to its cantilever-style NTC TLH five-axis fiber-laser cutting machines, including a new control system and teach pendant. The model 06R controller provides easier-to-read screens with touchscreen activation, while teach-pendant response time has improved from 2 sec. to 0.5 sec., and its safety interface ensures that two hands are on the pendant with automatic shutoff should one hand be removed.
TLH series machines come in two models: TLH-414N, a 4- by 8-ft. shuttle pallet system; and TLH-408N, with a 110-in.-dia. rotary table. Cutting speed peaks at 1575 in./min. using a 3-kW laser.
Depending on the model, the TLH five-axis machines provide x-y-z travel to 177 in., 45 in. and 20 in. respectively, with positioning accuracy to ±0.002 in. Combined with its controllable optical head angles of ±720 deg. on the C axis and rotation of ±135deg. on the A axis, the machines can operate in virtually all cutting applications.
Komatsu NTC America: 248/560-1200; www.ntclaser.com
See also: Komatsu America Industries, LLC Press Technology Division
Technologies: Cutting