Amada's Yamamoto mirrored this philosophy as he explained to those gathered the commitment Amada has made to sound ESG (environmental, social and governance) management, including the use of artificial intelligence to address environmental concerns within the manufacturing process. We saw evidence of these practices when touring the beautiful, technology-infused AGIC facility. For example, the facility employs energy-saving products and software that can monitor and control the environmental load throughout its entirety.
Additionally, the building of the AGIC "represents the latest environmentally friendly equipment," company officials stressed, "with CO2 emissions reduced to half those of conventional facilities."
Nine Innovation Labs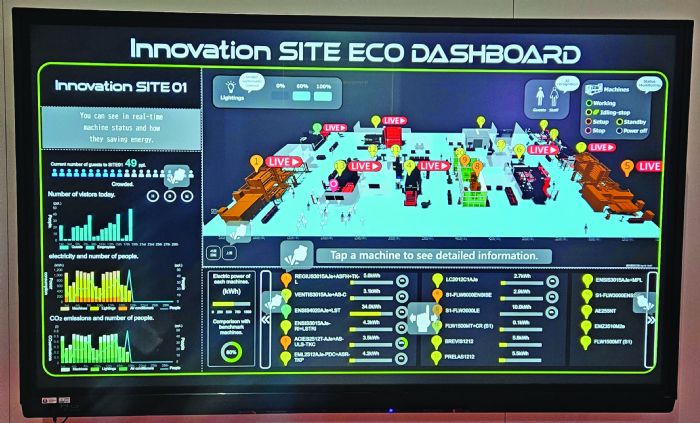 The focus on developing ever-deepening customer relationships and trust quickly became evident as we learned from Amada officials of the numerous features of the AGIC, designed to perform two overriding functions: challenge future processing technology using verification, and experience the value that customers expect with the latest technology.
At the center of activity within AGIC are nine innovation labs, referred to as "LABO" rooms. These customer-dedicated spaces are equipped with the newest machines and software where customers come to work with Amada technicians to develop new processing methods, and can use data to verify results. During our tour, led adeptly by Matt Wood, Amada's EU product marketing manager, we saw how each room focuses on a specific metal-fabricating technology, including laser cutting, punch-laser combination processing, press brake bending and fiber-laser welding. Also available is a measurement room where customers can inspect part quality and verify processing results.
When customers come to explore opportunities to experience the latest technology and consider how they might apply the technology within their fabrication facilities, the emphasis has shifted from learning "what is possible," to "why it is possible," Amada officials emphasized.
On the ESG front, our tour highlighted several environmentally friendly features built into the facility. Officials explained how this technology works in one of two areas of the facility it refers to as Innovation Sites. Innovation Site 1 is home to an ECO Dashboard, displaying AI-based detection of people's whereabouts within the facility. It then uses this data to optimize HVAC and lighting, to conserve energy.
Eco Products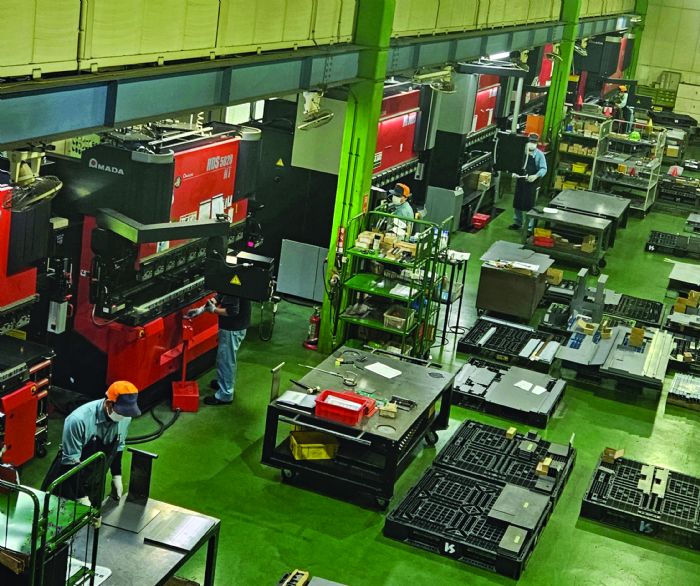 Along these same lines, we learned of the firm's commitment, during product development, to energy and resource conservation, as it works to introduce machines with low environmental impact under its Eco products brand. Included are the Regius-AJ and Ventis series of fiber-laser cutting machines; Acies-AJ and AML combination punch-laser machines; FLW-series fiber-laser welding systems; and HRB-series down-acting bending machines.
For example, power consumption with the HRB compared to that of a conventional press brake reportedly is decreased by 60.7 percent; and the EG-4010 press brake, which employs a dual servo press (DSP) mechanism, contributes to decreased power consumption of 47 percent compared to conventional models. And, Amada's stamping presses fit the Eco equation as well, exemplified by its SDE-2017 Goriki press with an AC servo direct drive system, said to reduce power consumption by 15 percent compared to a conventional model.
Front and center regarding new technology presented to customers at the AGIC in the facility's second Innovation Site: the new AMNC 41e laser cutting machine control, expected to be widely available to users late this year or early 2024. Among its features: operator facial recognition to manage access to the control's functions, a mobile human-machine interface enabling machine monitoring via smartphone, built-in maintenance instructions via guided tutorials, and scheduling software that enables real-time process-planning adjustments to accommodate rush orders.
Among other new-technology displays:
iNozzle Checker—AI-based laser-nozzle beam-condition check and nozzle centering, optimizing setup and minimizing downtime for maintenance.

Fiber Silky Cut Technology, for fiber-laser cutting of stainless steels, based on a new cutting-head design and optimization of beam-path optics, as well as advanced gas-flow dynamics and beam-shaping techniques.

Soft Joint technology, eliminating the need for tabs or nano joints to hold laser-cut parts in a nest, reducing finishing time of part edges once removed from the nest.
Amada Armada in Fujinomiya
Following our day at AGIC, over the mountains and through the woods we rode to Fujinomiya, located at the crossroads of Mt. Fuji pilgrimage trails. Here we visited Amada customer Kanto Seiko Co., Ltd., a fabricator established in 1960 that also provides coating services to supply panels for Amada machines, and other parts and assemblies for industrial and medical customers.
In the early '70s, to ease noise burdens on neighbors, company officials sought out a more remote location. They weren't kidding. The company now sits back from a climbing, winding mountain road that surely tests material delivery and product shipment. The location poses no impediment, however, as 107 employees perform punching, cutting and bending work—and aforementioned assembly and coating services—via an armada of Amada machines in a complex of 15 buildings spread across 43,000 sq. m.
Parts and assemblies produced at Kanto Seiko begin as paper drawings converted to 3D data or are created completely in 3D CAD software via a five-person design staff. To assist customers, the company incorporates cost-reduction strategies from the very beginning of product-design stages, company officials explained to us during our tour. The CAD data routes through the company's network to production zones and machines, assisting in efforts to reduce prototype numbers and streamline material ordering and production scheduling. It's all part and parcel of an embracing of automation by Kanto Seiko to best manage its high-mix, low-volume production.
The automation focus can be witnessed best in an Amada FMS production cell that enables 24/7 lights-out JIT blank production. Two Amada Mars automated material storage and retrieval systems—one with 42 pallets another with 48 pallets for separately sized sheets—tend Amada Acies 2515T-AJ and Acies-2512B punch/laser combo machines, each using 4-kW fiber lasers. Interestingly, a song plays to warn employees of impending movement of the Mars units.
Many of the blanks produced in the FMS cell feed 16 Amada press brakes along the company's bend processing line, with two featuring Amada's ATC (automatic tool changing) technology, including Kanto Seiko's newest brake, an EGB 6020e—introduced to North America during FABTECH 2022. This press brake's HMI combines with the ATC to enable tool changes within 50 sec. And, the HMI enables operators to check correct workpiece positioning via a reference tablet mounted on the crown of the machine above the work area.
On to the welding department for gas-tungsten-arc and CO2 welding via automated systems. Included here: an Amada FLW Ensis robotic welding cell that features AI Pass technology as opposed to a pendant for teaching. This, according to Kanto Seiko officials, cuts teaching time from 88 to 3 min.—an astonishing reduction.
We wrapped up the tour with a walk through a meditation garden leading from the manufacturing operations to the 1000-sq.-m powder coating factory, then assembly and shipping areas. MF
See also: Amada North America, Inc
Technologies: Bending, CNC Punching, Cutting