Tandem Leveler Line Handles Material Thick and Thin
August 1, 2013
To optimize productivity from its newest fineblanking press, the Cincinnati, OH, metalforming facility of Feintool, a Swiss-based company, sought an ideal coil-handling solution designed to handle a wide range of material thicknesses.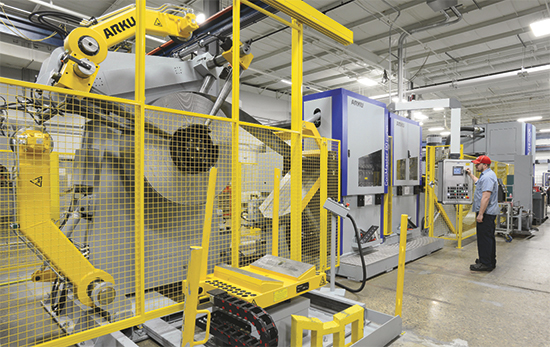 "The challenge we face," says Lars Reich, vice president of sales and marketing for Feintool's U.S. operations, "is handling a wide variety of materials for the different parts we produce."
The firm specializes in seating and drive-train/transmission parts for the automotive industry. "About 95 percent of our parts go into this demanding sector," Reich says. "We may have a part that's 0.120-in. thick formed from a large strip, and we need a straightener that can make that material flat. Then the next job may be 0.5 in. thick."
To avoid having to outfit its new press with two straighteners to accommodate such a wide range of material thicknesses, Feintool turned to Germany-based Arku Maschinenbau GmbH, also housing U.S. operations in Cincinnati, which supplied Feintool with its CoilMaster tandem leveler line.
"With the line's tandem configuration, we get the best of both worlds," says Reich. "The line includes a precision straightener with nine rollers that can handle thick material, followed by a second precision leveler with 21 rollers, to handle thin material. We achieve optimum flatness over the whole range of material thicknesses."
Material to 0.160 in. thick feeds through the smaller leveler; thicker material runs through the larger leveler.
"Now we can go from stamping clutch plates to seating parts to parking poles," says Reich, "using just the one feed line."
The fineblanking press and tandem leveler have been in operation at Feintool's U.S. facility since January 2013, and "overall production and quality have been outstanding," Reich says. "We see excellent flatness results, which can be a significant challenge when working with thin materials."
Reich also cites how easy it is to operate and maintain the leveler, thanks in part to the ability to open the units up widely for cleaning the rollers, and to rapidly thread material. "We're changing coils in less than 5 min.," says Reich.
"The press and feed line really have become one," Reich continues, "because they have the same control architecture. We can save a job on the press and it provides all of the setup parameters in the machine memory. When we move to the next job, we simply call up the tool number and everything is there."
Reich credits this "seamless integration" with returning a five- to 15-percent increase in uptime.
Arku Coil Systems: 513/985-0500; www.us.arku.com
See also: ARKU, Inc.
Technologies: Coil and Sheet Handling