Service Center Adds Huge Parts Leveler
August 1, 2015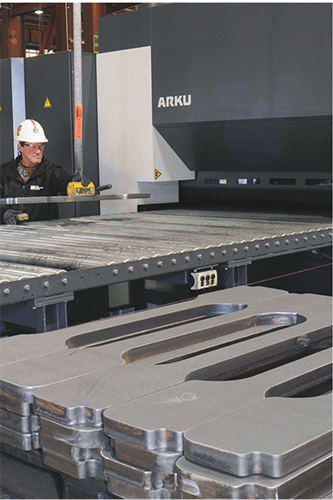 O'Neal Manufacturing Services (OMS) has installed its second Arku FlatMaster leveler, a model 120-200, at its headquarters plant in Birmingham, AL. Reportedly the largest FlatMaster leveler in North America, the machine can level parts from steel as thick as 1.675 in. and to 78 in. wide.
The new leveler is a big step up from the FlatMaster 88 acquired for the company's plant in Greensboro, NC, in 2013. "Our Birmingham facility was quoting some business that required a tight flatness tolerance on parts larger and thicker than our machine in Greensboro could handle," says OMS application engineer Gene Gadient. "We have a gantry flattening press that could do the work, but the part volume and variety, as well as our experience with the smaller FlatMaster, make the larger roller leveler a better solution. The gantry press is a trial-and-error method that takes an experienced operator. It may take several hits from both sides of a part to get it flat. With our FlatMaster in Greensboro, we set the control and the part typically comes out flat on the first pass, very flat."
The contract for the Birmingham plant largely involves mild steel nearly 1 in. thick, with a minimum yield of 36 to 50 ksi. The parts are laser- or plasma-cut from plate and vary widely in size and shape, some with openings. A typical flatness requirement is 0.07 in. across a 60-in. dia.
Circles, triangles and parts with openings are a particular challenge with a hammer press. "You can chase a high spot for quite a while," Gadient says. "It's a very inexact science."
The FlatMaster allows users to adapt the leveling force to varying shapes. Each part presents a changing cross-section as the leading edge, center and trailing edge enter the leveling rollers. These changing cross-sections require varying levels of force to maintain the leveling gap. The FlatMaster's servo-hydraulic system can quickly recognize any change in the required force and adjust to maintain a precise gap.
Arku: www.arku.com
See also: ARKU, Inc.
Technologies: Coil and Sheet Handling