Grill Fabricator Greets Leveler with Open Arms
February 1, 2015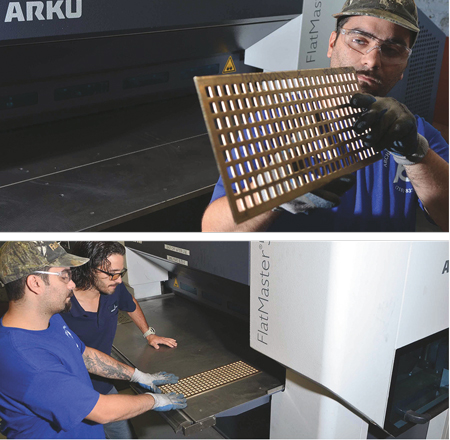 At Architectural Grille, a Brooklyn, NY, custom manufacturer of grills for residential, commercial, hospitality and other markets, company officials have learned that all levelers are not alike. After using another hydraulic leveler for several years, a recent switch to a leveler with servo-hydraulic control (a FlatMaster 55 unit from Arku), workers at the 40-person shop have found the new machine to be "in a class by itself," says vice president and engineering manager Stephen Giumenta. The firm manufactures grills from sheetmetal (aluminum, stainless and mild steel, brass, bronze and copper) 0.062 to 0.375 in. thick, and from nonmetallic materials.
"We throw everything at the machine," says Giumenta, "and it usually takes just one pass to get the parts flat. Parts may be of different shapes and sizes, often heavily perforated with openings cut by laser, waterjet and punch."
Servo-hydraulic control of the leveling gap allows the FlatMaster to level such a wide variety of parts by adapting its performance to the nature of the part, whether the leveling rollers encounter the tip of a triangular part or the full cross-section. As the part enters the leveling rollers, the machine can recognize any change in the required leveling force and apply more or less force to maintain the correct gap.
"We set the material thickness, put in a distorted part and it comes out flat, Giumenta says. "We had it installed and began training on it, and the next day we were running parts."
Blemishes caused by dirty leveling rollers were another issue with Architectural Grille's previous machine, because it was difficult to clean. "We had to bring in a rigger to tear down the machine so we could get at the roller section," Giumenta says. "With the FlatMaster, one person can remove and clean the rollers in a few minutes."
www.arku.com
See also: ARKU, Inc.
Technologies: Coil and Sheet Handling