Double-Sheet Detector and Smart Sensor
January 1, 2014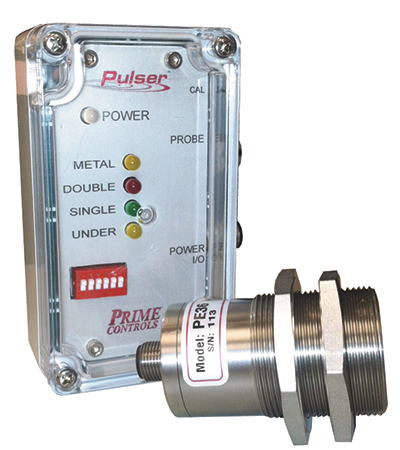 Prime Controls Inc., Dayton, OH, a manufacturer of sensors and controls for machine makers and end users, introduces the Pulser II (control model DS210) double-sheet detector, equipped with electromagnetic smart sensors (probe model PE36M). The Pulser II has a compact NEMA 4X control housing, which conveniently pairs with a newly designed smart probe able to remember as many as eight calibration values. This saves time while eliminating the need to recalibrate after line changes.
The Pulser II is uniquely suited for pick-and-place applications, and also can be mounted on the end of a robotic arm for transfer of sheetmetal and metal parts. It detects double sheets that might be stuck together, preventing them from entering a press and potentially damaging metalforming dies.
The Pulser II works on ferrous materials with single sheet thicknesses from 0.01 to 0.24 in. The electromagnetic smart probe briefly comes in contact with the workpiece material as it takes a quick, pulsed measurement to determine material thickness, and then quickly releases the material for ease of transfer.
The Pulser II has multiple outputs, sensing whether material is present, or whether a single or double sheet is being detected.
Prime Controls: 937/435-8659; www.primecontrols.com/catalog
See also: Prime Controls, Inc.
Technologies: Coil and Sheet Handling