Destacker Tooling Developed for Feeding Aluminum and Steel Blanks
January 1, 2013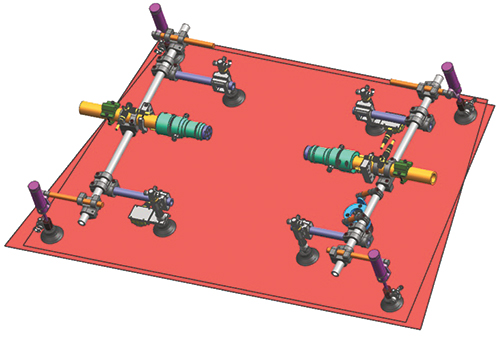 Bilsing Automation, Clinton Township, MI, has developed a flexible destacking setup for separating and feeding steel and aluminum blanks of various sizes and configurations, regardless of lubrication on the blanks. To design the system, engineers compiled field data for strategic placement of peel cylinders used typically with aluminum-blank destackers to lift the corners of the blank with air knives and break the vacuum that can cause blanks to adhere to one another.
During operation, the destacker's automation equipment lowers toward the blank stack so that the peeler suction cups are level, with the spring-loaded front cups programmed to fire just prior to the remaining cups. This allows the air knives to peel back the top sheet for reliable blank separation.
Bilsing also has released a newly updated 12-page capabilities brochure featuring its new advanced traction yellow vacuum cups. Also included is a new section on the firm's Bond+Bolt fastening technology used in its line of carbon-fiber tooling.
Bilsing Automation: www.bilsing-automation.com
See also: Bilsing Automation North America
Technologies: Coil and Sheet Handling