Automated Stacking Extends Blanking-Line Capability
April 1, 2018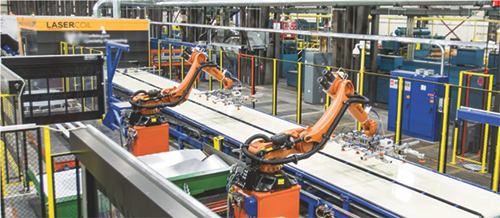 LaserCoil Technologies LLC, Napoleon, OH, has added end-of-line robotic stacking capability to its coil-fed laser-blanking systems. Available in either single or dual stations, the side-by-side-capable stackers can reach speeds to 120 strokes/min. They can be programmed to handle rectangular, trapezoid, patterned, contoured or irregular aluminum and steel shapes.
Addition of automated stacking capability can lead to improved blank quality by preventing marring of surface finishes and introduction of contaminants via manual operations. Additionally, LaserCoil's use of automated vision technology allows for high-accuracy stacking without tamping or touching of blank edges.
By laser cutting direct from coil stock, LaserCoil systems are well-suited for production environments running multiple blank profiles and mixed material types, according to company officials. The systems can process a variety of coil material including aluminum, mild steel, higher-strength steels and other materials in thicknesses from 0.5 to 3.5 mm and widths to 84 in., and to any length.
Additionally, given their nesting capabilities, laser-blanking systems can significantly reduce material scrap. Not only can components be nested more closely, but lasers allow smaller parts to be co-produced from normally unusable metal shapes. In a conventional stamping operation, such material would be sent for recycling, or stacked and stored for future reblanking.
LaserCoil systems can integrate with any coil-processing line or be retrofit into existing mechanical-press blanking lines.
LaserCoil Technologies LLC: www.lasercoil.com
See also: LaserCoil Technologies, LLC
Technologies: Coil and Sheet Handling, Pressroom Automation