U.K. Heat-Shield Manufacturer Upgrades Coil Line
March 4, 2020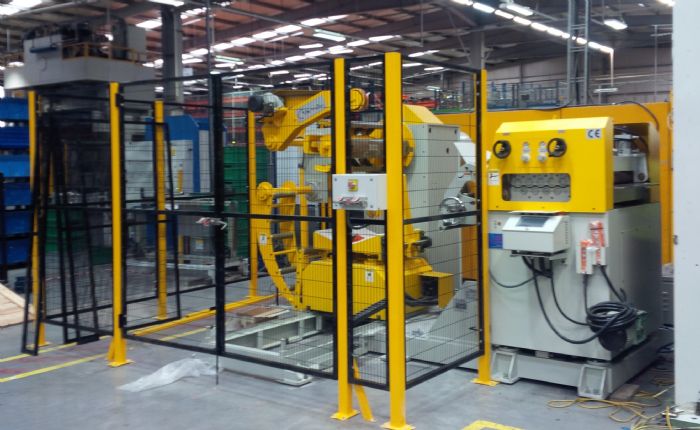 Rhodes Interform and its sister company Atkin Automation, based in Wakefield, United Kingdom, recently supplied and installed a new coil processing line for a major U.K. automotive heat-shield manufacturer. The machinery is used to help produce blanked parts from single-pitch tools or formed parts from progressive tooling. Rhodes Interform designed the machinery, which was supplied by Atkin Automation's Taiwanese partner, Shung-Dar.
Supplied: a Model SNR3-800 compact 3-in-1 NC servo feeder, straightener, uncoiler and coil cart, featuring a coil capacity of 3000 kg, and width capacity of 800 mm for material to 1.5 mm thick. A pilot-release feature ensures optimum press performance, according to Atkin Automation officials, by relieving built-up stress and binding of the strip through the feed caused by misalignment or camber as well as alleviating 'walking' problems. Other main features of the unit include the hydraulic coil cart, hydraulic mandrel expansion, threading supports, motorized feed-height adjustment and programmable feed lengths with memory storage.
Rhodes Interform and Atkin Automation join other related companies under the banner of Group Rhodes.
See also: Group Rhodes
Technologies: Coil and Sheet Handling