Custom Rollformer Heeds Entry-End Advice
One rollforming company, Ferret Custom Roll Forming, Inc., Elkhart, IN, crams all sorts of work into its lines prior to rollforming, and employs many of the entry-end features described above.
Formed in 1981, Ferret opened up as a rollformer of stainless-steel frames for commercial and industrial mirrors. The company, under the leadership of president and CEO Scott McMeekan, who purchased Ferret from his father in 2006, now serves the appliance market and also supplies parts for food-service, recreational-vehicle, commercial-furniture, retail-display and marine customers.
Ferret, with 22 employees, runs 16 rollforming lines on one shift, some dedicated to specific products and others serving as workhorses.
"We are a smaller company, but in rollforming you can do quite a bit with that-sized workforce," offers McMeekan.
All About Value-Added
Value-added is a of life at Ferret, which means packing as much work as possible onto the rollforming line to eliminate costly and time-consuming secondary operations on stand-alone machinery.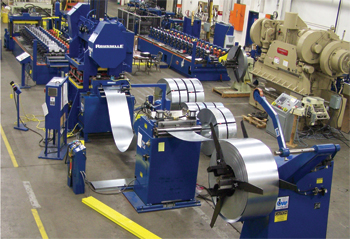 Note the length of this rollforming line, arising from the need for material loops and the use of inline processing equipment prior to the actual rollforming operation.
"We try to accomplish as much value-added work as we can at the entry end of our rollforming lines," McMeekan says. "So with prenotching we like to use servo feeds, and also employ servo feeds for dies with gags."
Ferret outfitted its lines with equipment from Formtek companies, including Dahlstrom and Yoder line equipment from Formtek Metal Forming, Inc., Warrensville Heights, OH, and ServoMatic servo feeds from Formtek Maine, Clinton, ME. Materials rollformed at Ferret include hot-rolled, cold-rolled, galvanized and stainless steels as well as aluminum and pre-painted alloys in widths from 1 to 30 in., and in thicknesses from 0.019 to 0.205 in.
"We have one prenotch die supplied by Hill Engineering, Carol Stream, IL (another Formtek company) with 10 different gags that produces an amazing amount of varying hole patterns for a store fixturing part," says McMeekan. "The ability to create those holes before forming the part makes rollforming unique because following cutoff at the exit end we have a finished part. The servo feeds are key to that. The ability to preset a number of feed lengths, to handle multiple hits and control the gags of the prenotch die has been invaluable. The more we can accomplish from a value-added standpoint in the entry end with holes or forming before the actual rollforming, the better. We drive costs down, and that is the name of the game."
How Prenotching Affects Coil Handling
Using his own company's experiences, McMeekan points out how different prenotch operations can affect the type of entry-end equipment required.
"A standard application, without varying patterns and employing a flying prenotch die—set on rails and pulled along by the material as it punches, then opening up and releasing from the material—typically would not need a powered uncoiler," he explains. "The rollformer itself pulls the material off of the uncoiler, through the prenotching operation and into the roll stands.
"Contrast that with a servo-fed application that may employ a straightener between the uncoiler and a stationary prenotch die," he continues. "You may have an accumulating pit for this prenotch die because it is stationary. The servo feed will pull material through a preprogrammed length, so in this instance a powered uncoiler is needed to allow for slack in the line. Once the servo feed pulls the material through, the prenotch die does its work—perhaps multiple hits based on gags—then opens up and the servo feed again pulls the next programmed strip length through. On the exit end of the servo feed, and again before the rollformer, another accumulation pit allows the rollformer to continue at high speeds without overtensioning the strip or pulling material through punches." MF
See also: Formtek-ME
Technologies: Coil and Sheet Handling, Other Processes