A Big Investment in a Big Press
The new building at Brunk stars this 800-ton Minster mechanical press, brought in initially to stamp a stainless steel part previously machined. Here, the press stamps a stainless steel water-tank component, now made in a single progressive die with 1500 punches. Previously, the part was stamped in several stages of five to 10 punches. To help make the part in one die, Brunk stepped the punches to reduce press force from 700 to 380 tons.
In its original 80,000-sq.-ft. building, Brunk offers low- to high-volume precision stamping on a variety of presses from 5 to 400 tons, stamping material as thin as 0.002 in. It also houses an area dedicated and outfitted for rapid prototyping and product development. Some 80 percent of the company's work fills medical-industry orders, including critical implantable devices and surgical instruments.
The firm's transformation mission ultimately led it to dramatically upscale its press capacity in 2018 when it commissioned an 800-ton mechnical press, doubling its inhouse press-tonnage capacity. "The future growth of this company depends on the transformation that Lars speaks of," says Scott Adams, vice president of operations. "And that comes in many different ways —transforming machined parts to stamped, growing our core competencies into new value-added operations, and diversifying our customer base into markets other than medical, such as electronics. Our new capital investments, including the new presses, fuel that transformation."
The job assigned to the 800-ton press dates all the way back to 2014 when Brunk, working with a medical-device customer on a machined stainless steel component, took it upon itself to investigate whether it could make the part in a stamping operation. John Briscoe, vice president of engineering, explains:
"We worked with our internal design team in our prototyping department to initially develop a one-up single-use tool, and created a story board—the intellectual property displaying the technology needed in each die station to move the material as needed. Then we developed additional stamping procedures and tooling, and were eventually able to put the parts together into an assembly and show the customer that we could transform the part from machined to stamped. The bottom line is we would never had engaged in such a program if we didn't have the confidence in our expertise in coining—a specialty here at Brunk."
When coining, or when performing similar operations where the workpiece material compresses into a plastic state and flows into cavities, the operation generally benefits if the tool remains closed longer than when the job runs on a traditional crank-motion press.
Hence, the advantage of using Brunk's new 180-ton servo press—slowing down when the ram nears 180 deg. assists with that material flow, and has aided Brunk in developing other tranformation projects.
More on the Expansion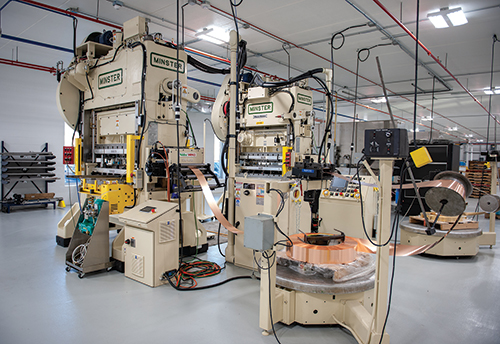 All of the new presses at Brunk carry new Vamco feeds. Brunk managers selected the feeds for their ease of setup, speed and accuracy.
In addition to the 800-ton press, equipped with a Vamco feeder (sheet capacity to 0.25 in. thick by 31 in. wide), Brunk's new building, opened in December 2017, houses the above-mentioned 180-ton-capacity Minster Model P2H-FX-160 servo press (6-in. stroke, 33.5 by 74-in. bed), equipped with a Vamco feeder (sheet capacity to 0.25 in. thick by 21.5 in. wide). We spied the press stamping another converted machined part, this one a stainless steel surgical instrument. And, nearby, one of the firm's two new 100-ton Minster P2-series high-speed Piece-Maker presses (also equipped with a Vamco feed) was stamping copper-alloy sheet to make drug-dispenser components.
"The new building is strictly for manufacturing—for stamping, and for value-added work such as laser welding," Adams explains. "We've already laid out the floorplan and foundations for future capex equipment additions."
Value-added processing and vertical integration represent a big part of Brunk's transformation plans and future vision for upscaling the company's operations. Brunk notes, "in 1999 we started with one laser-welding machine, now we have 12 and plan to add more. We use crystal lasers, pulsed Nd:Yag lasers and, most recently, fiber laser (400 and 1000 W) technology. We find that the fiber lasers reduce the cost per watt, while increasing processing speed."
Along with laser welding, other processes brought inhouse via recent capex programs include stainless steel passivation and electro polishing. Both processes prove critical to the success of medical-device (and other) applications, to ensure, in the case of electropolishing, minimal surface roughness and contamination, and optimum surface uniformity. Passivation merely restores the anti-corrosion properties of the stainless steel after stamping, welding and other processing.
"We are the sole supplier to our customer in many cases," Brunk says. "We must be able to convince our customers that we won't put them at risk from supply-chain interruptions, and becoming more vertically integrated gives customers that confidence in us as a partner, not just a supplier."
Smart Dies
Reassuring customers that supply-chain interruption will not occur also derives from the company's "smart-die" technology—a deep and long-standing commitment to in-die sensing that Brunk toolmakers view, explains Adams, from three distinct perspectives: die protection, process monitoring and part validation.
"We see in-die sensing as a way to let the tools communicate back to us," Adams says. "Just like when a patient talks to a doctor about symptoms to help the doctor perform a root-cause analysis, sensors in the tooling can share a lot of information that lets us know what's happening within the dies. Then we can leverage that data to optimize our operations, avoid unplanned downtime, ideally schedule predictive and preventive maintenance functions, and ultimately optimize overall equipment effectiveness (OEE) and exceed customer expectations for on-time delivery of quality parts."
"We see tooling, and smart-die technology, as part of our intellectual property," says Steve Labutski, automation manager. "We combine it with Minster's waveform technology and our Wintriss SmartPac and ShopFloorConnect equipment to validate each stamping process we develop, and then save that process parameter set to ensure reproducibility.
"In fact," Labutski adds, "we were a beta site for ShopFloorConnect, Wintriss' real-time production-tracking software for monitoring production efficiency and OEE. It allows us to identify any issues and address them quickly, to get to root causes of downtime or quality challenges. Uptime is the goal, and our OEE is way up as a result. In fact, we're progressing on a plan to add ShopFloorConnect to our laser welding machines as well, where we're already applying our sensor technology to monitor weld seams and inspect for part quality." MF

Industry-Related Terms:
Case
,
CNC
,
Core
,
Coining
,
Stainless Steel
,
Stroke
,
Surface
,
Reproducibility
,
Lines
,
Model
,
Polishing
,
LASER
,
Ram
,
Die
,
Laser Welding
View Glossary of Metalforming Terms
See also: Wintriss Controls Group LLC, Nidec Press & Automation, Nidec Vamco
Technologies: Coil and Sheet Handling, Management, Stamping Presses