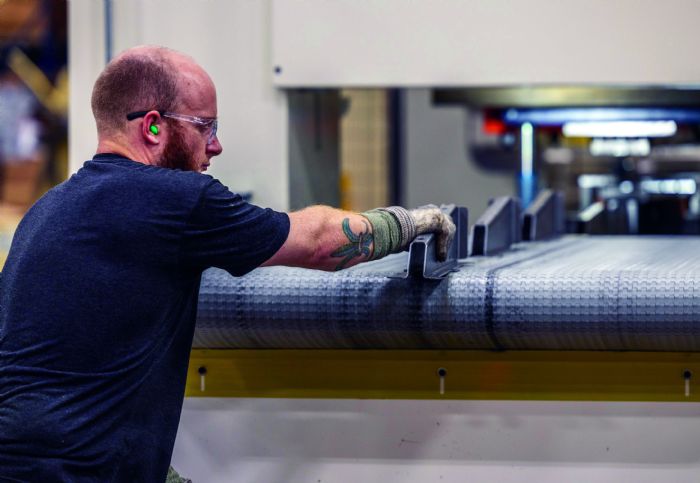 "Post-Covid, it appears that many OEMs have figured out that sending a lot of work offshore is not the best way to go," shares Mike Scharinger, Kapco's vice president of manufacturing, who joined the firm early in 2023. Announcing his hiring at the time, a Kapco press release included this quote from Scharinger:
"When I think of one word that perfectly summarizes how I feel about joining Kapco, it's opportunity. Between our fantastic manufacturing operations team, industry-leading equipment and an incredible group of customers, the future is bright for Kapco, not just as a manufacturing organization but as a beacon of positive impact in the lives of our employees and our community."
Calling out the firm's recent press additions to its equipment list, Scharinger adds:
"We now have capacity that puts us in a strong spot, so as we look to the future the challenge is to integrate automation with some of these assets so that we can continue to grow in a smart way. And, in this post-pandemic world, our customers are grateful to have a fortified supply chain that's much shorter and closer to home, and very responsive."
Press-Line Specifics
The 660-ton Seyi press installed at Kapco features a 145 by 60-in. bed, while 440-ton presses have 120 by 60-in. beds. All are equipped with Wintriss Smart Pac Pro controls and Dallas space-saver servo feed lines with pull-through straighteners. One of the smaller presses runs a 36-in. feed line, while the second can feed coil to 48 in.; both have 20,000-lb. coil capacity. The big press runs coils to 48 in. wide with reel capacity of 30,000 lb.
"We also added telescoping exit part conveyors, a very nice feature especially as it relates to die changes," shares Knepp. "And, with the controls and feed lines, we've tried to build in some synergies, making it easier on the workers on the plant floor and for our maintenance team."
Workforce development is key at Kapco, ensuring that operators know more than just what buttons to push and when. "We train the operators not only on the 'how,' but the 'why,'" Knepp says. "We want them to understand why we set up a straightener a certain way, how we develop the pilot openings and other feed-line parameters. There's a lot of teaching and training that went along with the acquisition of these new press lines."
Unique to the press lines: the use of sensors on the part-out and scrap conveyors. "The presses often run nonstop full shifts," Knepp says, "and we wanted to mistake-proof the lines in case an operator or the setup team forgets to switch on a conveyor, in order to protect the tooling. A simple mistake such as that could put us in a world of hurt and create a huge amount of chaos. Sensors in the conveyors proactively avoid those issues."
The initial solar-energy project that welcomed the new-press introductions, while no longer an active project for Kapco, "was a bit special," recalls Knepp. "The material arrived pre-painted and required in-line embossing prior to entering the stamping operation. And, the parts were fairly long, with an average feed length in the progressive die of around 22 in."
As the project came to an end late in 2022, the firm filled the vacated press capacity with white-goods work, including pre-painted stock as well as acrylic-coated steel. "The parts are similar in size to the solar-power parts, with 22- or 23-in. feed lengths," Knepp shares.
Hit rate averages around 25 to 30 strokes/min. "While we certainly could run faster with servo presses, these larger parts are a little challenging to our manual end-of-line operations, as well as to packaging," Knepp adds. "Trying to run any faster would just create a logjam, so we didn't see the return on investment had we gone with servo for these three new presses."
Two Key KPIs: Productivity, Quality
Proactive attention to mistake-proofing its operations contributes to two key-performance indicators that have been top of mind for Scharinger since arriving at Kapco: quality and productivity. Productivity in particular has risen 4 to 5 points, he says, and the PPM rate that customers are experiencing has improved dramatically.
"We measure productivity by tracking earned production hours," Scharinger says, "or the value of work completed by an employee or team compared to the norm, and then converted into hours. We've focused on recognizing and advancing the right behaviors and asking the supervisors on the floor to be available as resources to the operators. Their presence during actual production runs is creating opportunities to drive productivity improvements."
The production team also keeps a close eye on on-time delivery, Scharinger adds, including monitoring the percentage of work orders started on time. "We want to know how often we get out of the gate on time," he says, "because if we can start on time, we have a much better chance of meeting delivery dates, even if issues arise. If you start a run late and then have issues, it's difficult to make up a lot of ground."
On the quality front, Kapco launched a campaign earlier this year to advance its quality culture by engaging all of its employees on a mission to take personal ownership of quality.
"We want each individual to feel responsible for the quality of their work and to strive for continuous improvement," Scharinger says. "And, we're increasing awareness not only of the importance of quality to external customers but also to internal customers. You might be making stamped parts that move to welding, for example, so pay attention to how can help the welding department succeed.
"All of this involves a lot of communication," he adds, "a lot of education, and then a review of some of the tools that we give our employees to help them succeed when it comes to quality, so we're making some infrastructure improvements there as well." MF
See also: Wintriss Controls Group LLC, Dallas Industries, SEYI America, Inc.
Technologies: Coil and Sheet Handling, Pressroom Automation, Stamping Presses