New Tooling System for Optimized Material Handling
December 1, 2019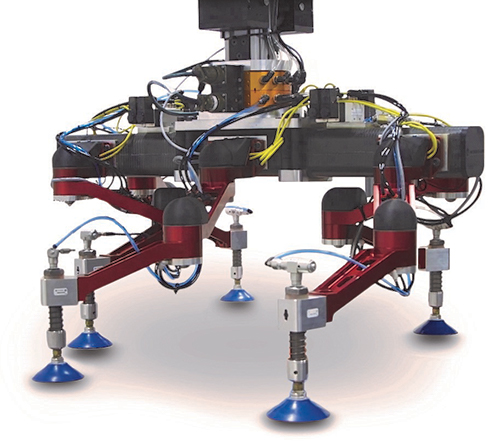 Norgren Automation Solutions, part of IMI Precision Engineering, Saline, MI, has launched a complete tooling system designed to optimize material handling applications, including in and around press cells. The innovative system, called Transforming Tooling, combines a series of arms driven by electric motion, and offers a number of significant benefits over conventional tooling solutions, including:
Reduced recurring tooling costs

Elimination of manual tool change

Instant tool changeover between applications

Reduced floor space requirements due to elimination of manual tooling storage

Optimized safety on the shop floor
When the arms are actuated to the desired location, pneumatic clutches lock them in place, providing a robust and rigid setup similar to conventional end-of-arm robotic tooling solutions. When the application requires a change in handling material, the arms automatically transform the end-effector system to suit the needs for the new application, and lock in place.
The system comes with a full range of IMI Norgren consumables including vacuum cups and grippers that can be swapped on the fly.
See also: Norgren Automation Solutions
Technologies: Coil and Sheet Handling, Pressroom Automation