Enables Combined Operations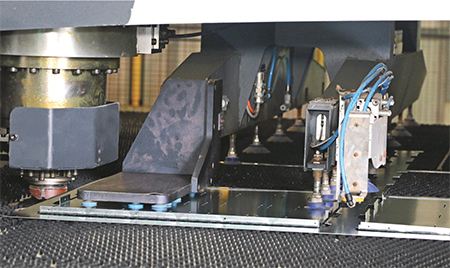 Parts remain tabbed together until ready for removal. The punch separates them,
followed by automatic removal via pneumatic grippers.
VSI's more complicated sidewall parts measure 15 by 20 in., have three offset bends in the middle with two slots in each bend, a 90-deg. bend along the short edge with six countersunk holes, and three 90-deg. bends (all short tabs) with one countersunk hole each on the long edge.
Previously, operators would manually load a single blank on the press, punch the part, slots and holes, and keep the parts tabbed together. Once the sheet came off the punch, the operator would shake the parts out of the skeleton, stack them on a pallet and manually fold the skeleton. A fork truck would move the pallet to a press brake where an operator would bend the three offsets, make the 90-deg. bend on the short edge, and rotate the sheet to bend the tabs on the long side. The operator would then stack finished parts on the pallet and move them to the assembly area.
Now, a forklift driver places a stock of raw sheets on the automated system's loading table, typically 200 to 300 sheets depending on size and thickness. The loading table then slides into position underneath the gantry. To eliminate double loading, a blast of compressed air hits a corner of the sheet while two of the loader's 12 pneumatic grippers grab the corner and shake it. The gantry then loads the blank from the left side of the punch table, where three programmable and relocatable clamps grip it.
After punching, countersinking holes and bending (more details shortly), the loader's pneumatic grippers lift a completed wall off of the table and place it on a pallet, stacking walls consistently. After removing all walls, the press grippers pull the skeleton to the right and push it through a drop chute.
"Our punch can make progressive bends, so we now bypass the press brake completely," says Tony Mendez Jr., VSI shop foreman, who's also the programmer and one of three punch-press operators. "Because the machine can run unattended, it frees me to take care of the rest of the shop, which takes a lot of time."
In addition to unattended operation, McNamara quickly ticks off the benefits of an all-in-one, automated operation: "We make a complete part without secondary or tertiary operations. We eliminate a lot of the planning. There are no material-flow delays, because once a part comes off of the punch, it's ready to go to the safe-deposit-box department. Previously, punched material could sit on the floor if brake presses were tied up with other jobs. Now, all we really need to know is when the safe-deposit-box department needs parts."
Replaces Press-Brake Work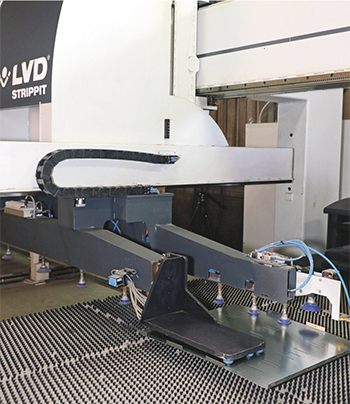 This gantry runs unattended, loading blanks and unloading finished parts from the right side of the system.
VSI employs many previously used custom tools. "We countersink from the bottom up," Cheney says. "We use offset rolling tools, and we also do the offsets from the top down and the bottom up. The PX 1530 has a movable die section along with a movable punch section on top. It opens the ability to do different things. We also use a bending tool when progressive bending. We can bend to 3 in. high in our applications, which is important for certain product lines. No other machine on the market can bend to that height."
Progressive bending employs a 3.622-in. tool to create a bend of about 30 deg. After the first bend, the table moves the sheet 3.622 in. and the tool then makes another 30-deg. bend, and so on. A 90-deg. bend takes three passes.
"That normally is a press-brake operation," says Cheney. "When forming, where we add 90-deg. bends and offsets, that's actually two operations on a brake press, unless using fully staged tooling. We've found that, over a period of time, staged tooling on a press brake will wear and not provide quite the same bend parameters. We actually perform several forming operations on every part for our safe deposit boxes. We preform counter sinking and 90-deg. bends. These all would require other operations without the PX 1530."
Learning to Maximize Sheet Use
Cheney and Mendez work as a team to maximize sheet utilization.
"It's a challenge to figure out how small of a skeleton we can leave," says Cheney. "Because this machine can operate in a lights-out mode, we slow the speed. If we run it full-speed, and we're trying to leave very little metal to hold things together, it will fold up the sheet during punching or bending. It was a learning curve to figure out speeds to give us the best sheet usage and the best production speed."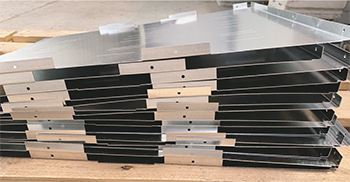 Finished shelves for safe deposit boxes stack up, waiting to be moved to the assembly area.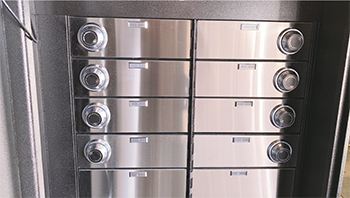 A completed VSI American-series safe deposit box.
Mendez notes that faster is not always better when trying to move a 5 by 10-ft. sheet. "That's a lot of sheetmetal to move around a table when it's held just by three grippers on one edge," he says. "Smaller parts have more skeleton and we run them faster, but when we get into larger parts where we produce six to 12 parts from a big sheet, that doesn't leave very much skeleton to pull the sheet around."
Cheney adds that leaving large parts tabbed together may result in sharp points that require deburring. To eliminate this hazard, the press punches out the tabs as the final step before removal of a finished shelf.
More Applications Ahead
Due to high customer demand, VSI has only had the time to program its automated system for a limited number of parts. When the company enters its slow season in winter, it will develop designs and programs for other parts, such as vault-door parts made from 12-gauge steel. This part must be punched out and have holes made and tapped, which currently requires moving the part to the machine shop.
"With a system that can punch, form, tap and bend, we can send a completed part straight to the door department," says McNamara. "For fabricators that run punch presses eight to 10 hr. per day to make large quantities of parts, an automated system that eliminates secondary operations is a clear choice. Even for a small company, a job shop with maybe three or four employees, a machine that runs by itself frees those employees to do something else."
"The Strippit setup is by far the biggest investment we made in turret punches," says Cheney. "It has paid off well in the way it produces parts and eliminates secondary and tertiary operations. It was a good move." MF
Article supplied by LVD Strippit, Akron, NY; 716/542-4511/ 800/828-1527, www.lvdgroup.com.
Industry-Related Terms:
Turret
,
Thickness
,
Run
,
Punch Press
,
Bending
,
Blank
,
Corner
,
Countersinking
,
Die
,
Edge
,
Form
,
Forming
,
Grippers
,
Lines
,
Model
,
Pallet
View Glossary of Metalforming Terms
Technologies: CNC Punching