All of this signals opportunities for metal formers and suppliers, with some sharing their thoughts with MetalForming on the following pages.
Platforms Enable Long-Range Rockets to Mars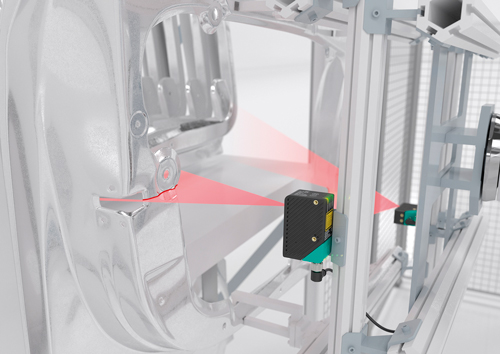 SmartRunner technology by Pepperl+Fuchs combines light-section technology, 2D vision sensors with integrated LEDs and a vision camera, for demanding detection tasks, such as distinguishing grey rivets on grey, stamped airplane parts.
At WB Industries, an O'Fallon, MO-based fabricator with full machining, welding and finishing capabilities, Gary Bertolucci, owner and president, says that the aerospace and defense industry represents about 75 percent of its business. Much of it comes in the form of highly engineered tooling and workaround platforms made of aluminum and designed for getting various components, and the people who will be installing them, into place for final assembly.
One such system, recently engineered for Boeing as part of NASA's SLS project for sending long-range rockets to the Moon and Mars, called for the development of two 200-ft.-long, 18-ft.-high fabricated platforms using 6 by 6 by ½-in. Type 6061 aluminum tubing. Welded frames include tops outfitted with aluminum slider decking, that when extended, closes the gap between the deck and the rocket.
If you are having difficulty picturing all of this, Ken Wasiuta, general manager at WB, can help. "Picture a 200-ft. rocket laying down like a pencil on a desk, with the two platforms positioned on either side," he begins. "When the rocket is moved out of position, the sliders retract. With the rocket in place, the sliders extend out to where they just touch the rocket. Other than the safety railings and stairs that we fabricated, the fall protection and electrical outlets that we included, and the swivel casters for towing and maneuvering, this is a simple platform."
Viewpoint: Sourcing Trends, Tariffs and More
As president and CEO of Thomas, provider of product sourcing, supplier selection and marketing solutions for industry, Tony Uphoff stays abreast of global trends, issues and policies affecting aerospace. MetalForming recently asked Uphoff for his insights on the supply chain, tariffs and the future of aerospace.
MetalForming: When it comes to aerospace, what are you tracking and what are your data showing?
Uphoff: We look at a broad set of categories to determine aerospace-industry sourcing trends. Our eight most active aerospace-related product/service categories are contract manufacturing, machining, fasteners, heat treating, painting, welding, CNC machining and composite structures. Our data show that these categories collectively have seen a 1.3-percent increase in sourcing activity year-over-year. However, over the past 12 weeks (as of this writing), sourcing activity for these categories is 10 percent above its historical average. After a strong 2018 for the industry, analysts expect growth to continue through 2019, led by growing commercial-aircraft production and continued strong defense spending. At least as far as Q1, our data seems to bear out analysts' predictions.
MetalForming: Please comment on the Boeing 737 Max troubles and its impact on the aerospace supply chain.
Uphoff: In April, Boeing began cutting its production down to 42 airplanes per month, after expectations called for 57 per month. This will affect suppliers up and down its supply chain. While it would be reasonable to expect Boeing's main competitor, Europe's Airbus, to pick up new orders in the wake of this, in the short term Airbus may not have the capacity to push its output higher, with Boeing and Airbus accounting for 99 percent of the global market for large commercial aircraft. Whether Boeing successfully addresses the 737 Max issues and continues long-term production, or replaces it with a new design, remains unknown. Meanwhile, Airbus also faces its own challenges and recently announced that it is abandoning production of its A380 in 2021, citing a lack of customers for the superjumbo jet. While the Boeing and Airbus scenarios will affect their respective companies and suppliers in the supply chains for those specific aircraft, the industry as a whole still expects a strong year driven by increasing passenger travel demand.
MetalForming: What is your 'crystal ball' telling you about tariffs and aerospace?
Uphoff: The escalating trade war with China grabs most of the headlines, but something else to keep an eye on is the saber rattling between The Trump Administration and the European Union (EU). In retaliation for what it deems to be unfair subsidies the EU gives to Airbus, which the World Trade Organization ruled to be accurate, the United States is threatening to impose tariffs on aerospace-related items such as non-military helicopters, aircraft, aircraft fuselages and aircraft undercarriages from EU countries including the United Kingdom, Germany, France and Spain. While the impact of the China metal tariffs have left an impact on the industry since last summer, creating both winners and losers among domestic suppliers, should these new EU tariffs come into play, we could be looking at a significant amount of work in the aforementioned aerospace-related categories coming back to U.S. manufacturers and suppliers. Ultimately, whether it is China, the EU or America, our economies are largely interdependent, so the hope should be that all sides work out agreements that keep a level playing field and benefit all involved.
MetalForming: What does the future of aerospace look like?
Uphoff: A growing percentage of metal forming for aerospace applications involve metal 3D printing, as opposed to traditional machining or stamping processes. We are already seeing it, and in fact, a recent study by Research and Markets forecasts a growth rate of 23 percent between 2017 and 2021 for the AM market applied to the aerospace sector. As advancements in 3D printing and materials continue, suppliers will be able to create incredibly strong yet lightweight structures for aircraft manufacturers, who always look for every possible way to reduce weight and minimize the space required by components. I, along with other aerospace-industry analysts, expect continued growth, at least in the short term, as commercial-passenger demand and global defense spending remain strong.
Simple, perhaps, but its size presented challenges, says John Schallert, WB's manager of design. "Because of the project's size, transport was a factor," he says. "The lower portion of the platform, with the lower deck, structural uprights and stairs, and the upper portion with the upper deck, uprights and gussets, were designed for disassembly to facilitate shipping from our Missouri plant to NASA's Michoud facility in New Orleans, LA. So, while the project wasn't overly complex, with 16 ready-to-assemble modules between the two platforms, logistics were challenging."
Detection Tasks Provide Opportunities
For Twinsburg, OH-based Pepperl+ Fuchs (P+F), aerospace presents opportunities for its SmartRunner sensing technology for demanding detection tasks, such as distinguishing grey rivets on grey, stamped airplane parts or for ensuring accurate placement of material delivered by automated guided vehicles to presses stamping fuselage parts.The offering combines light-section technology, 2D vision sensors with integrated LEDs and a vision camera. Sensors can be parameterized using data-matrix control codes.
"This is a much simpler and equally effective technology than complex visions systems with expensive cameras and external lights," says Marcel Ulrich, product manager at P+F.
"Triangulation-based, the technology uses a camera and laser light," explains Gary Paci, also a product manager at P+F. "The emitter projects a light onto the surface. Once the signal is reflected and received, programmed sensors determine shapes and contours. The large 160-mm detection field, simple teach-in of new reference contours, and simultaneous evaluation of the object and background laser lines ensure reliable detection of objects as small as 0.4 mm."
Accentuating Additive
Another aerospace trend worth nothing: the ascent of metal 3D printing as traditional and additive manufacturing (AM) join forces via acquisitions. Among them: the purchases of Dover, NH-based Form 3D Solutions by Eastford, CT-based Whitcraft Group and Macomb, MI-based Baker Industries by Cleveland, OH-based Lincoln Electric.
Founded in 2015, Form 3D Solutions uses two EOS M290 machines to 3D print direct-metal-laser-sintered (DMLS) parts. Its acquisition by Whitcraft Group earlier this year leaves Form 3D Solutions founder and general manager, Joseph Gabriel, and partner Vojta Kubec, engineering manager, feeling "ecstatic" as they look forward to advancing AM in aerospace.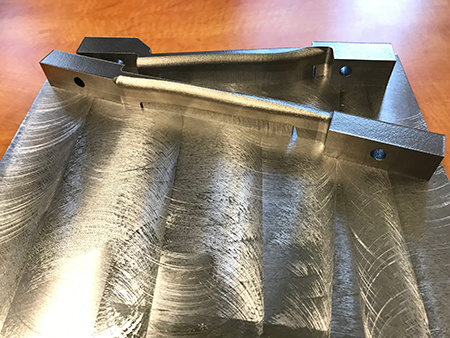 Shown here: 3D printed clamp for a welding fixture with the gas-back-up passages printed in. Material: Inconel 718. Manufacturer: Whitcraft.
"Every year, the FAA approves more metal 3D printed parts, such as internal brackets and fuel nozzles," says Gabriel. "As more materials and equipment clear the regulatory process, there continues to be innovations in 3D printed aerospace parts and tooling as well as more equipment advancements." Gabriel looks forward to multilaser machines with larger build footprints for greater throughput and productivity, and bigger parts.
At Whitcraft Group, whose fabricating business is 95-percent aerospace with a customer list that includes Pratt Whitney, GE and Rolls Royce, CEO Doug Folsom believes that 3D printing has the potential to change his business. "The change will be more of an evolution, rather than a revolution, but we want to be proactive, which led us to acquire the Form 3D Solutions," he says. Whitcraft uses metal 3D printing for weld fixtures featuring inlet tubes to enable precision welding. "With 3D printing," Folsom explains, "you have the ability to add inlets and holes where needed."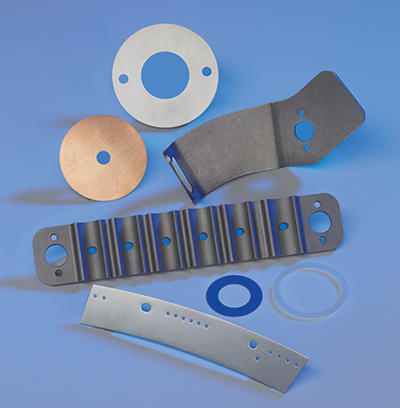 Aerospace parts made of high-tech materials, including high-temperature nickel alloys, cobalt alloys and exotic stainless steel, are found in turbines, landing gear, airframes, valves, pumps, actuators and motion controls. Shown here are parts produced by Phoenix Specialty Manufacturing.
Whitcraft's bread and butter, for now, continues to be traditional metal stamping and fabricating. With 20-plus years' experience with GE Aviation before becoming Whitcraft CEO in 2018, Folsom knows a thing or two about meeting the needs of aerospace customers. A Tier-One airframe part requiring forming finesse serves as an example. "The part called for a fairly thick (0.030 in.) piece of titanium, which must be heated to become malleable for forming," he explains. "Using a 50-ton hot stamping press built inhouse, we heated the material and formed it around a pressurized mandrel. The finesse comes in to play because titanium tends to crack unless it's brought to temperature while forming, providing stress relief between forms using tightly sealed Vac Aero (Burlington, Ontario, Canada) ovens that provide an argon-gas environment to prevent carburization and a rapid temperature drop."
Like Whitcraft, Lincoln Electric, provider of welding solutions, stresses a proactive approach to metal AM. Already working with customers, the company is preparing for a formal opening of its Additive Solutions facility, with more than 20 robotic AM systems, later this year. Lincoln Electric recently completed the acquisition of Baker Industries, a Detroit, MI-based provider of custom tooling, parts and fixtures for the automotive and aerospace markets. Baker's inhouse design and manufacturing capabilities include metal 3D printing of tools for aerospace applications using EOS M290 DMLS machines.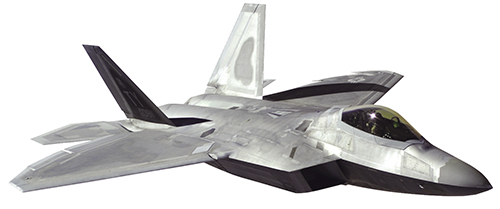 The F-22 Raptor fighter jet features an auxiliary-power-unit air-intake grill, redesigned and manufactured by Ace Clearwater.


California Company Deals Aces for Aerospace Projects
Ace Clearwater, headquartered in Torrance, CA, creates custom and complex formed and welded assemblies for customers in aerospace and other industries. Earlier this year, Epicor ERP named Ace Clearwater the winner in its Technology Innovator category. Having migrated to the Epicor ERP 10 enterprise resource planning system in 2017, the company achieved significant improvements in cost-of-quality (COQ) and on-time delivery (OTD). In the past five years, according to Epicor officials in announcing the award, Ace's COQ has dropped from 2.6 to 1.1 percent, saving the company approximately $450,000 per year. During the same period, Ace elevated its OTD rate from 95.9 to 98.6 percent, resulting in greater customer satisfaction, as measured by captured business—which in 2018 was 22 percent over the target goal.
The Ace client list reads as a who's who in aerospace, and includes Lockheed Martin, Sikorsky, Honeywell Aerospace, Snowline Aerospace, Airbus, Bell Helicopter and Safran. The company motto: "If it flies, we're on it." In its 700,000 sq. ft. of manufacturing space, Ace Clearwater employs a comprehensive arsenal of capabilities that include engineering, stamping, tube bending, forging, welding, machining, laser and waterjet cutting, assembly, and 3D printing. Its 50,000-sq.-ft. Compton, CA, facility contains the company's metal forming operations, housing hydroforming equipment, a 400-ton hydraulic press, machine shop and five-axis laser cutting machines.
The company brings its inhouse expertise to bear in a variety of applications. One example: an auxiliary-power-unit air-intake grill for the F-22 Raptor fighter jet, which must function at speeds reaching Mach 2. The grill's sophisticated design presented a manufacturing challenge, according to Ace officials.
Made from high-grade aluminum, the original design was discovered to react to air pressures at speeds greater than Mach 1, when the force of the air and the location of the vents created excessive louver vibration, resulting in sound heard in the cockpit through the pilot's helmet.
Ace's task from Honeywell, the project customer: Manufacture the redesigned grill, which required complex aluminum forms; unique, strong welds that could withstand vibration; and construction that could withstand extreme temperatures. The project brought many challenges. For example, each blade in the grill features a slight shape variation, so Ace handcrafted all of the blades and precision-welded them into precise locations. Thin separation between the blades made welding more difficult, compounded by the fact that aluminum welding itself is a complex task. Ultimately, construction of the grills exceeded the demands required.
Brian Baker, vice president and general manager of Baker, says that demand for lighter weight and greater fuel efficiency drives the development of more composite components for aerospace. He adds that 3D printed tooling made of aluminum and steel alloys, as well as hybrid tooling that combines additive with subtractive manufacturing—CNC machining for example—enable faster tooling turnarounds by automotive Tier Ones and aerospace companies.
Looking ahead, Mark Douglass, Lincoln's business development manager, Additive Solutions, says his group anticipates accelerating large format wire-based metal AM in certain markets such as aerospace. "Baker, as a platform acquisition and with its relationships allows us to do that," says Douglass.
Moreover, he says, Lincoln Electric's Wolf Robotics acquisition in 2015 accelerated its investment in developing complex motion control and CAD-to-path software for making larger parts. "We've been working on large-format AM for roughly 10 years," says Douglas. "Together with our expertise in metallurgy and process technologies, such as arc and laser hot-wire welding, these acquisitions demonstrate our ongoing commitment to AM. So, too, does the 3-yr. CRADA (cooperative research and development agreement) we signed in May with Oak Ridge National Laboratories, agreeing to continued collaboration on large-scale, robotic AM and the development of new materials and data analytics, with the goal of producing wire-based metal AM components at 100 lb./hr. We're also considering other acquisitions.
"Our vision?" he continues, "is to think of parts holistically—from CAD to finished part, and to identify where it makes sense to incorporate additive and/or subtractive processes. Introducing a services business capable of producing parts for customers is atypical of Lincoln, but this is part of our strategy moving forward."
Future Is Bright
Looking ahead, Deloitte's Lineberger says that aerospace will continue as a bright spot in the global economy, made even brighter by new vertical takeoff and landing (VTOL) and unmanned aerial systems. "Bell Flight, Airbus and Boeing all are building prototypes for electrical and hybrid VTOL aircraft that can be used in and around urban areas," says Lineberger. "In essence, we're talking flying taxis that would take off vertically, transition to horizontal flight to transport people and/or cargo, and then land vertically."
Why not? Amazon continues to test its drone-delivery service, while in Baltimore, MD, a drone recently transported a human kidney nearly 3 miles to a nearby hospital, where a team of surgeons successfully transplanted the organ into a critically ill patient.
Given these developments, one might say that when it comes to aerospace, the sky's the limit. MF
Industry-Related Terms:
CAD
,
CNC
,
Fixture
,
Form
,
Forming
,
Hydraulic Press
,
LASER
,
Lines
,
Mandrel
,
Stainless Steel
,
Surface
,
Alloys
,
Bending
View Glossary of Metalforming Terms
Technologies: CNC Punching, Cutting, Finishing