New Press Brake Designs Tackle Ergonomic Concerns
August 25, 2019
Ergonomics in the workplace remains a highly discussed topic, and a quick Google search reveals hundreds of studies and recommendations for desk chairs, tables and monitors. But often overlooked, these same conditions apply to manufacturing environments as well. In fact, the ergonomics of a production operator is more critical to a business than you may think.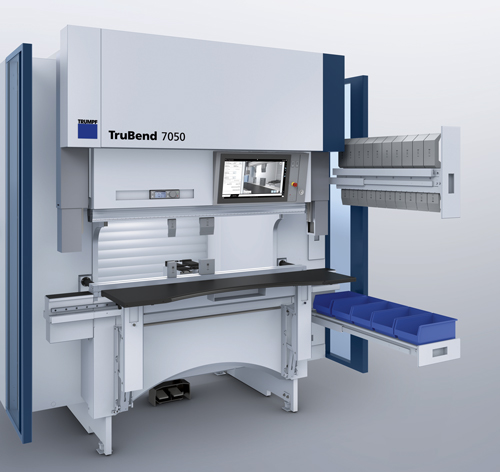 Smaller-sized press brakes now are being designed with ergonomics in mind. These new breeds enable operators to stand or sit, and tool storage at the machine enables quicker, easier and safer changeovers.

Ergonomics is defined by Merriam Webster as "an applied science concerned with designing and arranging things people use so that the people and things interact most efficiently and safely." More simply, ergonomics involves designing or modifying work to fit the worker in order to eliminate discomfort and injury. Though some might see this as a luxury, the implementation of workplace ergonomics repeatedly has been linked to higher efficiency and profitability.
A Demanding Task
Press brake operation represents one manufacturing task with a very high safety risk. A press brake's main goal: Perfectly repeat a series of movements to ensure high-quality production. During an ordinary shift, a press brake operator may repeat the same cycle of movements hundreds of times. This type of repetition places operators at high risk for multiple types of short- and long-term injuries. Many businesses understand that the biggest risk to productivity comes from employee absence, but not enough understand that most injuries result from a repetitive strain, Furthermore, studies show that sprains and strains comprise more than 40 percent of workplace injuries.
Ergonomic improvement tends to focus on large- or heavy-part production, which seems to be the most obvious way to increase productivity or reduce injury during press brake operation. But an equal focus should be placed on small-part production, defined here as parts weighing less than 25 lb. and with forms less than 50 in. long. Experience has shown that large press brakes do not form small parts effectively, with operator ergonomics representing the most critical disadvantage. Though larger press brakes provide the flexibility to form any part in a production environment, design criteria for these machines have never considered operator comfort. On the other hand, press brake manufacturers have considered operator comfort in designs of smaller press brakes—usually electric and incorporating less than 60 tons of pressing force.