Successful Printing of Stainless-Steel Headcap for Marine Corps Mine-Clearing Device
September 3, 2021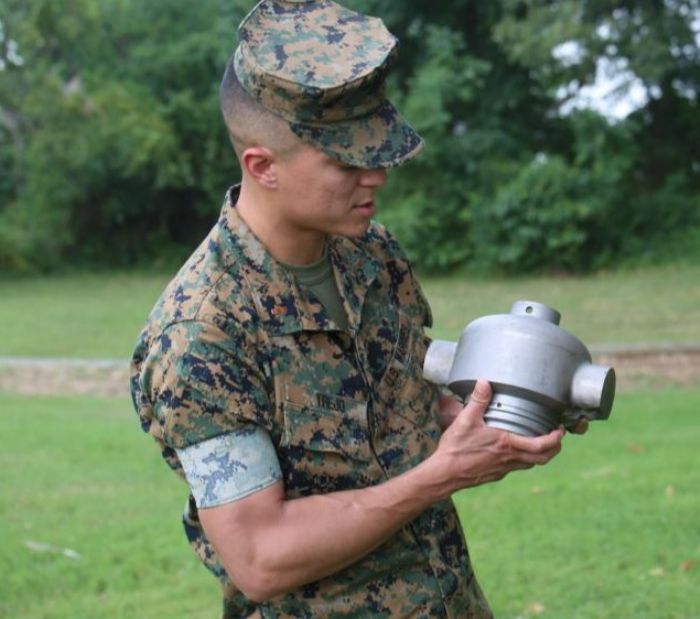 In its continuing quest to leverage additive manufacturing (AM) for battlefield prowess, the U.S. Marine Corps reports success in metal AM of a component for a mine-clearing device. This summer, the Program Manager for Ammunition (PM Ammo) at Marine Corps Systems Command (MCSC) 3D printed a headcap for a rocket motor used to detonate a M58 Mine Clearing Line Charge (MICLIC), a rocket-projected explosive line charge that provides a demining capability for Marines.
Marines use the MICLIC to clear paths through minefields and other obstacles on the battlefield. However, traditional manufacturing methods for creating the headcap can be timely and costly, according to CWO2 Justin Trejo, a project officer with PM Ammo. Hence the effort to identify a more efficient method for producing the part.

In 2019, PM Ammo began exploring alternative solutions for manufacturing the headcap. After hours of research as well as developing and testing a prototype headcap, the team collaborated with Naval Surface Warfare Center Corona Division to produce a 3D-printed version, with the division producing the 3D-printed, stainless-steel solution earlier this year. Subsequent testing validated the component.
"The process of 3D printing allows Marines to create a physical object from a digital design," says Trejo (pictured holding the 3D-printed headcap). "We essentially created a 3D-printed product and incorporated it into a highly explosive system. In the future, we'd like to attempt to 3D print the headcap with its nozzles attached."