Cobra Debuts Metal 3D-Printed Commercial Putter via HP, Parmatech Collaboration
February 24, 2021
Cobra Golf has unveiled its King Supersport-35 putter, developed via a 2-yr. collaboration with Cobra engineers and teams at HP Inc. and Parmatech, and featuring a 3D-printed metal body with an intricate lattice structure designed to optimize weight distribution and deliver the highest-possible moment of inertia (MOI) in a blade shape, according to Cobra officials. Using Parmatech's production capabilities and expertise, and HP's Metal Jet 3D Printing system, the team's developed a unique putter design that also employs SIK Golf's Descending Loft Technology (DLT) in the putter head's face insert.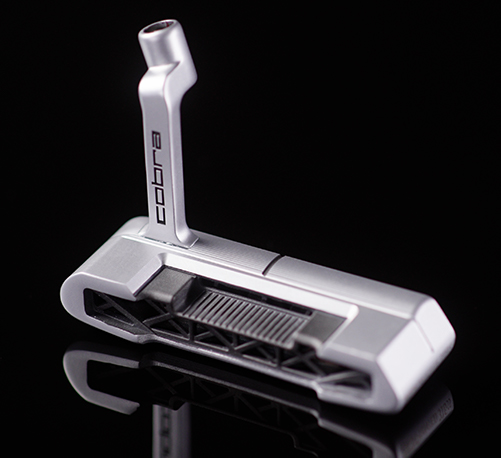 The new King Supersport-35 putter from Cobra Golf, developed via a 2-yr. collaboration with Cobra engineers and teams at HP and Parmatech, features a 3D-printed, latticed stainless-steel putter-head body as well as an aluminum-lattice insert. The collaboration employed Cobra's inhouse engineering expertise as well as Parmatech's production capabilities and HP's Metal Jet 3D printing system.
The entire putter body is printed on the HP Metal Jet using Type 316 stainless steel, and then sintered at a high temperature to bind the metal and form the final head part. HP's technology is able to deliver high part quality with minimal post-process finishing, according to Cobra officials, and enables engineers to print an intricate lattice structure within the body, not possible using traditional casting or forging methods. The lattice design and incorporation into the putter-head body reportedly optimizes the distribution of weight within the putter head to create the highest MOI without the need for additional fixed weights. During the final step of the manufacturing process, the surfaces of the putter are precision CNC milled to ensure precise shaping and detail while adding the finishing cosmetic touches.
"HP's 3D-printing technology allows us to utilize a complex lattice structure to remove weight from the center of the putter head and push significant amounts of weight to the perimeter," says Jose Miraflor, vice president of marketing for Cobra Golf. "The result is superior MOI levels and massively increased stability and forgiveness. So not only is the 3D-printed production method more consistent, but it also allows us to design products in a new and superior way."
Adding to the innovation, SIK Golf's DLT has been engineered into the putter's aluminum face insert―a design that saves weight from the front of the putter to give it a softer feel than a traditional all-steel SIK putter face.