Hybrid Machining Centers Boast Seamless Switch between Subtractive and Additive
January 26, 2021
Romi USA has introduced a line of hybrid-manufacturing machine tools that combine traditional machining operations with metal additive manufacturing (AM). The company's new-generation D-series vertical machining centers form the basis for this family of hybrids, and include the D 800, the D 1000 and the D 1250. The three models feature robust and heavy casting construction, roller guides on all axes, direct-drive spindle and a maximum machining volume of 31 by 24 by 25 in. for the D 800, 40 by 24 by 25 in. for the D 1000 and 50 by 24 by 25 in. for the D 1250. Also available as a hybrid: the Romi DCM 620-5X five-axis vertical machining center.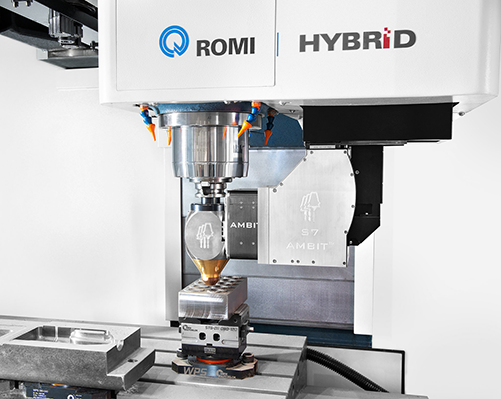 Switching from subtractive machining to AM and back is as simple as making a tool change, according to company officials. The additive head is brought into position via an automatic tool changer, enabling the laser deposition AM process to begin. Material then can be added to the piece in the exact profile, amount and location desired. This process is ideal for part repair, feature addition or intricate work where subtractive manufacturing would take more time and produce more waste material.
Romi teamed with Hybrid Manufacturing Technologies to develop the D-series hybrid machines. Hybrid Manufacturing Technologies supplies more than 10 Ambit Flex processing heads for each D-series hybrid machine, thus enabling operational flexibility for a variety of applications including machining with AM (metal, polymer or composites), and surface and subsurface inspection.
The D-series hybrid machines come equipped with sensors that monitor thermal compensation, thus improving precision. And, each model includes a Fanuc 0i-MF i-HMI CNC with 15-in. touchscreen.
"By building our D-series machines specifically for hybrid manufacturing," says Rafael Boldorini, Romi USA general manager, "we can offer an entry-level machine starting at an affordable price point. That has opened the door for a lot of shops to take advantage of this technology."
See also: Hybrid Manufacturing Technologies, Romi USA
Technologies: Additive Manufacturing