Our Latest Issue
Latest Video
Upcoming Events
Upcoming events for MetalForming Magazine!
Free E-Newsletters
Sent bi-weekly to inform you of happenings within the metalforming industry.
Start receiving newsletters and gain access to all content throughout the site.

---
NAIAS Welcomes Second Round of Mobility Match Meetings
Thursday, December 13, 2018
NAIAS, in partnership with the Michigan Economic Development Corporation/PlanetM, is bringing back the business-to-business Match Meetings on Wednesday, Jan. 16, 2019, from noon – 4 pm. More than 500 matchmaking business development meetings took place at the 2018 NAIAS, generating more than $10 million in investment and contracts between corporations, investors and startups. Signups are now being accepted.
https://naias.com
---
Columbus, OH Poised to Lead With Driverless Cars
Wednesday, December 12, 2018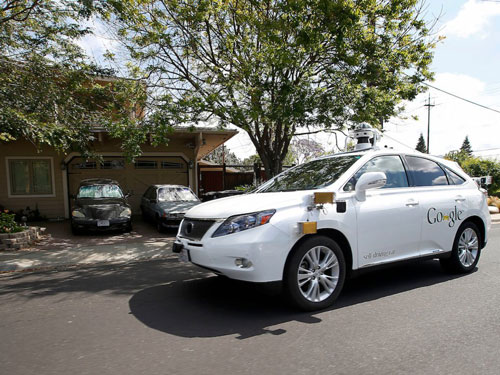 Photo credit: AP/Tony Avelar
Columbus, OH has won $50 million to get its streets ready for driverless cars. The funding comes from the
Department of Transportation's (DOT) Smart Cities Challenge
, which asked cities to devise infrastructure plans that would integrate self-driving cars, connected vehicles, and smart sensors. The $40 million from the DOT can be spent in whatever way possible for Columbus to become the country's first city to fully integrate self-driving cars, connected vehicles, and smart sensors into its transportation network. Columbus also receives 100 Wi-Fi kiosks with traffic information from Google's Sidewalk Labs and wireless communication data from NXP for cars to communicate.
An additional $10 million from Vulcan, Inc., is to be used to incorporate an electric vehicle infrastructure. And future plans call for installing driver- assistance technology in city buses. "We want to be epicenter," says Rory McGuiness, deputy director the department of development for Columbus. "We want to be synonymous for intelligent transportation systems in same way that Silicon Valley is for tech."
---
NASA Launches Sunpower Cryocooler
Tuesday, December 11, 2018

Sunpower, Inc., the Athens, OH-based
provider of free-piston Stirling engine and cryocooler technology
, announced that
NASA successfully launched a Sunpower CT-S cryocooler
on Dec. 5 aboard SpaceX's CRS 16 spacecraft, as part of the Robotic Refueling Mission 3 (RRM3). The mission will pioneer techniques for storing and replenishing spacecraft fuel.
Currently, all spacecraft use consumables to perform key functions, such as maneuvering and maintaining critical equipment. These consumables eventually run out, rendering the spacecraft useless. NASA hopes to replenish these spacecrafts with consumables via robot to maintain their functionality and allow them to stay in space longer, eliminating the need to replace with another spacecraft.
Roughly the size of a washing machine, the 550-lb. RRM3 module hangs from a platform on the International Space Station and has a suite of three unique tools: Cryogen Service Tool, Multi-Function Tool 2, and Visual Inspection Posable Invertebrate Robot 2.
Its primary objectives: transfer liquid methane in microgravity and maintain the cryogen mass with zero boil-off for a period of 6 months.
---
Visit Our Sponsors