Our Latest Issue
Latest Video
Upcoming Events
Upcoming events for MetalForming Magazine!
Free E-Newsletters
Sent bi-weekly to inform you of happenings within the metalforming industry.
Start receiving newsletters and gain access to all content throughout the site.

---
Quintus Press Helps Advance Heattreatment Specialist Lake City Heat Treating
Friday, November 16, 2018
Heattreatment specialist Lake City Heat Treating (LCHT)
, Warsaw, IN, has taken delivery of a QIH 122 URQ hot isostatic press (HIP) by
Sweden-based Quintus Technologies
. The machine integrates the application of high pressure and heattreatment in a single system. The combined materials densification processes produce parts with improved fatigue and ductile properties to satisfy the critical performance parameters of LCHT's aerospace and medical device industries. The machine's quenching capability with controlled cooling rates up to 390 F per min., reportedly makes it the first of its kind to be installed in North America.
With a capacity of 2000 lb./load, the machine and a work zone of 26 in. in dia. and 68.9 in. in height; an operating temperature of 2552 F; and pressure of 30,000 psi, the system saves time and space, lowers energy consumption, and reduces infrastructure needs.
---
Strength in Numbers: FABTECH 2018
Thursday, November 15, 2018
More than 1500 exhibiting companies and nearly 34,000 attendees from 75 countries took over the Georgia World Congress Center in Atlanta, November 4-6, as part of FABTECH 2018, known as North America's largest metalforming, fabricating, welding and finishing event.
With more than 650,000 net square feet of exhibit space, visitors had the chance to network, learn and explore three exhibit halls full of new products, technology and the latest manufacturing innovations. The event showcased several emerging technologies, including additive manufacturing, automation systems, advanced fiber laser cutting machines, and more. Attendees benefitted from hands-on product demonstrations and expert insight into current and future manufacturing trends.
The educational lineup included more than 130 expert-led presentations and sessions covering the latest and best practices in the meta forming, fabricating, welding and finishing industries. The most popular education tracks focused on automation, robotics, cutting and lasers, welding fabrication, lean, and workforce development. Attendees learned solutions to make their businesses more productive and profitable.
New show-floor features included the Smart Manufacturing Hub with displays and daily presentations on advanced manufacturing technologies, including automation, IoT and 3D printing and more. An expanded 3D/Additive Manufacturing Pavilion introduced an Ask the Experts Knowledge Bar, which hosted small group sessions designed to provide answers to specific 3D/additive manufacturing challenges.
"Eastern Metal Supply (EMS) had a great week of meetings, conversations and collaborations with a large and diverse group of attendees within the metal fabrication industry at this year's FABTECH," said Anthony Rockecharlie, EMS. "The show served as the perfect place to meet with several of our existing clients and build relationships with many new prospects from across the country and continent alike. FABTECH is an expansive, all-inclusive, well-organized, showcase of the best suppliers in the metal fabrication arena, and we were thrilled to be there as an exhibitor and be associated with such high caliber vendors! If you are not part of FABTECH, then you are really missing out on a great opportunity!"
Other special events took center stage as well, including the FABx Tech Talks opening session, an inspirational keynote by NASCAR icon Kyle Petty, and an informative panel discussion on the next generation entering the workforce. Recordings of the keynotes and panel discussion are available for purchase.
FABTECH 2019
is set for November 11-14 at McCormick Place, Chicago, IL, with registration beginning in spring.
---
Suhner and Velocity Products Form Partnership
Wednesday, November 14, 2018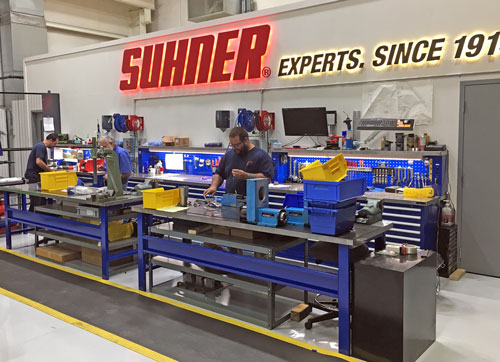 Suhner Industrial Products Corp., Rome, GA, has announced their partnership with Velocity Products, Huntsville, AL, on the repair and maintenance of tooling by SU-matic, a Switzerland-based firm and part of the Suhner Group of companies. The partnership capitalizes on Velocity's experience as distributor of tooling for Charlotte, NC-based Okuma America Corp., the company with which SU-matic works closely when designing tools. Velocity's preventive maintenance program, led by 30-yr. veteran Walter Scheppe and his staff, offers 72-hr. inspection turnaround, inspection of radial and axial play and a six-month guarantee on repairs.
"I'm proud of the partnership we have formed with Suhner," says Bob Bauer, vice president of Velocity Products, "as this allows us to provide a timely and high-quality service to Okuma."
---
Visit Our Sponsors