seen at fabtech
Extended Range for Cobot Welding and Other Tasks
December 9, 2022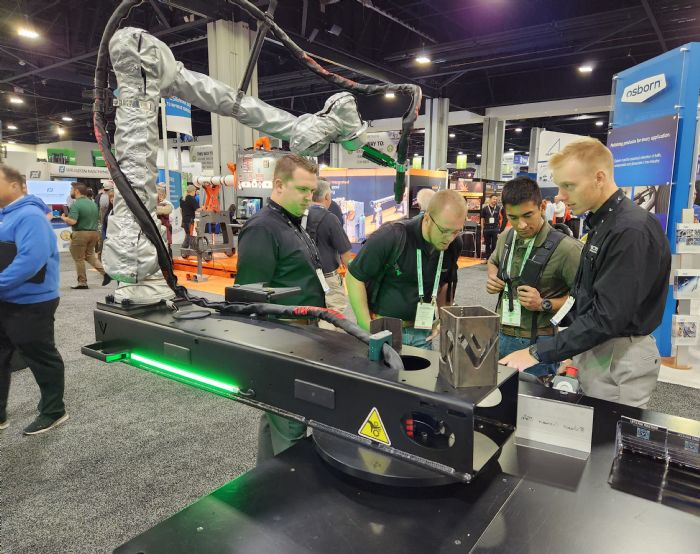 At FABTECH…Welding and collaborative robot (cobot)-base extenders took center stage at the Universal Robots (UR) booth, as company officials note that welding has become the fastest-growing application segment for UR, growing more than 80 percent the first nine months of 2022 as compared to 2021. With this backdrop, Vectis Automation debuted at the UR booth the Park'N'Arc (pictured), a rotational range extender that allows for the base of cobot to be manually moved to various locations in welding and other applications.
"Compared to a short linear track, the Park'N'Arc is an improved design for increasing range as the cobot base can be translated nearly 8 ft. in a linear direction while maintaining simplicity, robust cable management and portability," says Josh Pawley, cofounder of Vectis Automation.
With another new take on welding larger parts, typically out of the cobot's reach, again at the UR booth, Hirebotics and partner Kinetic Technologies LLC launched the RT1, a new cobot-controlled rotary table designed to maximize welding capacity.
"The need for this system is twofold," says Rob Goldiez, cofounder of Hirebotics. "It gives users the ability to rotate the part to the front and back for welding. Secondly, it gives users with high-volume production the ability to have separate load and weld stations; loading a part on one side while the cobot is welding on the other, increasing arc on time and throughput."
See also: Universal Robots, Hirebotics LLC, Vectis Automation
Technologies: Pressroom Automation