Articles
ERP Brings Tier-One Auto Supplier Together
Thursday, June 27, 2019
To call TOA USA LLC large is an understatement. And, the task of tracking and managing everything that goes on there, as well as everything that goes in and out is, like the size of the complex itself, truly massive.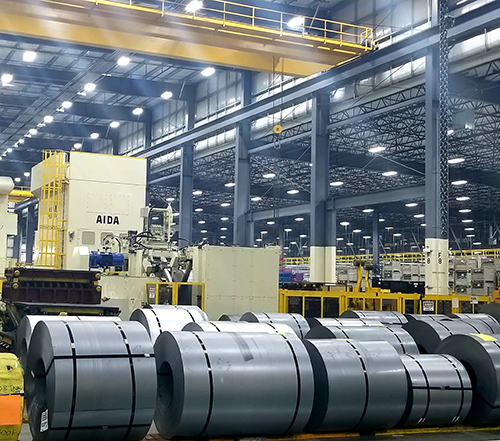 TOA USA LLC produces body structures and suspension parts for numerous automotive OEMs, with inhouse processes including conventional and hot stamping as well as welding. The real-time reporting capability of a recent ERP-system implementation allows associates and management to "react immediately instead of finding out the next day about an issue yesterday or last week," explains Bob Whyte, TOA USA vice president of operations and quality. "And, instead of waiting weeks or a month, we can access reports, including trends, when we want them. That's a big change, making us all more effective."
Located just outside of Indianapolis, IN, in Mooresville, the Tier-One automotive supplier opened its doors in 2000, and began mass production in 2001 to feed nearby assembly operations. With 1 million-plus sq. ft. of floor space, the company, a subsidiary of Japan-based TOA Industries Co., Ltd., carries more than 1100 employees across two shifts. They produce body structures and suspension parts for automotive OEMs, with inhouse processes including conventional and hot stamping as well as projection, spot and gas metal arc welding. The operation also includes two e-coating lines.
Presses, primarily mechanical, range in capacities from 250 to 3000 tons, with six dedicated hot stamping lines added to the mix. TOA USA's formidable welding capabilities include 180 workcells and 559 robots. While the company buys its tooling—progressive, transfer and tandem dies—it houses a large toolroom for maintenance and repair. Materials routing through TOA USA include cold- and hot-rolled steels, with the majority galvannealed dual-phase 590.
TOA USA has leveraged these robust capabilities to grow steadily. As a measure of its growth, the operation has expanded eight times in only 19 years of existence. Of course, with growth comes growing pains. Analyzing and acting upon an ever-increasing amount of data, in a timely manner to ensure productivity and quality, represents a huge challenge, as does funneling useful information to those within TOA USA, and those it supplies and purchases from. For example, the company must ensure the on-time delivery of some 90 truckloads of products to customers each and every day.
To meet such challenges, in 2015, the decision was made to seek out and implement a new ERP system. TOA USA ultimately chose IQMS as its vendor of choice, and after going live in the summer of 2016, adoption has increased across departments and processes.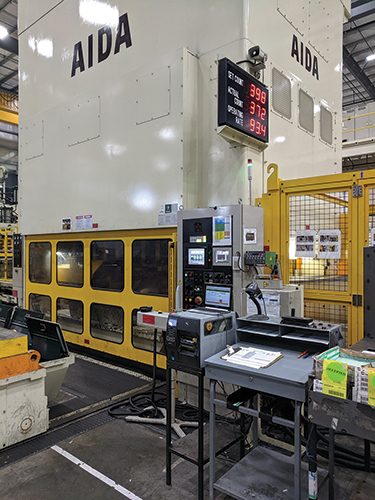 A press-line workstation employs a computer notebook and printer that allow ERP-system data to be input and output, and provide automatic printing of labels corresponding to the parts produced.
"In 2015, we realized that change was needed," says Dean Weller, TOA USA senior manager of information systems, who, with a group of company associates, sat down with MetalForming to detail the implementation. "We had a ERP system for accounting and one for manufacturing. They didn't communicate, so our accounting team had no visibility into production. Shipping was the only automated department, using a radio-frequency scanner to track when parts arrived. Overall, everything lagged. We didn't record any production until the following day, or two days or more if we got behind ...just no visibility into any of our systems."
With multiple solutions with multiple databases producing multiple spreadsheets, and departments trying to track other departments, often with old data, a solution was needed.
"We examined our current systems, which were old, and decided to explore other options," Weller says. "We didn't want to look at data two days behind. We didn't want to have your systems and my systems. We wanted visibility into what's going on right now, and we wanted to see into lower inventory points—real-time availability and inventory tracking led us down this path."
Delivers Real-Time Reporting
The 2016 rollout of the new ERP system covered shipping, accounting and inventory-control functions. In only a few years, the ERP solution has delivered numerous positives.
Real-time production and process monitoring of data captured by sensors enable TOA USA to confirm that the correct job is running, which has virtually eliminated issues with labeling and production reporting. The monitoring also triggers alerts of abnormal conditions, allowing employees to take immediate action.

Electronic data interchange (EDI) communications have significantly reduced manual entry, providing greater efficiency and accuracy. For example, TOA USA receives about 20 truckloads of steel from vendors each day. These vendors use EDI to send invoices as Excel files, which directly import into the IQMS-integrated ERP and MES system. The TOA USA accounting team then can access all of this information. Similarly, TOA Winchester, an Indiana-based Tier-Two sister company, ships 11 truckloads of materials to TOA USA with labels produced by its own ERP software. Using EDI, the Winchester subsidiary sends TOA USA a flat file with serial numbers that import directly into the IQMS system, removing the need for relabeling.

Traceability in TOA USA's ERP system enables the production team to quickly track down production dates and lot numbers in order to quarantine the concerned product. This allows for rapid identification and containment of suspect products, significantly reducing the likelihood that such issues will become customer concerns.

Mobile devices play a greater role as Chromebooks at all work centers collect shop data. Additionally, production team leaders have tablets and make use of IQMS's SmartPage tools and custom apps developed by TOA USA, which provide team leaders with insights into information from the ERP system that they can employ on the floor to better understand the production situation.

Just in Time (JIT), critical in TOA USA's warehousing and shipping, places scheduling demands related to raw materials and other supplies coming in the door, to stamping presses, to welding, to assembly to shipping products out the door. In addition to leveraging real-time monitoring, TOA USA uses work-center inventory tracking to JIT-move inventory into work centers. The company also uses automatic guided vehicles to deliver the inventory to cells. Together, these approaches address JIT demands while reducing workforce and forklift costs related to material handling.
For the first time at TOA USA, all data reside in a single database. Storing data in the same structure assists in locating it and helps TOA USA move toward a single version of production and operation reality.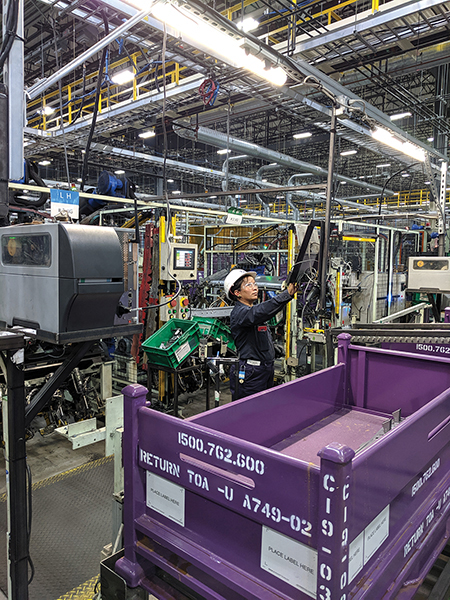 An associate in the welding department interacts with the ERP ShopData application. While data such as start and stop time are automatically recorded, information regarding the reason must be added—and is added in real time.
Quicker Data Access, Greater Visibility
Unlike prior to the new ERP implementation, production reporting now is a real-time reality. Downtime, scrap and more begin recording as soon as a machine or cell starts, with inventory adjusted immediately upon production of each container quantity. Real-time capability delivers the ability for supervisors, engineers and others at TOA USA to quickly assess production, inventory and other issues, with alerts sent immediately to designated recipients. And, from the data, reports can be created to provide issue assessments, trends and more. All of this enables quick action. Perhaps most importantly, employees can act off of full, accurate data to better address issues and plan ahead.
"With real-time reporting and the alerts, we can react immediately instead of finding out the next day about an issue that occurred yesterday or last week," explains Bob Whyte, TOA USA vice president of operations and quality. "And, instead of waiting weeks or a month, we can access reports, including trends, when we want them. That's a big change, making us all more effective."
Accessing the information and entering data also is more controlled via the ERP upgrade. For example, prior to the upgrade, generic user accounts provided no visibility into who was adding or changing information, and why. Now, each user has a unique account, which has bred the input of more accurate and detailed information.
"Not only are we intentional when making adjustments, but we are intentional in our documentation, which has led to more comments in the system," Weller says. "Users are more detailed in comments because they become responsible for that information. And, again, user accounts help bring complete visibility."
Adoption Increases as Successes Mount
Seeing successful use of the ERP system in some areas has led other areas to buy in and sign on. Case in point: TOA USA's maintenance department, which has gained the ability to real-time-witness equipment and other maintenance issues, and respond accordingly.
"It has really helped organize the maintenance department," says Weller, noting that the department now seeks to integrate work orders into ERP. "Seeing success in one module or one process drives other departments to engage and seek the resources available within the ERP system. Internal success stories are huge in the buy in."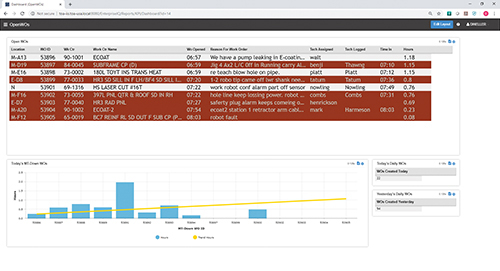 A monitor hangs in the TOA USA maintenance department listing any open work orders, including open duration and who is assigned to the work order.
Product labeling represents another area of ERP success. One customer requires its own labels on its products, which TOA USA picks up from the customer's website. Before, TOA USA carried the labels, preprinted, on hand in stacks. Employees manually had to sift through the labels to determine how many were needed and when and where they go—a day-long process. Now, the labels import into the ERP system, and are generated as the shipments are generated. In addition, the system automatically retrieves the correct labels for the shipment. Before, personnel manually scanned product and labels to make sure that they matched, as the customer's identifying labels did not synch to TOA USA's part-identification codes. Today, all of that is automated.
The labeling example speaks to traceability offered in the ERP system. That covers not only production processes and products, but material and other inventories. Automotive production demands traceability for product and process, whereas TOA USA's volume of operations and supply chain demands traceability of materials, resources and shipments. Unlike in the past, the ERP upgrade provides paperless traceability in a more efficient manner.
Adding Day By Day
As successes mount, so do adoptions of ERP throughout TOA USA, and the company plans to continue researching, testing and implementing the system where appropriate. Given the scope of data gathering and reporting required, such implementation requires effort and resources as well as buy-in. TOA USA associates and management have worked hard to get on board with the ERP upgrade, and are tapping the experiences and expertise of others through IQMS user-group meetings. With each interaction, report Weller and Whyte, comes insight into new opportunities to leverage the power of ERP. MF

See also: IQMS Manufacturing ERP & MES
Related Enterprise Zones: Software
Visit Our Sponsors