Articles
Metal Former Stays Strong With Aid From Government Program
Wednesday, May 22, 2019
Family-owned and operated since its inception nearly 30 years ago, when Stephen and Irene Murray purchased the Twoson Tool Co. (started in 1945) and launched the Muncie, IN-based Mursix Corp., the Mursix story has been one of continuous growth and innovation. From 28 employees and $2 million in annual sales in 1990, the metal forming firm's workforce now tops 300, with annual sales approaching $43 million. Making that even more impressive is knowing that much of this growth occurred following the 2008 recession, during the recovery from 2009 to 2014, when Mursix experienced annual double-digit sales growth.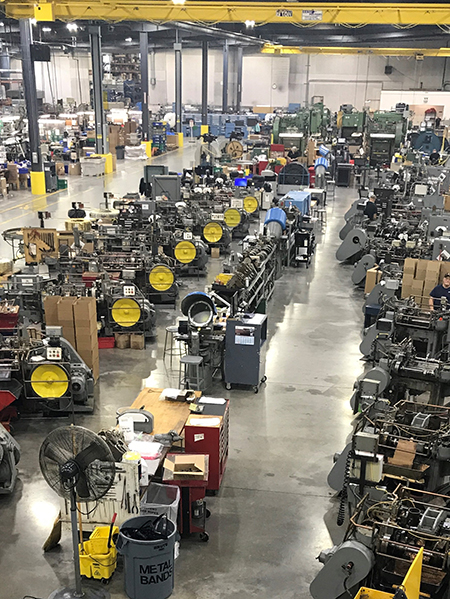 Mursix, home to nearly 60 punch and multislide presses, as well as 25 CNC lathes and mills, eight mold machines, seven welders, three EDMs, and rivet, staking and wire machines, serves as a one-stop shop, offering tool design and construction, stamping of large and small components, precision machining, injection and insert molding, finishing, plating, and sophisticated multipart assembly.
Always proactive, Mursix's technology-driven decisions beginning in the 1990s—wire EDMs, CNC machines, progressive-die presses, robotic welders, etc.—paid off with the company becoming a Tier One and Tier Two supplier of custom parts for the appliance, automotive, industrial, HVAC and medical industries. Now with nearly 60 punch and multislide presses, 25 CNC lathes and mills, eight mold machines, seven welding machines, three EDMs, and rivet, staking and wire machines, Mursix serves as a one-stop shop. Capabilities include tool design and construction, stamping of large and small components, precision machining, injection and insert molding, finishing, plating, and sophisticated multipart assembly.
"During our nearly 30 years, we've invested nearly $43 million in our growth, without ever taking a dividend. That's a principle that our father instilled in us from the company's beginning," says CEO Todd Murray, one of four Murray siblings involved with running the company. The others: Susan Murray Carlock, vice president of business development; Brad Murray, director of procurement; and Mike Murray, director of plating operations.
"We managed our business well leading up to the 2008 recession," says Todd. "When bankruptcies and consolidations began, we were able to pick up business. And before that, we capitalized on opportunities such as inverters, resulting from the electrification of automobiles. We also focused on safety-related parts: seat belts, air bags, antilock brakes and steering controls. This allowed for the cultivation of new customers and tremendous growth."
Not to say that the Mursix story is without rough patches. While the company saw 10-percent new-business growth after 2014, its build-out (parts/platforms that die out) rate was as much as 10 percent of total revenue per year, for a 1:1 ratio of new business vs. build-out. Furthermore, Mursix lost as much as 12 percent, about $5 million, of its sales to Mexican imports from 2015 to 2017, says Todd. While that in and of itself isn't unusual, what the Mursix leadership team did about it is a story that needs to be told throughout manufacturing circles everywhere as tariffs and trade wars contribute to this era of economic uncertainty.
'Hidden Gem': Trade Adjustment Assistance for Firms

Two lean cells—one named Cubs (left, blue tape on machines) and the other Reds (right, red tape)—emphasize organization and standardized tooling, and are integral to the company's newly implemented value-stream mapping system.
Mursix executives want others to know about and perhaps benefit from what they learned: Help is available through the Trade Adjustment Assistance for Firms (TAAF) program, funded by the U.S. Economic Development Administration, a part of the U.S. Department of Commerce. Eleven TAAF centers (www.taacenters.org) operate throughout the country, including the Great Lakes Trade Adjustment Assistance Center (GLTAAC (www.gltaac.org), a part of the Economic Growth Institute at the University of Michigan (economicgrowth.umich.edu) in Ann Arbor and serving the states of Ohio, Indiana and Michigan.
Through its partnership with GLTAAC, Mursix gained $75,000 in matching funds, and can take as long as five years to spend it. "But we're not that patient," says Todd, explaining that $150,000 (including Mursix's half) was spent during a 17-month period beginning in June 2017 on six categories targeted for improvement: leadership development, lean manufacturing, lean accounting, new markets discovery, sales process training and employee training.
"GLTAAC has worked with hundreds of import-injured companies," says Scott Phillips, GLTAAC senior project manager. "Clients such as Mursix use GLTAAC planning and cofunding to help them reclaim their competitive edge."
And yet, TAAF centers such as GLTAAC remain "hidden gems," says Susan Murray Carlock, vice president of business development at Mursix. "Through our internship-program contacts at universities and various organizations, we're able to learn about such programs. For example, it was through Mary Rose Hennessy at the University of Illinois BIS program (strategic business consulting) that we learned of GLTAAC. "The word hasn't really gotten out that this help exists," says Todd. "We as manufacturers must be engaged and in tune with universities and government agencies in order to be aware of programs such as GLTAAC."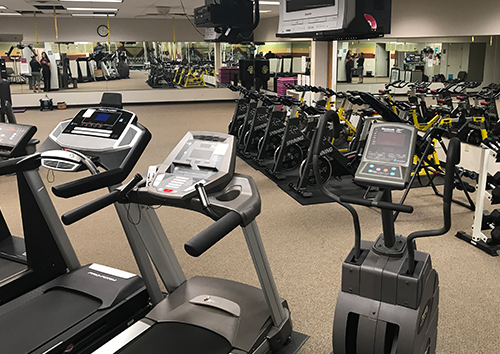 Mursix's emphasis on wellness and healthy choices, as evidenced by this on-site fitness center, has resulted in a favorable insurance loss ratio.
"For example," explains Susan, "Todd serves as president of the local manufacturers association and I'm a part of the leadership for a community initiative that helps create opportunities for learning, working and healthy living. Both of us attend roundtables with local and state politicians to discuss workforce challenges and we're involved with Conexus Indiana, a company that accelerates, promotes and grows the state's advanced manufacturing and logistics economy. We continue our partnership with educational institutions at the high school and post-secondary level in developing curriculum that we feel necessary for filling the gap in the manufacturing environment."
Beyond all that, in order to secure GLTAAC funding, companies have to be willing to document like crazy, says Susan. "The application process," she explains, "required two to three weeks of intensive data mining by many of our team members and paperwork to show business lost to Mexico and difficulty in finding labor to compete. Then, during the interview process with GLTAAC officials, together we identified our weaknesses and opportunities for growth." This led to the identification of the six previously mentioned categories on which the funds were spent.
"We now have a structured operating philosophy aligned with department goals, the result of working with KSM Consulting, an Indianapolis-based firm," says Todd. "It was time for another 'pair of eyes' to look at what we're doing and how we're doing it." TAAF funding paid for 50 percent of KSM's services.
"These efforts led to development of our A.C.T. (Associates—Customers —Tomorrow) operating system," Todd continues, summarizing: "1. We can accomplish nothing without our valuable associates as our goal is to succeed together. 2. We would not exist without our customers; we will strengthen our efforts to earn and keep their trust. 3. We must look to the future—tomorrow's products, tomorrow's technologies, tomorrow's manufacturing processes, tomorrow's training."
Further, lean manufacturing has taken hold at Mursix with its Gold Cell Concept of workcells, standardized tooling and a value-stream mapping system. "It wasn't that we weren't utilizing lean, we just weren't using the tool box correctly," says Todd. "One standout accomplishment from these lean efforts, a 30-percent reduction in setup hours, is the result of standardization of tooling, associate training, investment in capital equipment and a change in the culture that includes more interactive communications (formal and informal meetings) on the plant floor about these goals.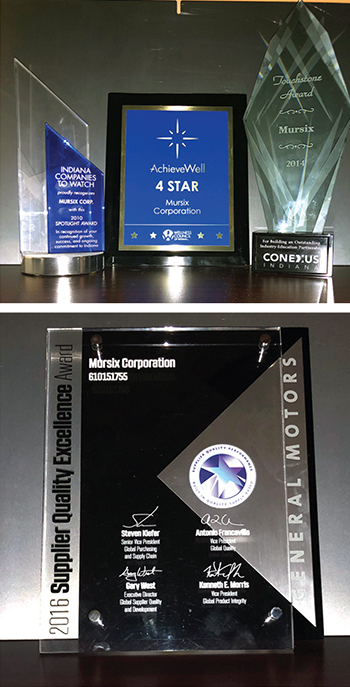 Mursix's many awards recognize the company for its achievements in overall business, wellness and industry education.
"We've stepped up our leadership-development, sales-process and employee-training efforts," Todd continues. "Our focus on employees is greater than ever because everything we do—identifying new markets, leadership development, lean, etc.—all of it impacts our employees."
Looking Ahead
Having grown at a 4-percent-plus clip in 2018, Mursix's strategic growth plan calls for double-digit growth in 2019.
"Growth will depend on market diversification and our ability to recognize new opportunities not only in automotive," says Todd, "but in fast-growing markets such as medical, where we're seeing a lot of opportunity for parts destined for mobility-assist devices, such as electric scooters, and components for automotive inverters for hybrid and electric vehicles."
Another important factor: the company's ability to offset lost business to Mexico and other global markets, says Todd, noting "continued investment in automated systems, robotics and PLC controls, allowing us to seize business that otherwise would go elsewhere."
And, of course, let's not forget the associates. Not only does Mursix recognize the need for sound mind and morale through its improved training and communications efforts, it goes out of its way to ensure sound body as well, offering associates onsite access to a health and wellness coach, and a well-equipped onsite fitness center. An emphasis on wellness and healthy choices has resulted in a loss ratio that favors the company by $750,000. "The return on investment has paid off in our favor, with our insurance company locking in our rates and considering a potential refund based on our success," says Todd.
Then there's the happy-family/ happy-employee factor. Mursix not only offers tuition assistance to $2000, it offers the same in the form of two annual scholarships for children of employees, depending on the teen's GPA, essay and how long the parent has worked for Mursix.
In addition to associate training and improved communications, the Mursix apprenticeship program, a 3-yr./6000-hr. commitment now in its third year, graduated its first apprentice in January and has three more that will graduate in 2021. All are described by Susan and Todd as ambitious high school graduates who have worked elsewhere for one year or more and passed skills-assessments, including written essays to help assess their characters. Moving forward, the goal is to have at least one apprenticeship candidate added annually to assist in filling the skills gap.
"One thing, though," says Susan with a smile, "all of the apprentices so far are males. We're working to change that." MF
Related Enterprise Zones: Management
Visit Our Sponsors