Fabrication: News & Technology
High-Speed Fiber Laser Cutting
Sunday, December 1, 2019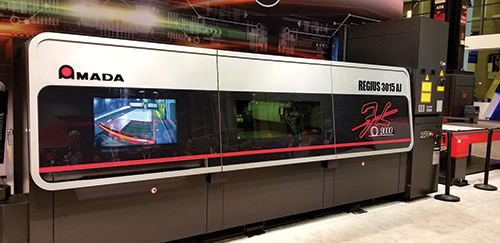 At FABTECH 2019, Amada America unveiled the Regius 3015 AJ 9-kW linear fiber laser cutting system, featuring a high-speed, three-axis linear drive (reportedly the world's fastest) as well as new beam-processing technology. Debuting in North America and designed for autonomous operation, the system includes lens monitoring and collision recovery, as well as automatic head recovery, nozzle change and centering.
The system, exhibiting a 14-percent improvement in productivity as compared to Amada's FOL 3015 system, provides a monitor embedded in the front partition that enables a clear view of laser-cutting action. An Amada innovation included on the Regius 3015 AJ, INozzle Checker provides constant, visual laser beam condition monitoring to enable automatic focus adjustment, thus reducing processing defects due to defocusing. The system also detects cutting failure and provides automatic collision recovery.
See also: Amada North America, Inc
Related Enterprise Zones: Fabrication
---
Reader Comments
There are no comments posted at this time.
Visit Our Sponsors