Hot off the Press
Pentaflex Gains Dallas Industries Feed Line
Friday, October 25, 2019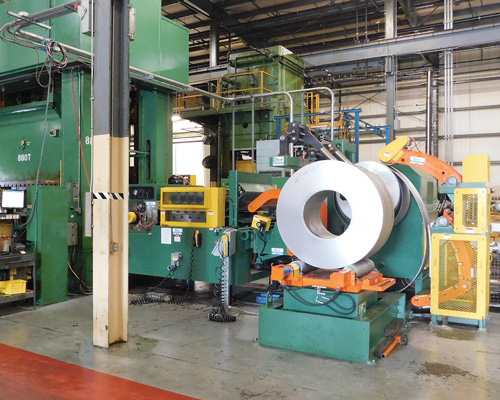 Pentaflex, Springfield, OH, has taken delivery of a new Dallas Industries UnderLoop SpaceSaver servo feed line, Model DRFHDS-648. Pentaflex is a
contract manufacturer of metal stampings and assemblies
specializing in heavy gauge and highly formed components, with primary focus on the medium-duty and Class 8 truck market. Dallas Industries is a Troy, MI-based
manufacturer of coil handling, press feeding equipment and controls
for the stamping industry.
The UnderLoop system runs both steel and aluminum up to .187-in. thick at 48-in. wide and .312-in. thick at 12-in. wide, and is rated for coils to 30,000 lb. The model DRFHDS-648 servo feed has 6-in. rolls and a pull-thru straightener with 4-in. dia. rolls. The line requires only 21 ft. of floor space. To enhance setup time, the feeder passline height, edge guides, and coil guide rolls for auto coil centering the coil on the uncoiler are automatically adjusted to position. The settings for these axes are stored in the job recipe—a Dallas feature termed AutoSet.
The new line also has a reconfigured threading system featuring a servo driven synthetic tension roll, with lower threading table and rocker-arm, de-bending assembly. The drive system is integrated with the reel drive and servo-driven tension roll, offering constant material payout and flow using the servo feed controls to synchronize with the press strokes per minute.
Related Enterprise Zones: Coil Handling, Presses
---
Reader Comments
There are no comments posted at this time.
Visit Our Sponsors