Hot off the Press
Beckwood to Manufacture Hydroforming Press for Aerospace Supplier
Tuesday, April 17, 2018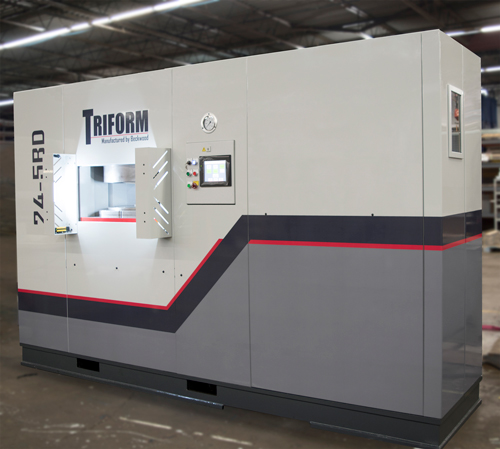 Beckwood Corp., a St. Louis, MO-based manufacturer of custom hydraulic presses and automation systems, including the Triform line of precision forming equipment, has been awarded a contract by H&R Parts Co. in Wichita, KS, to manufacture a Triform model 24-5BD fluid-cell-sheet- hydroforming press. With a 24-in. diameter forming area and 5,000 PSI, the new press will support H&R's aluminum aerospace part production.

During the fluid cell process, a pressurized rubber diaphragm filled with hydraulic oil, shapes sheet material against a single tool. This evenly distributed pressure results in net shape part production, virtually eliminating the need for hand-finishing. Due to the universal nature of the Triform diaphragm, which conforms to any shape within the forming chamber, there's no need for mated male/female dies. Additionally, multiple parts can be formed in a single cycle, as long as the tools and blanks fit within the forming area.

Utilizing a stationary blank holder in conjunction with a single tool, H&R will form parts with closed corners and severe curves in 20 sec. or less without the need for secondary hand finishing. The advanced engineering and unique pressure containment system on the 24-5BD significantly reduces the press size and weight without sacrificing structural integrity or durability, and the compact flush-floor design uses minimal floor space without any pits or special foundations.

For more, www.beckwoodpress.com, www.hrpartsco.com.

---
Reader Comments
There are no comments posted at this time.
Visit Our Sponsors