MF Xtra
October 10, 2018
Wednesday, October 10, 2018
If you are having trouble viewing this email, view it online
Follow Us on

Twitter | LinkedIn | Facebook | MetalFormingMagazine.com
Report Stresses IIoT Opportunities

An extensive Industrial Internet of Things (IIoT) report released by McKinsey & Company stresses opportunities for shop-floor communication, stating: "Machine overall equipment effectiveness (OEE) optimization, predictive maintenance, and cross-vendor shop-floor integration are among the most promising applications." The report is available for download.

Introducing METALFORM EDU

Looking to step up your training efforts? The Precision Metalforming Association wants to help through its newly introduced online learning environment, featuring more than 500 courses.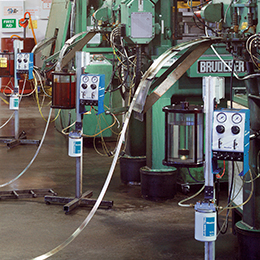 Consistent Stock Lubrication Systems

Nordson EFD's MicroCoat® system uses LVLP (Low Volume, Low Pressure) technology to evenly coat stock while reducing oil usage up to 85%. This non-contact solution can be customized to any precision metal stamping application and is guaranteed to apply a consistent lubrication coverage while extending tool life. Learn more.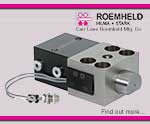 Change your Dies Securely with Hilma Wedge Clamps

Hilma Wedge Clamps, in hydraulic, electric or spring styles, are available with a temperature rating of up to 570°F, and retention forces up to 90 US tons. In the unlikely case of hydraulic pressure loss, a new version now features a patented safety catch which holds the upper dies securely in place. Click for more...
Hot Off the Press



The authority on late-breaking metalforming news. Stay ahead of the curve!

Today's News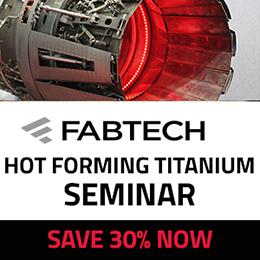 Save 30% on FABTECH Seminar Registration

Join Beckwood at FABTECH for an exciting panel discussion titled "Hot Forming with Titanium." Gain unique insights from the end user, machinery OEM, and tooling supplier, and learn how to overcome the barriers of entry into this emerging market.
Wednesday, Nov 7th
1:30 - 3:30 PM
Room B316; Session F64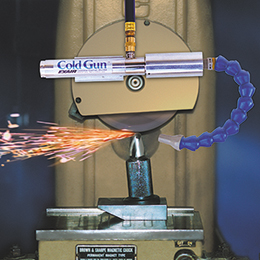 Machining Without Coolant

Replace messy mist systems and improve dry machining with clean, cold air! EXAIR's Cold Gun Aircoolant System improves tolerances, tool life and production rates by cooling with 20°F air. The Cold Gun is ideal for tool sharpening, drill and cutter grinding, milling, band sawing, more.
Deadline Extended for Women of Excellence Nominations

There's still time to submit your nominations for MetalForming magazine's 3rd Annual Women of Excellence in Metalforming and Fabricating, with the deadline extended to October 18. A special section, scheduled to appear in the December 2018 issue of MetalForming, will honor those selected as a means to recognize and promote the importance of women in the metalforming and fabricating industries.
Podcast—The Industrial Internet of Things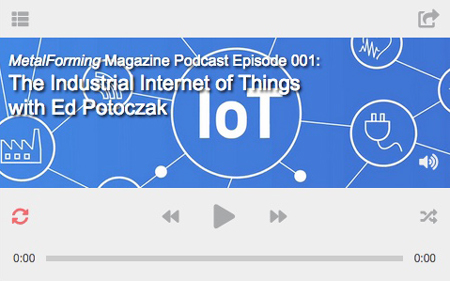 Ed Potoczak, managing member of the Oakstone Group, an industry-improvement consulting group in Rochester Hills, MI, shares with Brad Kuvin, publisher/editorial director of MetalForming, his insights on IIoT and how it will impact small and medium-sized metalformers and fabricators.
Video: Bio-Inspired Bots for Manufacturing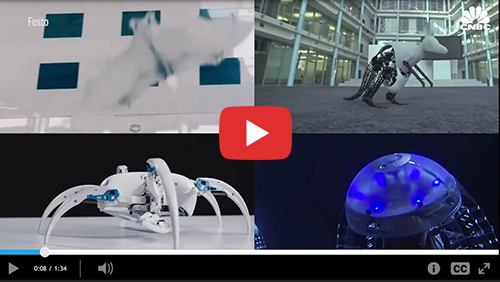 With enough robotic animals to create a zoo, this German automation firm looks to inspire changes in manufacturing systems.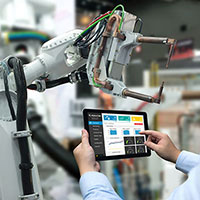 10 Reasons Why OEE's Importance is Soaring

Knowing availability, performance, and quality at the machine level is providing manufacturers with the data they need to keep production lines running efficiently. Learn why Overall Equipment Effectiveness (OEE) has become a must-have metric for manufacturers to create a more stable, predictable production environment that drives revenue growth. Learn More
Lubrication Technology for Metalformers
February 12-13, Lubrication Technology for Metalformers, Hyatt Regency, Schaumburg (Chicago), IL
This conference, powered by MetalForming magazine with support by the Society of Tribologists and Lubrication Engineers (STLE), will update stampers and die shops on new lubricants for stamping and tool and die machining, and help them evaluate new formulations and select the right lubricant for the job. Attendees also will come away with an understanding of the various techniques available for applying lubricant, to ensure optimum application while minimizing waste.




October 2018


Subscribe | Become a Sponsor | Media Kit

FABTECH 2018

Atlanta, GA, is the place to be, November 6-8, for North America's largest event dedicated to sheetmetal forming and fabricating.

Auto Industry Creates Lubrication Challenges

The trend toward lightweight vehicle parts drives changes in manufacturing processes and metalworking fluids.

Upcoming Issues
November: Controls, Mechanical Presses, Waterjet Cutting, CNC Punching & Tooling

December: PMA Awards of Excellence, Automation, Quality/Inspection, Folding/Bending Technology

January: Servo Technology, Lubrication, Job Scheduling/Performance Monitoring, Laser Cutting








Save the Date: Metal Stamping and Tool & Die Conference

Kick off 2019 with a must-attend, info-packed event, the Metal Stamping and Tool & Die Conference, January 29-30 at the Nashville (TN) Airport Marriott. Presented by the Precision Metalforming Association in association with MetalForming magazine, the conference features keynote presentations, educational breakout sessions for stamping and tool and die, exhibits and a networking reception for more than 200 attendees and sponsors. Track sessions feature new, emerging, evolving and maturing technologies and industry trends that are impactful to metal stamping, die design and die construction companies. Get details and register.
MetalForming : Jobs



Connecting job seekers and employers in the metal stamping, forming, fabricating and tool & die industries.

Tool & Die Machining (NH)


General Electric
See also: Nordson EFD, LLC, HILMA Div. of Carr Lane Roemheld, Beckwood Press Company, Exair Corp, IQMS Manufacturing ERP & MES
Visit Our Sponsors