Articles
One-Stop Shop Adds Automated Panel Bender
Sunday, December 1, 2019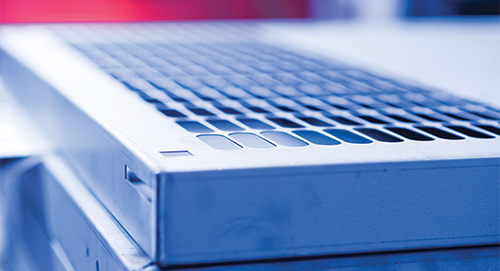 This 14-gauge galvannealed safety-door component is one of several sheet metal components formed by Argon Industries using an automated panel bender.
Since starting as a small job shop in 2002 with four employees and a 10,000-sq.-ft. facility, Milwaukee, WI-based Argon Industries has become a one-stop contract manufacturer. Now with 135 employees in a 128,000-sq.-ft. facility, it provides a diverse range of products for high-end appliances, infrastructure repair and maintenance, defense contractors, point-of-purchase displays, HVAC products, water technologies, and OEM equipment.
Such a range of offerings and industries requires an arsenal of equipment. For Argon, this includes three fiber laser cutting machines; a waterjet cutting system; two servo electric turret punch presses, one with automated load and unload; a high-speed press; robotic welders; a large conveyorized powder coating line; and its most recent addition—a Salvagnini P2 lean automated panel bender.
"We're manufacturing light to medium—24 gauge to 3/8-in. thick—sheet metal components and assemblies using the latest technologies," explains Greg Clement, president and founder, who says that his company, over the last five years, has grown its sales by 35 percent. "Our customers are launching new products and product lines, and that's good for us as a Tier One supplier."
With increased business comes challenges. "It is difficult finding skilled workers, especially skilled brake operators," Clement says. "We recognized that in order to increase capacity without having the ability to find skilled workers, we needed an automated panel bender."
Clement says that he chose the P2lean panel bender from Salvagnini America, Hamilton, OH, for its advanced technology and speed. Its universal bending tools automatically adapt in-cycle to the panel geometry without machine down time or manual re-tooling, and allow for batch-one or kit productions, as well as high-volume production.
"Depending on part size and bends, we're forming parts three to 10 times faster than with our manual press brakes," says Clement. "What took minutes, now takes seconds. Before adding the machine, we had an eight-week lead time and were turning business away because we lacked the ability take on more. Now we are down to a four-week lead time and an on-time delivery rate to 90 percent, up from 75 percent before."
Another plus: MAC 2.0 (Material Attitude Correction) sensing technologies enable the system to adapt automatically to changes in material hardness and thickness, extending the range of possible products. These added capabilities have allowed Argon to take on another $5 million in sales, which Clement says will boost company sales by 25 percent.
Clement provides these examples of sheet metal parts formed on the new bender:
Roof for a generator housing: took two people and 6 minutes using a manual bender, now takes 1 minute and a single operator.

Enclosure door for electrical housing: took 1.5 minutes to form manually, now takes 35 seconds.




Base for a home standby generator: took 1.5 minutes, now takes 25 seconds.
Other efficiency gains at Argon come in the form of placement and customization. "The compact size (17 by 19 ft.) of the bender allow us to place a spot welding unit or a PEM-insertion unit next to the machine," Clement says. "We added an additional door on our machine so that as formed parts progress through the unit, an operator can use the door to access the part to add a spot welded bracket or PEM inserts without increasing cycle time."
Additional automation opportunities may come soon, says Clement. "We can add a robotic load and unload to the panel bender to achieve one-piece flow."
Advanced Bending Provides Profit Potential
Like Argon, more metal formers are profiting by adding efficiency to their panel-bending operations, says Peter Kitzler, sales & application engineering at Salvagnini Maschinenbau GmbH, Ennsdorf, Austria. During his 32 years in the industry, Kitzler has seen a steady progression of panel-bending advancements geared around improving part flow, from compact panel benders like the one used at Argon, to fully standalone panel benders that feed and unload automatically onto an integrated flexible manufacturing system.
With the compact panel benders, which require an operator to feed and unload the part, "profit potential exists when you line up other process such as punching and shearing, laser cuting, welding, clinching, etc., as well as automated storage and retrieval, " says Kitzler. "Even greater efficiencies come from using automated systems that integrate products to one-piece designs and bend the parts on all four sides. This lessens work-in-process and intermediate stacking of parts.
"Another reason for automating panel bending: Manual systems depend on difficult-to-find skilled operators," Kitzler continues. "Not so with automated panel-bending systems. While other processes such as laser cutting and punching are automated for the most part, there remains a lot of potential for automation when it comes to bending." MF

See also: Salvagnini America, Inc.
Related Enterprise Zones: Fabrication
Visit Our Sponsors