Articles
Telos Global: Home to World's Largest Hot Stamping Line
Monday, January 28, 2019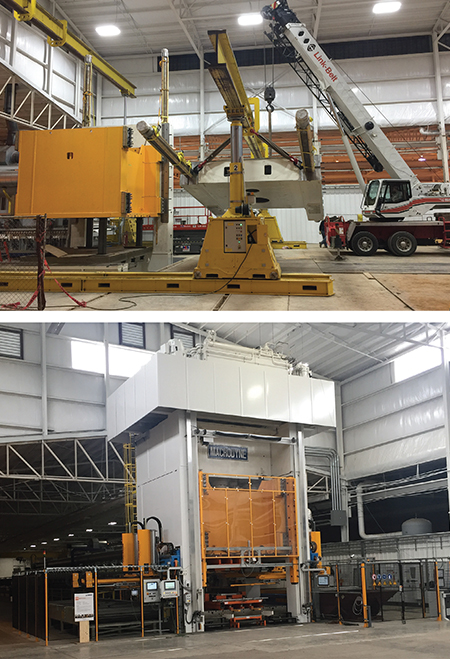 Installation of the hydraulic hot-stamping press was no small task. At 13 m high and 5.5-m wide, the 1500-metric-ton customized offering required raising the building's roof by 20 ft.
Newly formed Telos Global is making a name for itself with the world's largest hot-stamping production line at its $35-million, 200,000-sq.-ft. plant, located on 13.5 acres in Caryville, TN. A subsidiary of Germany-based Eisenmann, provider of thermal-process technology, Telos focuses on testing, production and training associated with hot-formed (aka press-hardened) steels used in structural automotive parts such as B-pillars, rocker panels and door rings.
With more than a quarter of a vehicle's body shell consisting of hot-formed steels, the need for production equipment and training shows no signs of letting up. That's where Telos comes in, says Rick Teague, CEO of the automotive and Tier One/Two supplier.
Launched in January 2016, Telos moved quickly to make changes to the building it acquired in March 2016 to accommodate the line, which became fully operational in September 2017. The building previously housed the roll mills and fabrication equipment for manufacturing industrial metal siding and roofing. The $10-million hot-stamping line, at 65 m long and 39 m wide (from the end of the destacker to the die cart) is the world's largest, Teague says. A $10-million project, the line includes a 43-m-long Eisenmann roller hearth furnace and a Macrodyne 1500-metric-ton (15,000-kN capacity per Macrodyne specifications) hydraulic hot-stamping press, which required that the building's roof be raised 20 ft. in the center press bay area and a press pit installed.
Triple-Purpose Project
The line has three purposes, according to Teague. "First, we're demonstrating our capability to provide a turnkey line," he says. "Eisenmann, as a maker of thermal-process equipment, went into this project wanting to showcase its capabilities as part of a complete line," which also features a Strothmann transfer system and a Cimco water-treatment system. Telos also has four Trumpf fiber laser cutters that service the line. "Customers come here to touch, feel and do their own evaluations," says Teague. "The demand for hot-stamping lines outweighs supply. By bringing turnkey capabilities to the market, we're filling a gap as a global supplier of such lines."
The second purpose: production parts. "To achieve a return on investment, we're running pre-production, series production and prototype structural parts for automotive customers," says Teague. "Our state-of-the-art line manufactures customized press-hardened parts that our engineers—nearly half of Telos' 40-person workforce—develop in close collaboration with our customers. Our inhouse toolmaking shop supplies the tooling required—from prototypes through to the serial products.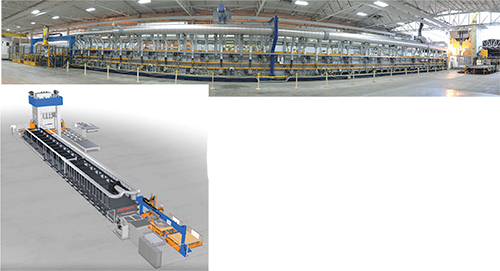 The world's largest hot-stamping production line, according to Telos Global officials, is 65 m long and includes (bottom photo) this 43-m.-long Eisenmann roller hearth furnace.
"The third purpose," Teague continues, "is to provide training. We've held two training forums thus far—in September 2017 and September 2018. These provide opportunities for our global automotive customers and Tier Ones to come and learn from our experts about the technologies involved with hot stamping. (
View forum topics and speakers.
)
Large Press Is Perfect Fit
Equipping the line to fulfill its three purposes called for a large, customized press. Having worked with Macrodyne in the past while with Cosma International as global director of hot stamping and tooling development, Teague teamed with the Concord, Ontario, Canada-based press builder to develop a custom machine for the line.
The result: a 13-m-high, 5.5-m-wide, 1500-metric-ton hydraulic, hot-stamping press designed to optimize the process, and built in less than a year. "High press speeds are critical, so the press includes rapid down speeds and proportional pressing speeds," says Jeremy Neil, executive vice president of Macrodyne. "Higher speeds are achieved at lower tonnages by selecting the number of cylinders to be used at a particular part of the cycle. The press also has the ability to adjust tonnage throughout the stroke."
The proportional pressing speeds are adjustable from 0 to the maximum speed for each respective profile, using a combination of cylinders as follows:
Max. pressing speed (to 2500 kN) using one cylinder: 300 mm/sec.

Max. pressing speed (to 7000 kN) using three cylinders: 110 mm/sec.

Max. pressing speed (to 15,000 kN) using four cylinders: 50 mm/sec.
Teague says the size of the line is important for processing larger parts, such as door rings measuring 1.8 m wide and 1.52 m tall. "To accommodate larger products," he explains, "you need mass capacity in order for the furnace to take on the energy consumption required for larger product.
"We considered servo technology," Teague continues, "but for our purposes there were no real advantages. Hot stamping requires heating parts to nearly 930 C, so what we're forming is highly malleable. To incrementally form the part is not an advantage; the payback isn't viable."
Looking ahead and buoyed by the success of the line, Teague says that Telos plans to add a second hot-stamping line, with equipment yet to be determined, "though it easily could include another Macrodyne press," he says. "The new line will be similar to what we have now and will provide us a contingency line." MF
See also: Macrodyne Technologies, Inc.
Related Enterprise Zones: Presses
---
Reader Comments
Posted by: Constantin Mighiu on 5/31/2019 10:29:30 AM
It was an exceptional experience being part of the team involved in this challenging project. I am glad seeing it coming to live. Constantin Mighiu
---
Visit Our Sponsors