Articles
Automated Press-Brake Technology
Sunday, January 1, 2017
Sheetmetal fabricator Du Fresne Manufacturing Co., Vadnais Heights, MN, opened its doors in 1991 "with the vision to excel in an environment that fosters member (employee) development, innovation and state-of-the-industry technology to deliver exceptional customer service," says Michael Rosenthal, vice president of operations. With facilities located in Vadnais Heights and in White Bear Lake, MN, Du Fresne employs 90 members with 70,000 sq. ft. of manufacturing and assembly space between the two locations.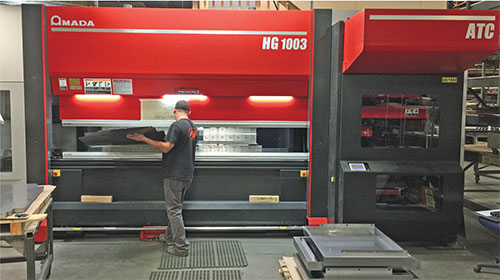 The HG ATC (automatic tool changer) press brake is touted as "an ideal solution for variable lot sizes and complex tool layouts…the tool changer can load the most complex tool layout within 3 min., and allows operators of varied experience levels to efficiently use the system…quick tool setups give users the ability to introduce rush jobs seamlessly," states Michael Rosenthal, vice president of operations at Du Fresne Manufacturing Co.

"The last 5 years," adds Rosenthal, "have been a testimonial to survival in the manufacturing battlegrounds while developing a new strategy requiring shorter lead times and best market pricing, while maintaining exceptional quality. We've seen a reduction in build quantities from 150 to 200 parts per run to an average of 40 to 60 parts per run. That evolution has required us to focus more than ever on setup-time reduction, innovation and our vision of lean manufacturing, realized by investing in new sheetmetal-fabrication technology, including automation."

Punch-Laser Plus Automated Press Brake

The firm's most recent strategy to be the supplier of choice includes using new technology to make the competition irrelevant with the addition, in 2015 and 2016, of a new punch/fiber-laser combination machine (an Amada LC 2515 C1 AJ), and two Amada HG 1003 ATC press brakes equipped with automatic tool-change (ATC) capability.

"We're finding that the new equipment is helping to reduce setup times and remove/combine secondary operations," Rosenthal says. "It is clear from initial job-performance data that the ability to now deliver parts in hours instead of days, at a lower overall cost, is a game changer."

The new punch-laser combination machine has dramatically changed the way parts are processed at Du Fresne. While a standard turret press that uses an average of 15 to 20 tools per job would take approximately 70 min. to set up, says Rosenthal, Du Fresne operators can set up the new combination machine, using a standard tool package, in about 25 min., a 64-percent reduction.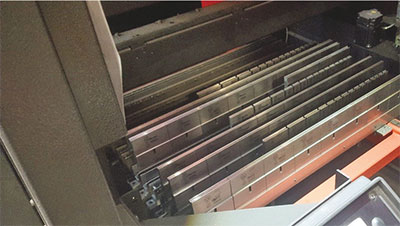 Automatic tool-change capacity on the Model 1003 press brake is 86.6 ft., with 15 punch stockers and 18 die stockers. On-board tool storage has contributed to a 214-percent increase in the number of jobs completed at Du Fresne, including setup and run.

The combo can punch when needed, apply forming tools such as countersinks, make threaded tapped holes or other special features, and use the laser to cut holes and part peripheries. Rosenthal explains that it is equipped with a picker-loader system that has eliminated the handling of scrap blanks and, more importantly, shakeout, a secondary process of removing parts from the nest and transferring them to a skid for the next operation. The picker pulls parts from the nest and places them on a skid located in the material-storage tower.
"The punch-laser machine," says Rosenthal, "has replaced three standalone turret presses and dramatically reduced labor requirements. The reduction in setup times, the processing speed of the machine and the automated part-handling system have combined to decrease our run rates, yielding an overall processing-time reduction of 46 percent."
Automatic Tool Change Yields 3-min. Setups
Similar productivity gains have been realized with the ATC press brakes. Rated to provide 110 tons of bending force and with a 9.8-in. stroke and 122.44-in. maximum bending length, they came equipped with 84 ft. of tooling. "These machines have forever changed our vision when it comes to forming parts," says Rosenthal. "The standard setup time on a conventional press brake averages 35 min., compared to 3 min. on the HG machines. That's a reduction of 91 percent. Data from our first month of running the brakes showed a 214-percent increase in the number of jobs completed, including setup and run."
Amada describes the HG ATC machine as "an ideal solution for variable lot sizes and complex tool layouts. The tool changer can load the most complex tool layout within 3 min., and allows operators of varied experience levels to efficiently use the system. Quick tool setups give users the ability to introduce rush jobs seamlessly."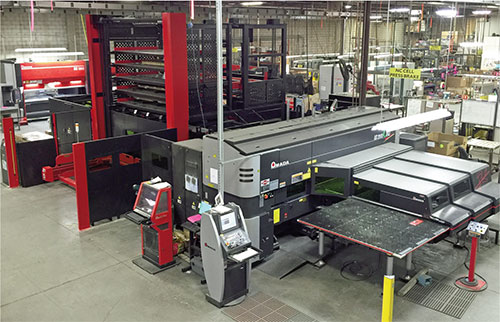 Along with its new automated press brakes came this innovative punch-laser combination machine, with a sheet-storage tower and automated part sorter, which Du Fresne's Rosenthal credits with dramatically changing the way parts are processed. While a standard turret press that uses an average of 15 to 20 tools per job would take approximately 70 min. to set up, operators can set up the new combination machine, using a standard tool package, in about 25 min., a 64-percent reduction.

ATC capacity on the Model 1003 press brake is 86.6 ft., with 15 punch stockers and 18 die stockers. Amada also offers the ATC on its HG 2204 press brake, with 112.8 ft. of tool capacity, 18 punch stockers and 25 die stockers.

The HG-series press brakes are servo-hydraulic models designed to optimize cycle times, via fast approach, bending and return speeds. Ram positioning and repeatability are ±0.00004 in., and to facilitate quick setup of multistage part-bend sequences, operators appreciate the programmable ram-tiling capability as well as the brake's 50-percent off-center bending capacity. Other features include dynamic hydraulic crowning (two crowning cylinders in the 1003 model, three cylinders in the 2204 models), and eight-axis backgauging.

Lastly, the press brake's 18.5-in. touchscreen control provides a graphical interface that Du Fresne operators find minimizes the learning curve—they can use the control to identify and open bend programs, manage the tool library, adjust the machine axes as needed and visualize, in 3D, part positioning during the bending sequence.

A Labor Relief

Prior to adding the new automated press brakes, Du Fresne operated with 12 standard press brakes, along with four turret presses and a fiber-laser cutting machine.

"Those older brakes," Rosenthal says, "required manual setup and programming at the machine, which created downtime and reduced capacity. The HG ATC press brakes set up quickly since the tooling—84 ft. of top and bottom dies—is built into the machines."

In addition to that improvement, Du Fresne can program the press brakes offline, freeing operators to move quickly from job to job, and, therefore, complete more jobs and add capacity.

"The first HG machine we purchased became so productive that we were able to decommission four older press brakes," Rosenthal explains, "selling them off and their tooling to offset the purchase of the new machine. We also realized a nice gain in manufacturing floor space that we can use to add more equipment down the road."

After 8 months of using the initial HG, Du Fresne decided to add the second HG press brake, and since then Rosenthal says that the shop has been able to move about 45 percent of its forming work over to the two new brakes. This increased capacity resulting from the new equipment has eased any strain it may have seen related to skilled labor.

New Business Gained

The data Rosenthal cites have greatly increased the company's business opportunities with current and new customers.

"However, looking beyond the numbers," Rosenthal says, "the most impressive deliverable, and the real value, is that the new technology touches lives and provides more development opportunities for our members by creating new, technically challenging and rewarding jobs."

These opportunities include programming of part nests (using Amada's Dr. Abe software), and programming the punch/laser, the press brake (offline) and the part-transfer (conveyor) operations.

"We opened up a new programming position for the punch/laser," says Rosenthal, "and two positions for programming the new press brakes. The capacity increases have boosted sales, adding manufacturing hours to our schedule and allowing us to bring on more engineers.

"This innovative technology," he summarizes, "is our investment in developing career opportunities and giving members new pathways to expand their talent-toolbox and earn a higher wage. Members now are trained on the newest, most technically advanced equipment available. In addition, being exposed to advanced programming techniques and specially designed conveyor systems all add up to our competitive edge." MF
See also: Amada North America, Inc
Related Enterprise Zones: Automation, Fabrication
---
Reader Comments
Posted by: Ellsype on 8/20/2019 7:13:35 AM - URL: http://bestviaonline.com
Mifepristone Acheter Order Lassix Water Pills Amoxicillin Coumidan online pharmacy Cialis Mail Order Ou Trouver Du Tadalis Sx Pas Cher
---
Posted by: Matvems on 5/13/2019 11:52:21 PM - URL: http://getpharmacyonline.com
Zithromax Single Dose Packet Cheapest Strongest Viagra Generic Tadalafil Best Prices [url=http://sildenaf100.com]buy viagra[/url] Venta Cialis Bilbao What Is Amoxicillin Use For
---
Posted by: Matvems on 5/8/2019 4:14:55 AM - URL: http://priliorder.com
Zithromax Hearing Loss Regenon Comprar Cialis En Internet generic cialis overnight delivery Kamagra Gel Oral
---
Visit Our Sponsors