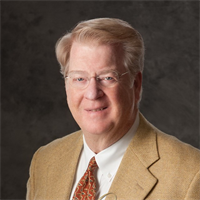 Tom Snow
Resistance-Welding Machines Are Thirsty...And What to Do About It
August 1, 2018


These photos show an overall view and a closeup of water-cooling circuits on a standard press-type RW machine, including water-in and water-out manifolds, plus visual-flow indicators and a water-flow switch.

Long known as water hogs, resistance-welding (RW) machines, including spot, projection, seam, butt and flash welders, generate heat due to the high secondary-welding amperages used.

Therefore, with an RW machine running at high speed, an adequate flow of cooling water is one of the most important variables of the resistance-welding process. The typical machine requires 1 to 3 gal./min. per cooling circuit, and sometimes more.

The standard AC resistance welders used for decades by metalformers can tolerate some overheating, but the newer medium-frequency direct-current (MFDC) inverter-power supplies, more commonly used today, are prone to failure due to inadequate water flow.

Often, the required total water flow required is substantial due to several parallel water circuits per machine. For example, the water-cooling needs of specially designed automated multi-gun resistance welders with multiple transformers and tips easily can total water flows of 10 to 20 gal./min.

In the past, manufacturers often connected RW machines to their incoming municipal water supply without giving it another thought. However, the days of cheap and plentiful city water are long gone, and additional sewer charges can be substantial.

Starting with the large welding transformer typically located inside the machine frame, the RW process employs numerous heat generators. As the transformer converts incoming line voltage and current into the high secondary amperage necessary for resistance welding, heat generates internally.

When projection welding large fasteners or spot welding aluminum, some RW applications require 50,000 to 100,000 secondary A to generate enough localized heat.

Additional heat, produced in the large copper conductors, comprises the machine's external secondary loop and final heat source in the RW process. This can be the hardest to cool with heat coming from the electrodes, which make contact and conduct the welding current.

Small, easily clogged water-cooling copper tubes built into the welder's internal secondary circuit cool most resistance-welding transformers. Other water circuits cool the high-voltage contactor section of the control.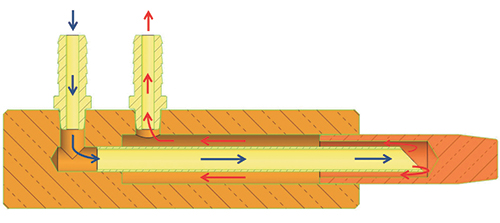 This illustration shows proper use of a water-cooling tube inside of a spot-welding electrode holder and tip. With one end cut on a 45-deg. angle, the tube forces water flow as close as possible to the end of the internal water-cooling cavity in a typical spot-welding tip.

Importantly, water-cooling tubes supplied with electrode holders are there for a reason and should remain in place. With one end cut on a 45-deg. angle, the tubes force water flow as close as possible to the end of the internal water-cooling cavity in a typical spot-welding tip.

Common Water-Cooling Problems

Large roof-mounted water towers long represented the most common method to supply cooling water to spot welders, but they present a unique set of problems, including inconsistent process water temperatures due to varying ambient air temperatures throughout the year.

In addition, dirt and other contaminates in the tower can cause problems. I remember visiting a Japanese-owned automotive-parts manufacturer with cherry trees planted around its building. Although beautiful, their blossoms clogged the system each spring.

Additional problems resulted from this plant's use of black-iron water lines throughout the facility, which corroded internally after a couple of years and introduced flakes of rust into the system, clogging the small-diameter internal water-cooling circuits in their transgun-type portable spot welders.

Another reason for not recommending a cooling tower for use with spot welders: A plant's water-flow capacity often doesn't increase upon installation of additional water-cooled machinery.

Sometimes, plants cool RW machines with well water. Often viewed as a free cooling method, the minerals present eventually clog a machine's water-cooling circuits. In addition, well water may be too cold and cause condensation.

Some plants use large recirculating reservoir tanks cooled by truck radiators. I've also seen welders cooled by water pumped from 55-gal. drums into which bags of ice are poured. Due to inconsistent water temperatures, neither option is recommended.