High-Throughput Cobot Spot Welding Platform
May 31, 2023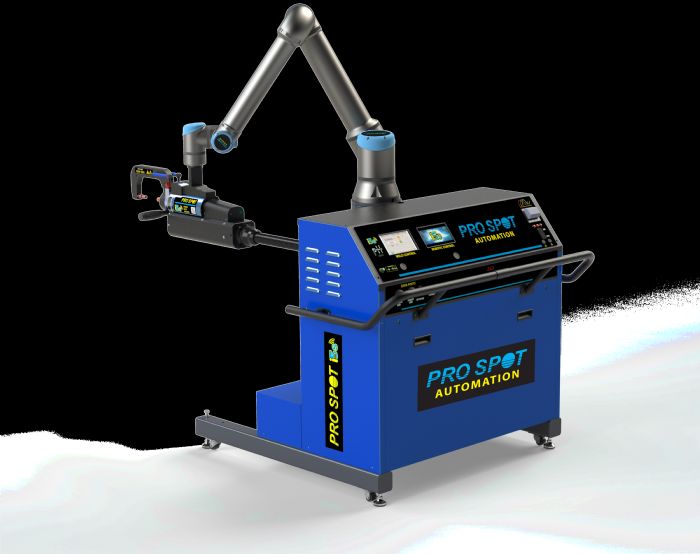 At Automate 2023, held this past May in Detroit, MI, the Universal Robots booth featured what's reportedly a first: cobot spot welding courtesy of Pro Spot International. Pro Spot has combined its new i5s sophisticated spot welding unit with a Universal Robots cobot in a platform that reportedly delivers two to three times more manufacturing capacity than without the cobot.
The Pro Spot i5s welding system features next-generation welding technology that senses material thickness and resistance to adjust weld profiles automatically while capturing voluminous data about each weld, allowing for quality control, traceability and job repeatability. It's reportedly the only spot welder on the market with Wi-Fi connectivity, enabling instant updates, data exports and weld-log email capability for performance reporting.
"Our i5s resistance spot welder is, by far, the most advanced welder we've ever made," says Ron Olsson, president and founder of Pro Spot, who offered a demonstration to MetalForming at Automate. "As a result, it makes the entire welding process extremely easy and reliable. Combining that level of technology with a safe, easy-to-program-and-use automated solution such as the Universal Robots' platform is the future of spot welding."
Benefits of the platform include the ability to keeps the manufacturing process predictable and in control; an increase in production output while saving labor and technician time; future-proofing via wireless factory updates; and improved worker safety while reducing liability risks.
Carlsbad, CA-based Pro Spot International, which introduced resistance spot welding to the North American collision repair industry in 1986, according to company officials, also produces other types of welding equipment at plants worldwide.
See also: Pro Spot International Inc., Universal Robots
Technologies: Welding and Joining