Five-Axis Fiber Laser Processing Ideal for Large Parts
January 29, 2020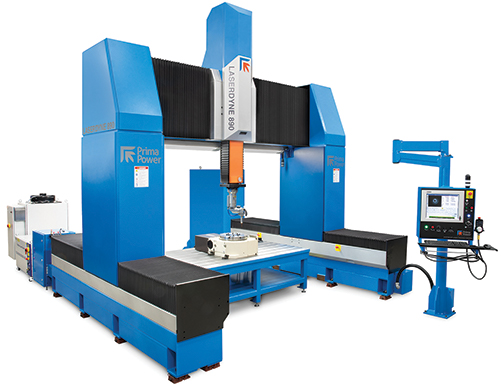 New from Prima Power Laserdyne, the Laserdyne 890 multi-axis laser processing system, featuring a powerful and efficient fiber laser backed by BeamDirector beam-steering technology and the S94P control, loaded with a full portfolio of Smart Techniques operating capabilities.
A 96 by 72 by 36-in. work envelope and five-axis capability enables large-part welding, drilling and cutting processes, with its spacious gantry configuration ideal for fixturing large and complex parts.
The system's fiber lasers provide consistent pulse power and energy stability. The QCW fiber laser delivers maximum peak power equal to 10 times that of average power, according to company officials, while the S94P controller delivers precise and controlled pulses for consistent and reliable manufacturing processing.
The Laserdyne 890 includes the latest generation of BeamDirector, which provides rotary and tilt (fourth and fifth) axes of laser-beam motion. Rotary (C axis) motion is 900 deg. about the vertical axis while tilt (D axis) travel is ±150 deg. about the horizontal axis. BeamDirector features direct-drive design, optical encoders for high accuracy, repeatable, high assist-gas pressure and flow, and adjustable mirrors for simple and accurate beam alignment. The high-capacity direct-drive design eliminates gears and belts to improve accuracy, allowing for greater travel and reach over zero-offset-style wrists.
The S94P control includes solutions for welding, drilling and cutting of parts in a range of standard or specialty materials, including the latest high-temperature and exotic metals.
See also: Prima Power Laserdyne, LLC
Technologies: Cutting, Welding and Joining