Unique Spindle-Retention Knobs Optimize Machine-Center Productivity
May 1, 2018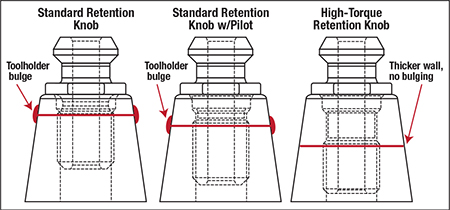 Custom fabrication and machining shops, as well as tooling suppliers, report benefits and quick ROI from using high-torque retention knobs from JM Performance Products, Inc. (JMPP), Fairport Harbor, OH. JMPP, a manufacturer of CNC-mill spindle-optimization products, designed the knobs to be used in existing toolholders to eliminate the bulge at the small end of the holder (see drawing), which stops it from making full contact with the taper of the spindle. The knobs overcome what the company claims is a key design flaw inherent in CNC v-flange tooling by eliminating the toolholder expansion. By increasing contact with more than 70 percent of the spindle surface, a range of CNC-milling issues are overcome, according to company officials. These include vibration and chatter, poor tolerances, non-repeatability, poor finishes, shortened tool life, excessive spindle wear and tear, run-out, and shallow depths of cuts.
Since tight tolerances are essential in high-speed machining, if the toolholder doesn't fit the spindle precisely, decreased productivity and reduced tool life are inevitable, according to John Stoneback, JMPP president.
"Bridging this gap of missed productivity can conservatively help job-shop operations achieve a 10 to 20-percent/hr. competitive advantage via faster setups, better feed rates and more rigid tools–reducing tooling cost by 20 to 50 percent or more," he explains, noting that to aid manufacturers in identifying monetary benefits in converting to its retention knobs, JMPP offers a free ROI calculator.
Longer than traditional retention knobs, JMPP's patented high-torque retention knobs have a precision pilot to increase rigidity—a relief below the flange forces threads into a deeper cross-section of the toolholder. Hard-turned to ensure precision fit, the knobs are balanced by design with threads cut to start and finish 180 deg. from each other. The knobs meet ANSI, JMTBA, ISO or DIN, and JIS standards.