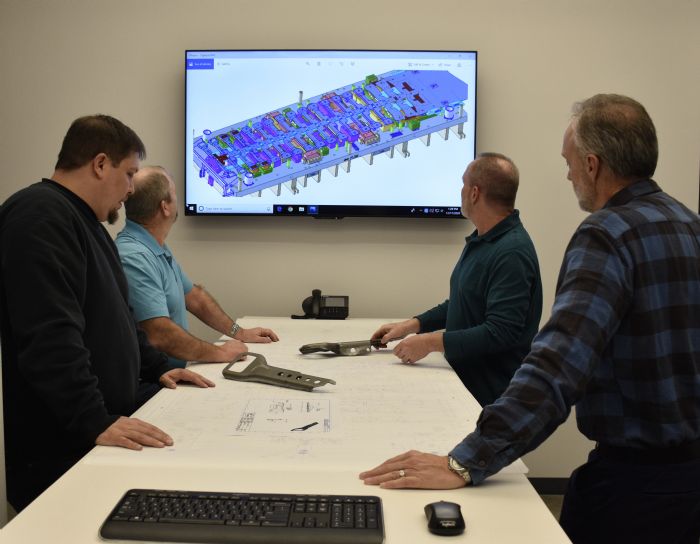 "One of our die designers had experience with Logopress and helped us connect on some of the reasons to choose this software," Bennett says, commenting on the 2020 selection. "As a side benefit, the high-tech ability to simulate the metal stamping process on the screen is a new capability for us to better serve our customers. It shows well to visitors and potential customers, and highlights our forward-pushing capabilities. In the marketplace today, new customers require the use of 3D-die-design software. The new facility offered room to bring in new associates, some with SolidWorks experience and ready to take advantage of Logopress' capabilities."
The onset of the COVID-19 pandemic in early 2020 challenged the training timetable, with Accurate Die Design Software providing virtual training and other workarounds to bring ATD personnel up to speed through the summer. Even so, within a short time of the training commencement, key personnel already had gained the ability to design a tool in Logopress, reports Bennett.
Night and Day Design Difference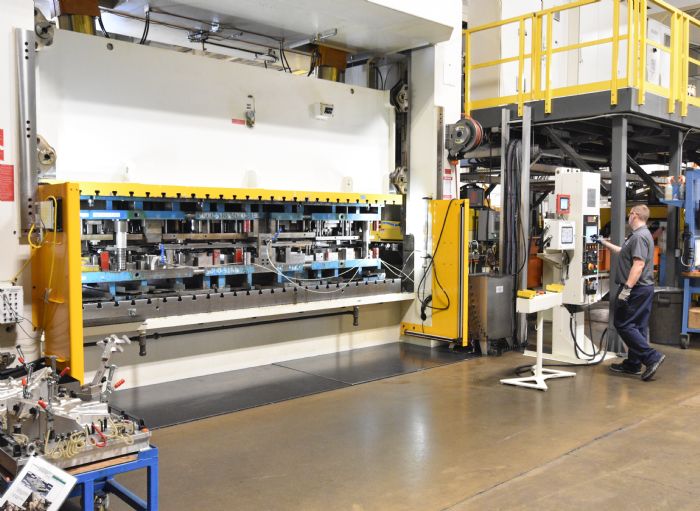 Research by ATD prior to the software purchase, along with the training, revealed astonishing capabilities, according to Bennett.
"In finding new 3D-die-design software, we were looking at developing flat blanks and ribbons—just getting to an estimate and improving the turnaround time of concepts," he explains. "Prior, we experienced a lot of pain points. Our old 3D CAD software required manually inserting everything—every screw, nut, bolt, and every purchased component. We'd insert one component at a time, and the software had no smart features whatsoever: no built-in features such as unbending or development assistance. Bill of materials (BoM) and detail creation were all manual."
Incorporation of Logopress offered a night-and-day difference, with numerous capabilities to improve design efficiency and accuracy.
"Benefits realized from the switch include automatic unbending and springback compensation," says Bennett, adding that with the software, ATD now employs a mostly automated BoM process with detailed, prepared drawings. "We used to build tools from what we called 'brown-paper-bag' designs. Now we design tools in half of the time, and design them a lot better than we did years ago. With Logopress, we design a tool, prepare detailed drawings and BoM, build the tool, place it in the press and start making parts."
Drawings 'Automagically' Updated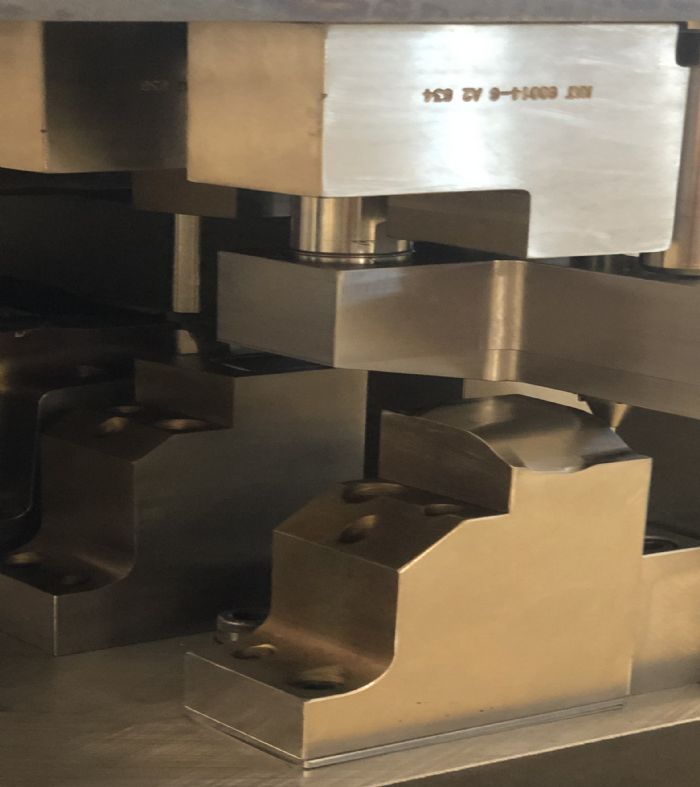 "As we develop those parts and make changes to the tool, the changes are what I call 'automagically' updated," Bennett continues. "This is huge: Now we have accurate as-built drawings as long as we follow required steps in the software. We did not have that before. We would have had handwritten notes on the blueprints hanging on a workbench. We'd make a good part and walk away, but the tooling may not have been production-ready."
Later on, personnel would come back and try to decipher those notes and figure out the meaning.
"We would hope to catch it all—sometimes we did, and sometimes we didn't," Bennett recalls. "We have a much-improved process with this software now. Not that we always follow all the steps or accurately update everything, but the capability is there for us."
Though the new software seats only have been operating for a few months at ATD, one feature included in the Logopress DieDesign Premium software has proven especially valuable: Die Debugger, a feature for motion simulation and dynamic-interference detection. In the words of one ATD designer, "Die Debugger is an amazing tool." Designers can animate the developed stamping tool to ensure appropriate cam timing and proper material feed, and check for static as well as dynamic interference.
The feature proved its value early on with an externally designed group of massive tools. "The external design house did not use Logopress or SolidWorks for this big tooling project, consisting of six 14-ft. long progressive dies," Bennett says. "We didn't want to lock up our 700-ton servo press with this tooling and find something silly causing a problem."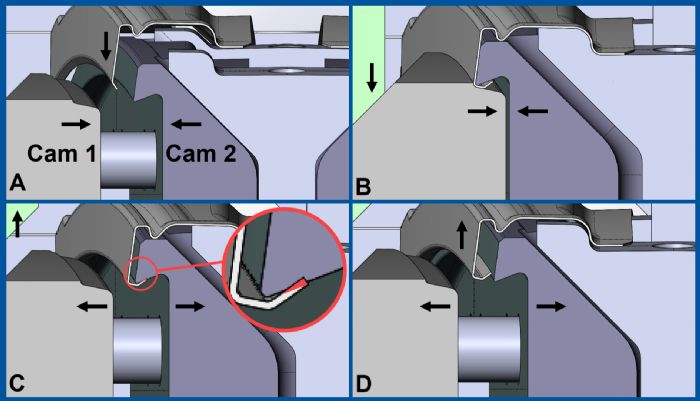 Importing the tool designs into SolidWorks/Logopress and running them through Die Debugger revealed interference issues in the dies. Finding these issues in the press potentially would have resulted in downtime for a shift or more, in some cases for each issue found, with toolroom and setup personal diverted from other tasks.
Instead, "Die Debugger found the interference," Bennett says, "and we resolved the problem before the tool went into the press. Die Debugger is a differentiator for us."
Expect more out of Die Debugger as ATD gains experience, including the feature's ability to set up pilot release.
Another software feature noted by ATD engineers: the Logopress Smart Ordinate Dimensioning command. Here, as one ATD engineer describes it, "we can click a button, pick a point and then, within seconds, dimension a giant plate with, say, a hundred holes in it."
And, as training and experience progress, Bennett sees ATD taking fuller advantage of other Logopress features such as the slug-clearance detection and first-hit optimization.
"Our plan going forward: continue working with Logopress to achieve that next level of training," he says. "My goal is to get through our current wave of tooling and get back to training to realize additional advantages offered by this software, and make it our template for die designs.
"In the meantime," Bennett continues, "we've realized output benefits related to unfolding, planning operations, numbering stations, press selection and requirements of the stamping."
Though Bennett does not have hard numbers, he estimates that employing Logopress and its various features has cut die design and development time in half as compared to previous processes at ATD. On top of that, the company already has experienced quicker tool builds by joining the design-software with computer-aided machining, and Bennett expects more improvements in that area.
Leads to Other Improvements
This early success with its new 3D-die-design software has led to identification of other improvement opportunities, and has emboldened the ATD team to undertake additional efforts to increase stamping efficiency, press speed, formability and more—on and off the shop floor. This includes a plan to add finite-element-analysis (FEA) software to assist with estimating as well as design. While ATD looked at the new ProgSim forming simulation option that runs inside of Logopress, "its part-size limitation means it would only handle about one-third of the parts we make," says Bennett.
In addition, last summer the company added reverse-engineering capability via a new scanning system.
"When bringing in tools, we didn't always know what we had," Bennett explains. "Scanning and converting point clouds to models has been a huge success, with a large volume of tools going through that scanning process."
When this volume lightens, Bennett plans on using the scanning technology to augment inhouse CMM inspection for larger parts.
"We've achieved some big successes by employing Logopress, and it's been the catalyst for these and other improvement projects," Bennett concludes. "We're on track with the technology we need, staffing up and navigating the learning curve to increase throughput in this bottleneck area, and quickly send production-ready tooling to our stamping-department floor." MF

See also: Accurate Die Design Software, Inc., LOGOPRESS