Modular Setup Provides High Force in Tight Spaces
November 1, 2011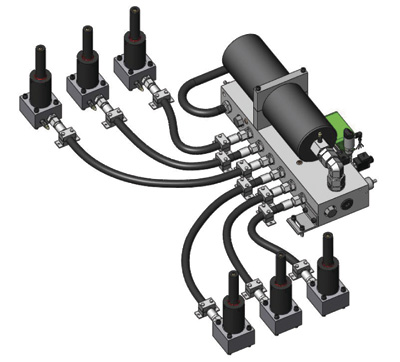 Hyson Products, Brecksville, OH, a business of Barnes Group, Inc., has released its modular Di-Dro advanced forming system. The hydraulic pressure system enables metalformers to use high force in areas where space is limited.
Applicable in upper and lower operations for job versatility, its low contact and delayed return forces improve part quality and increase press life.
The modular Di-Dro system is retrofitable in nearly any system with up to six corrosion-resistant cylinders in individual bases hosed to a control center. There are four cylinder models providing contact forces from 1780 to 12,544 N and stroke lengths from 13 to 225 mm. Each has been engineered with a bore seal that resists contamination and leakage as well as a self-aligning piston rod to accommodate die movement and side load.
Hyson Products: 440/526-5900; www.hysonproducts.com
See also: HYSON Metal Forming Solutions
Technologies: Tooling