Compact Mechanical Clamping Claw a Cost-Effective Alternative to Magnetics
September 1, 2011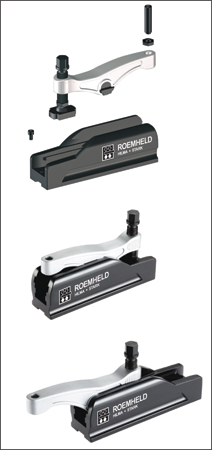 As a low-cost alternative to magnetic clamping plates, Germany's Hilma-Römheld (Carr Lane Roemheld Mfg., Ellisville, MO) introduces a compact mechanical clamping claw suitable for clamping dies and workpieces into place on machine tools and injection-molding machines. A self-locking feature prevents the device from changing its position, particularly useful in the case of a vertical arrangement.
The compact clamping element requires little force and is available in two versions, with a clamping force of 15 or 25 kN. The higher clamping range is infinitely variable and can be extended using a height adapter, while the clamping force remains unchanged across the complete adjusting range. To change the workpiece unimpeded, the clamping lever can be completely retracted into the housing.
The device's base body and clamping lever are of tempered steel, coated to protect against corrosion.
Hilma Div. of Carr Lane Roemheld: 636/386-8022; www.clrh.com/hilma
See also: HILMA Div. of Carr Lane Roemheld
Technologies: Tooling