New Control for Monitoring Wire-EDM Processes
January 1, 2018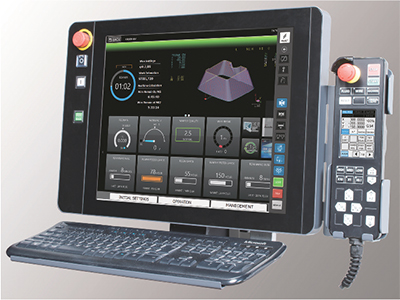 MC Machinery Systems, Chicago, IL, offers the M800 EDM control, included in Mitsubishi wire-EDM (electrical discharge machining) units to increase productivity and help keep track of production jobs. The M800-series control uses rotational and tilting functionality, while providing job monitoring and important information in a single view. The 19-in. touchscreen enables the user to swipe, pinch and tap to view, making it a much easier interface to interact with than previous models, according to Mitsubishi officials.
In line with Industry 4.0 requirements, the processable data available with this control ensures transparency in all production stages. The new navigation interface provides smooth and simple job-operation time for all operator expertise levels, allowing production jobs to be completed quickly and accurately.
Additionally, the M800 control enables the user to analyze machine profitability and see reserves to optimize processes and boost efficiency. Diagrams depict operating costs and output, and all operating material statuses and maintenance cycles can be called up at a touch.
Currently, the MV1200-S, MV1200-R, MV2400-S and MV2400-R Advance wire EDMs feature the M800 control. MC Machinery is working on incorporating this technology in its laser-cutting machines.
MC Machinery Systems: www.mcmachinery.com
See also: MC Machinery Systems
Technologies: Fabrication, Tooling