GF Machining Solutions Unveils New Cut F Series Wire-EDM
May 26, 2023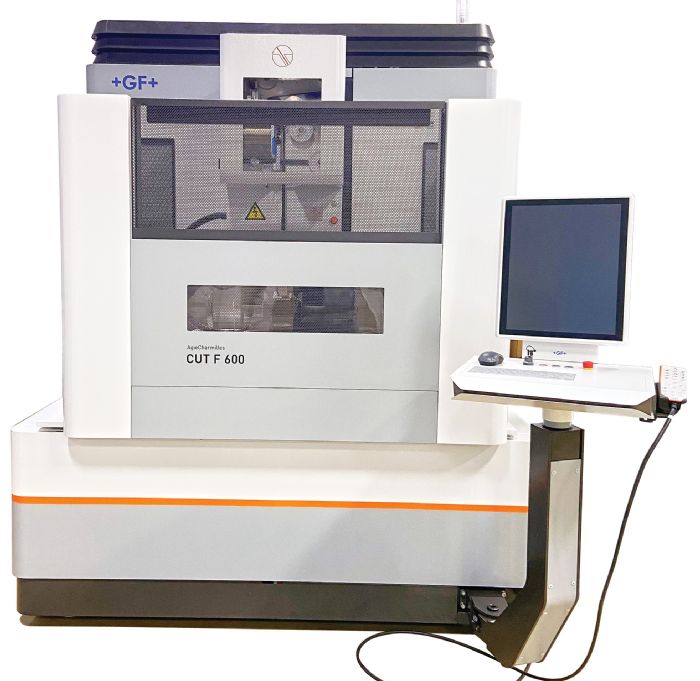 GF Machining Solutions, Lincolnshire, IL, recently launched the first model of its new Cut F Series of wire electrical-discharge machines (EDMs) during the grand opening of its new Medical Center of Competence. The new Cut F 600 is designed, company officials note, for ease of use and flexibility, due in part to the Uniqua control, ISPS (Intelligent Spark Protection System), and the iWire function that automatically identifies and adapts wire speed to changing erosion-height conditions. That, along with design enhancements for thermal stabilization, vibration control and machine precision.
The intuitive Uniqua human/machine interface reportedly delivers optimal functionality and ergonomics, and features a 19-in. vertical touchscreen, full keyboard and mouse. It supports legacy file types from various EDM manufacturers, and with offline and at-the-machine programming, ISO-based functionality and object-oriented programming, Uniqua provides a powerful graphic tool, say company officials, with integrated CAM while ensuring compatibility with major CAD/CAM programs.
Also available with the Cut F Series machines: RFID Smart wire-spool technology, which stores wire characteristics as well as other traceability-related data. And, for increased precision, vibration control and overall process stability, Cut F Series machines feature several enhanced design elements, including the cooling of axis optical encoders using the work tank and dielectric fluid.
See also: GF AgieCharmilles
Technologies: Tooling