Fast, Precise Cylindrical Grinder
April 1, 2011
United Grinding Technologies (UGT), Miamisburg, OH, introduces the Studer S41 CNC universal cylindrical grinder, which features electric direct drives for longitudinal and cross slide, as well as the swivel axis for the wheel head. Its Granitan S103 machine bed provides a solid, rigid and thermally stable machine, ideal for absorbing the high forces that occur during grinding with high metal-removal rates.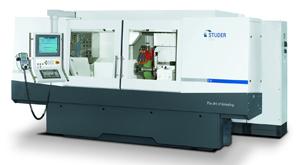 The new StuderGuide guide system ensures precise movement of the longitudinal and cross slides. The system combines the advantages of hydrostatic and hydrodynamic guide systems and avoids the slip-stick effect or floating of the slide. With this maintenance-free guide system, Studer guarantees a straightness of less than 0.0001 in. over a measured length of 37.4 in.
The longitudinal slide (Z-axis) has a ground worktable that carries the work head and tailstock as well as additional accessories and devices. Longitudinal and cross slides are moved by linear direct drives and are rated to 66 ft./min. Maximum workpiece weight is 551 lb.
As many as four external grinding wheels or three internal grinding spindles enable more than 30 grinding-head combinations. The grinding wheels are driven by motor spindles rather than belt drives; the machine can be equipped with motor spindles for high-speed grinding; internal grinding spindles with speeds from 6000 to 120,000 RPM can be used; and automatic balancing systems and frequency converters for each external grinding spindle allow grinding processes to be matched to the respective conditions of use.
United Grinding Technologies, Inc.: 937/847-1253; http://www.grinding.com
See also: United Grinding Technologies Inc.
Technologies: Tooling